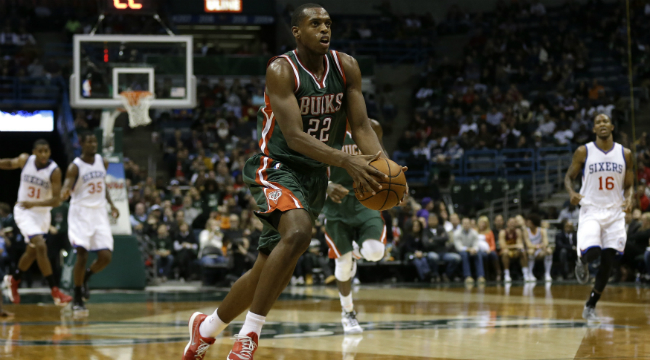 The Milwaukee Bucks have reportedly addressed perhaps their biggest free agency concern on day one by bringing back restricted free agent Khris Middleton, according to Marc Stein:
Jon Krawczynski of the Associated Press confirms that Middleton will come back to Milwaukee for five years at $70 million.
Middleton's deal will mirror his former Bucks teammate Brandon Knight's reported deal with the Phoenix Suns, which feels appropriate. Both are talented players with room to improve, but neither look quite worthy of a max contract. Middleton was probably a bigger risk of the two to be overpaid by an aggressive team with plenty of cap room, being that shooting guard isn't as deep of a position in the NBA today, and Middleton is a plus player on both sides of the court (Knight isn't a plus defender, but has a more well-rounded game offensively), but it apparently didn't matter, as the Bucks wrapped up his deal with no drama.
In all likelihood, Middleton's deal will functionally be a four-year contract with a player option for a fifth (that model appears to be all the rage these days), and if he doesn't continue to improve and remains a very good 3-point shooter and smart defender, this contract might still look like a bargain by the time it ends, with all the money that's about to pour into the league. And if Middleton continues to improve like he has, it will look like highway robbery. But anything can happen, and the long-term security of this deal is great for Middleton and Milwaukee.
(Via Marc Stein, via Associated Press)