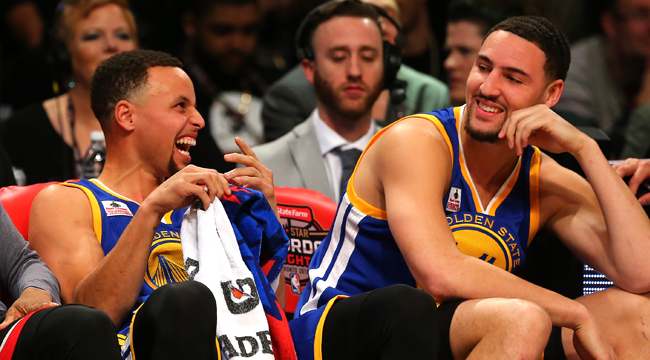 There have been plenty of stories about how invested the Warriors and the players were in recruiting Kevin Durant. Klay Thompson, who probably has the most to lose with Durant joining the team, was great during the process according to everyone involved. And while Thompson is generally the quiet one in the group, he made a pretty great joke about shoes while Stephen Curry and Durant discussed Under Armour vs. Nike. Steve Kerr described the quip in his recent podcast with ESPN's Zach Lowe (tip of the hat to the fine folks at reddit and Kicks on Fire).
"[Steph and KD] started talking about shoes and I think Steph made the point that to Kevin like, 'hey, you know, the Under Armour/Nike thing makes no difference, you know, if we're on the same team it's good for Nike and it's good for Under Armour.' And Klay, you know, rarely says anything but when he does it's always funny. He jumps in and he says, 'is it good for ANTA?' That's Chinese shoe company that he uses. And everybody got a good kick out of that."
ANTA, of course, is the Chinese shoe company that Thompson endorses. Anta pays Thompson $2 million per year and had been endorsed by guys like Kevin Garnett, Rajon Rondo and Chandler Parsons. While the popularity in the USA isn't high, ANTA is one of the bigger athletic wear companies in China.
(The Lowe Post; H/T reddit and Kicks on Fire)