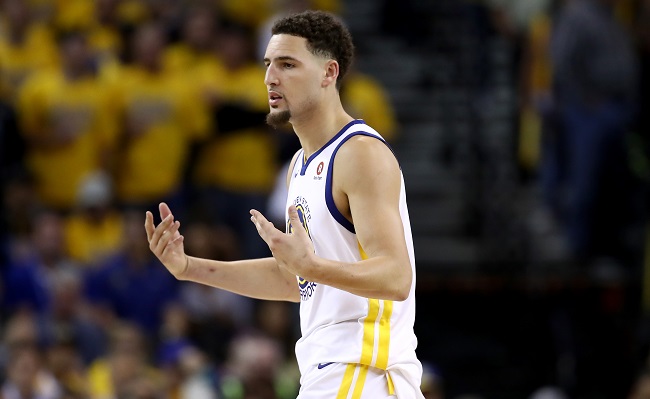 Kevin Durant was tremendous in Game 3 of the 2018 NBA Finals, leading the Golden State Warriors to a victory that will likely serve as the dagger in a series victory over the Cleveland Cavaliers. Even on a night when the Cavs received another monster statistical performance from LeBron James and a wild breakout effort from Rodney Hood, Cleveland simply didn't have enough firepower to overcome the reigning champs and that is obviously a significant takeaway moving forward.
However, Stephen Curry and Klay Thompson struggled mightily for Golden State, which makes it feel even more like an opportunity missed by the Cavs. Curry and Thompson combined to shoot 7-for-27 from the field and 3-of-15 from three-point range, which is about as bad a combined night as you'll ever see from the Splash Brothers.
After the contest, Thompson joined the NBA TV set to reflect on the evening. During the interview, Thompson noted that it's "gotta hurt" that the Warriors were able to get the road win, even with their star backcourt producing very little.

Curry did provide a key five-point binge in the fourth quarter but, on the whole, the best guard duo in the league was downright bad on the offensive end most of the night. Of course, they were buoyed by Durant's ridiculous performance (43 points, 13 rebounds, seven assists) but Thompson is likely correct in that the Cavs have to be kicking themselves for letting an apparent opportunity go to waste.
At this point, it would be arguably the craziest thing in NBA history of the Cavs were able to reel off four straight victories and that reality looms over the rest of the NBA Finals, however long the series happens to go. Still, Cleveland's loss in Game 3 may have been a little tougher for one particular reason and Klay Thompson just had to point that out.