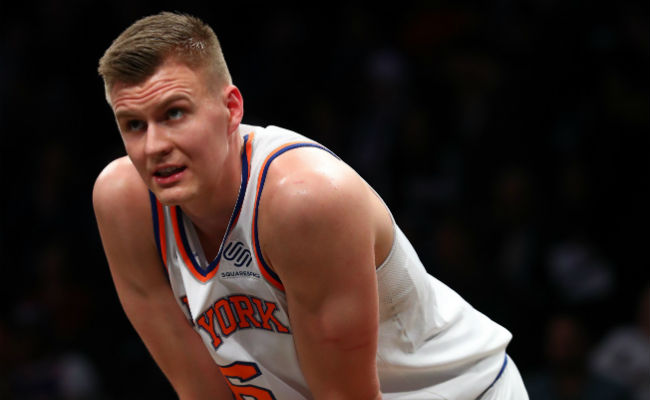 The 2018 NBA Draft is expected to feature a number of draft day trades, with many teams at the top at least entertaining the options to trade back to acquire more assets, while teams later in the lottery and beyond have fallen in love with some prospects and are interested in moving on up.
The team at the top gathering the most chatter heading into Thursday about possibly trading back is Memphis. The Grizzlies hold the No. 4 pick and aren't apparently in love with the prospects expected to be there when they pick, so they are interested in packaging that selection with Chandler Parsons' massive contract to get out from under that money.
On Wednesday, the Knicks held a meeting with Mo Bamba, the fast-rising Texas prospect whose tantalizing combination of size and athleticism have made him one of the most intriguing prospects at the top of this draft. According to ESPN's Jonathan Givony and Ian Begley, the meeting with Bamba was part of the Knicks looking at a possible trade with the Grizzlies for that fourth pick, likely using the No. 9 pick as the chief asset in return.

With Kristaps Porzingis as the foundation the Knicks are building around, it's interesting that they would want Bamba, but his defensive potential could fit nicely with Porzingis' in-and-out game. That said, most feel Porzingis is at his best when playing as a small-ball five and David Fizdale has noted he likes him in that spot as well, which would make it a curious move to say the least.
The bigger question is whether the Knicks put together a package good enough to get the Grizzlies to move five spots back in the draft. Taking on Parsons would certainly ease what New York would have to give back to Memphis in return, because it would dampen the value of the fourth pick by having it packaged with him.
There are a number of scenarios that work, but, for example, the No. 9 pick along with Lance Thomas and Courtney Lee works financially and would save the Grizzlies about $6 million in space over the next two years compared to keeping Parsons. Also, Lee and Thomas' contracts, on their own, are far more movable than Parsons, so if Memphis wanted to look to create more cap relief, they could look for deals this summer and at the deadline with those two players.
With so much uncertainty with who will go second and third in this draft, it would be pretty surprising to see the fourth pick get moved before Memphis is on the clock, because who is available will likely dictate the real value there. If Luka Doncic is there, Memphis figures to have plenty of interested trade partners and the market may be more robust. It would even make sense for the Grizzlies to just sit there and select him. If not, it will likely be those enamored by a player like Bamba's potential that will be the most aggressive and, with Bamba apparently telling Memphis he doesn't want them to take him, the Knicks could be the ones to swoop in if they look to back out.