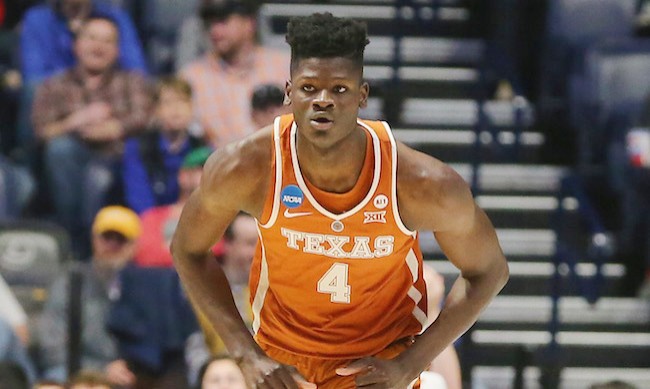 The NBA Draft is rapidly approaching, and after months of speculating and projecting, by the end of Thursday night we'll finally at least know where 60 of the top prospects are going to play next season.
The top of the draft is always the most intriguing, as that's where teams are really hoping to find the next superstar that can change their franchise's fortunes — although, expectations for top 10 players is often too high. With Deandre Ayton almost assuredly going No. 1, the focus of this year's draft is on the Nos. 2-5 picks, where the Kings, Hawks, Grizzlies, and Mavs will be looking to add a star of the future, while avoiding any potential land mines.
Of the group those teams will be considering, Mohamed Bamba is the one that seemingly presents the widest array of possibilities for his pro career. He is, physically, as unique a player as we've seen in this era of incredible unicorns with a 7'10 wingspan, incredible quickness and leaping ability that have many salivating at his potential. However, there are questions about his game as of right now and whether he can tap into that sky high potential, or if he'll remain a raw, flawed player with incredible measurables.
Many teams in the top 5 have reason to consider Bamba, but he is also trying to dictate his future by apparently shutting out Memphis from any and all pre-draft information on him. ESPN and DraftExpress' Jonathan Givony went on 92.9 ESPN radio in Memphis on Tuesday and said Bamba has refused to workout or give his medical information to the Grizzlies, going so far as to tell them point blank he doesn't want to be in Memphis.

This is far from the first time a player has tried to prevent a team from drafting him, as it happens across all sports, but for a player without a guaranteed landing spot in the top 5 it is interesting that he would rule out the team with the fourth overall pick as a potential home. It's possible that he's angling to land in Dallas, given that he played his one year of college ball in Austin at Texas, who have the fifth pick, but given the NBA's rookie salary structure, passing completely on a draft slot is a risky venture.
Still, it's the only way a player can wield any sort of agency in the draft, and if Bamba isn't a big BBQ or blues guy, he might be looking for a different market to find himself in. While Memphis could still pick him, if he's been that adamant about not wanting to be there it'd be a bold move to take him there over one of the other players that will be on the board.