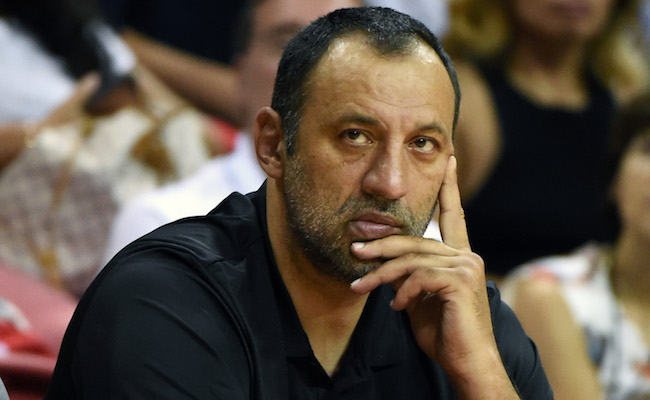 Unless something crazy occurs in the hours before the 2018 NBA Draft, Arizona big man Deandre Ayton will be the first player chosen and begin his professional career as a member of the Phoenix Suns. That potential marriage has been a poorly kept secret for a long time and, even with some quibbles on Ayton's defensive game, he is a worthy top pick with a physical profile that would wow any NBA team.
With that as the backdrop, the Sacramento Kings now hold the keys to the rest of the draft. The Kings have been famously difficult to pin down during the month of June, with reports vacillating between Duke's Marvin Bagley III, Missouri's Michael Porter Jr., Slovenia's Luka Doncic and others when it comes to the No. 2 overall pick. Sacramento doesn't have the best recent draft record but, in this situation, the franchise holds immense power, with the Atlanta Hawks also serving as a relative unknown at No. 3 overall and a litany of teams evaluating different options that bend to the win of the organizations ahead of them in the pecking order.
At this point, the entire NBA world is making (educated) guesses as to what will transpire after the Suns take their man at the top and, in our final mock draft before the festivities on Thursday evening, we will do the same. Here we go.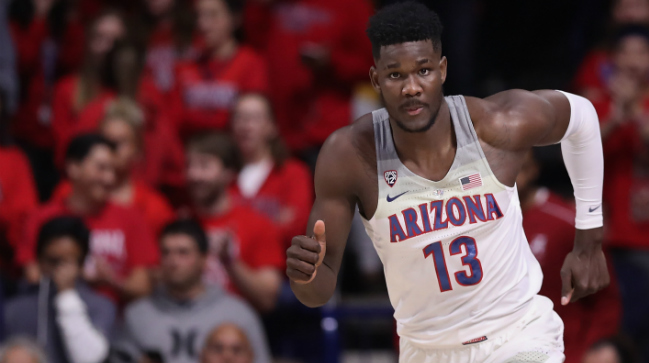 1. Phoenix Suns – Deandre Ayton (C, Arizona)
Ayton wouldn't necessarily be my choice but he is a worthy No. 1 pick. The Suns are banking on his defense jumping a level and his offense being thoroughly dominant. Even if those things don't happen, though, it is hard to see Ayton being a bust and there is real value in that archetype, even at the very top of the draft.
2. Sacramento Kings – Marvin Bagley III (C/PF, Duke)
As noted above, the draft begins here and, well, no one knows what the Kings will do. All indications are that Bagley actually wants to go to Sacramento, though, which means his camp has been willing to supply medical information, work out directly and engage throughout the process. That might matter in a big way and, from an on-court standpoint, it is easy to see Vivek Ranadive, Vlade Divac and the rest of the front office falling in love with Bagley's potential as a 20-10 player on the offensive end.
3. Atlanta Hawks – Luka Doncic (SF/PG, Slovenia)
Sneakily, the Hawks are another pivot team. However, ESPN's Adrian Wojnarowski recently reported that Atlanta has centered on Doncic, which makes sense. He is the best available player and, in my mind, the best player in the class. Throw in the fact that the organization isn't exactly brimming with offensive creators and here we are.
4. Memphis Grizzlies – Jaren Jackson Jr. (C, Michigan State)
Jackson and Marc Gasol aren't a perfect fit by any means but, in the same breath, it would be criminal for the Grizzlies to pass on the best player remaining on the board. Some analysts have Jackson Jr. as a No. 1 overall pick type of talent at this point and it isn't hard to see a world in which that is true. He is the best defensive prospect in the class and, even if you don't see star potential offensively, he's going to be someone who hits jumpers.
5. Dallas Mavericks – Mo Bamba (C, Texas)
It is hard to figure out what the Mavs think of Bamba but he does represent the end of a tier in the minds of many evaluating this draft. Bamba's value is based heavily on projection but, with his incredible wingspan and the theoretical ability to space the floor, it is easy to be enticed by what he could become. It's worth noting, though, that Bamba doesn't exactly present the highest floor and the Mavericks have been rumored to yearn for other prospects that would require a trade.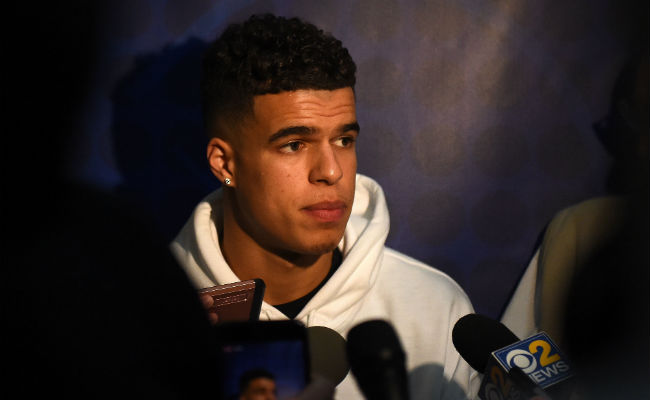 6. Orlando Magic – Trae Young (PG, Oklahoma)
The Magic have the league's worst point guard situation and a startling lack of high-end offensive creation. Young would seemingly address both issues, even with all of his weaknesses. He is an underrated (and fantastic) passer and, if the shooting pops in the way that it could, Young will make the Magic look quite intelligent at this slot.
7. Chicago Bulls – Wendell Carter Jr. (C, Duke)
This is a tough spot for the Bulls. Carter is a lot safer than the other prospect (ex: exactly one pick after this) in heavy consideration but there are potential fit challenges. You have to believe in Carter's versatility, make-up and well-rounded game to buy him in the top seven and I do. With that said, it wouldn't stun anyone if Chicago went in a different direction.
8. Cleveland Cavaliers (via Brooklyn) – Michael Porter Jr. (PF/SF, Missouri)
The buzz on Porter is all over the place but there is a growing sentiment that Cleveland might be his floor in this class. It would be aggressive to be definitive with anything when it comes to the Cavaliers but Porter is easily the most talented prospect remaining. Only teams with access to his medicals can really feel comfortable there and the off-court make-up has been a question. You can't replicate his upside, though, and the Cavs might be drawn to that.
9. New York Knicks – Kevin Knox (PF/SF, Kentucky)
New York has been heavily tied to point guards and with good reason. However, Young is the best theoretical fit with Frank Ntilikina and he isn't available in this scenario. The Knicks could certainly use a versatile, highly talented forward to grow with alongside Kristaps Porzingis and Knox is a reported riser at this late stage in the process.
10. Philadelphia 76ers (via LA Lakers) – Mikal Bridges (SF, Villanova)
For months, this has been a popular mock draft partnership. It still makes sense. Bridges doesn't bring a ton of upside beyond his 3-and-D capabilities but, in Philadelphia, he just needs to arrive as advertised. He'll knock down threes, try defensively and bring good length to the table on a team that needs a player of his archetype. If he's there — and he could certainly go earlier than this — there's no reason to overthink this pick.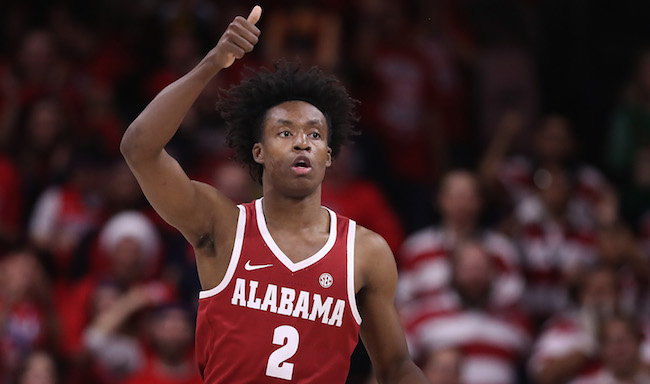 11. Charlotte Hornets – Shai Gilgeous-Alexander (PG/SG, Kentucky)
Weirdly, there is all kinds of buzz surrounding the Hornets and the point guard position. In theory, it makes some sense with Kemba Walker set to hit free agency in 2019 but, in Gilgeous-Alexander, Charlotte could add the best of both worlds. Is he a point guard? Maybe. But if he isn't, Gilgeous-Alexander also brings great length, defensive acumen and a versatile skill set to the table. That would work both alongside Walker and without him.
12. Los Angeles Clippers (via Detroit) – Miles Bridges (SF/PF, Michigan State)
The Clippers will likely be tied to a number of trade scenarios both before and during the draft. If they stay put, however, Los Angeles needs to take the two best prospects available. That starts with Bridges, who probably shouldn't fall this far in a vacuum and has a game that should jump off the page at the NBA level. He does virtually everything well and would be a nice fit for the Clippers.
13. Los Angeles Clippers – Collin Sexton (PG, Alabama)
The backcourt situation is weird for the Clippers but Sexton just makes too much sense. He'll be in play for a few teams before this (including New York) but this might be the realistic floor for the Alabama point guard. There is reason to be a little worried about his ultimate ceiling given the relative lack of shooting prowess, but Sexton is a flat-out competitor and he profiles as a starting point guard in the league.
14. Denver Nuggets – Zhaire Smith (SG/SF, Texas Tech)
The Nuggets may look to get creative here in using this pick to shed salary and avoid the luxury tax. If they stay put and make the selection, though, Smith would make a ton of sense. It might be a slight reach on my personal board but the Nuggets need a wing defender with a bit more length than Gary Harris provides. Most of all, Smith's athletic upside is silly.
15. Washington Wizards – Lonnie Walker (SG, Miami)
This is an odd fit but Walker operates as a "best player available" choice for the Wizards. Trying to peg Washington's future is difficult but there is always room for a talented guard with a 6'10 wingspan, offensive creation and real upside. They'll figure out the rest later if Walker slips this far.


16. Phoenix Suns (via Miami) – Troy Brown (SF, Oregon)
Ideally, the Suns would likely love a point guard here but it feels like a reach for Elie Okobo or Aaron Holiday. As such, Phoenix adds a player with point guard skills that can fill in a number of gaps. If Brown's jump shot was trustworthy, he'd be a no-doubt lottery pick but he's talented enough to justify this draft position even with questions looming in that area.
17. Milwaukee Bucks – Robert Williams (C, Texas A&M)
Williams seems to be falling in some circles and this isn't a perfect fit, either. If the Bucks are back in love with Thon Maker, they could pass on "Big Bob," but the value is too good. Milwaukee's frontcourt has been uncertain for a long time and Williams is better as a rim-runner than Maker. If nothing else, pairing the two would be fun.
18. San Antonio Spurs – Jerome Robinson (SG, Boston College)
Robinson has a ton of pre-draft helium, rising from the 20's (and even 30's) into a potential landing spot in the teens. Much of that seems to stem from his ability to create shots and the Spurs need a player with that kind of profile. In addition, Robinson's significant defensive concerns would be mitigated by the presence of Dejounte Murray in a modern backcourt.
19. Atlanta Hawks (via Minnesota) – Chandler Hutchison (SF, Boise State)
The Hawks are probably in best player available mode here, especially with Doncic already on board in this scenario. Hutchison probably won't move the needle from a spice perspective but he does a lot of things well. He would bring athleticism, scoring acumen, floor-spacing and length to the table and every team wants that combination.
20. Minnesota Timberwolves (via Oklahoma City) – Jacob Evans (SG/SF, Cincinnati)
Evans feels like a Tom Thibodeau player and the Wolves need help on the wing, at least in terms of supporting pieces that can function in a role. He has a high basketball IQ and the ability to knock down open shots. Defensively, Evans is tough and physical. He isn't incredibly long but there is enough there to switch and hold up against a bunch of match-ups. He's a pure role player but that's just fine.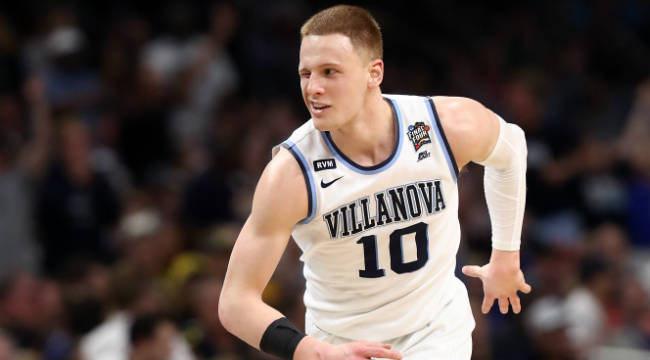 21. Utah Jazz – Kevin Huerter (SG/SF, Maryland)
This might be the floor for Huerter, especially given all of the upward trajectory he had coming out of the combine. He isn't able to play right now as a result of a hand injury but the timetable for recovery is before training camp and that shouldn't terrify anyone. Huerter might be the best shooter of any wing in the class and the Jazz have reportedly expressed interest.
22. Chicago Bulls (via New Orleans) – Melvin Frazier (SF, Tulane)
After passing on wings at the No. 7 spot, the Bulls pick up a quality option here. Frazier isn't a heralded prospect but he's a freakish athlete with a 7'2 wingspan that might be a defensive monster when unleashed in the NBA. If you believe in his shooting from last season, this is too low for Frazier and, if he levels off to only being an average-ish shooter, there is still a role for him.
23. Indiana Pacers – Elie Okobo (PG, France)
The Pacers had an awesome season but their point guard situation is anything but settled. Aaron Holiday should get a long look but Okobo might be the better prospect at this point, particularly when paired with Victor Oladipo.
24. Portland Trail Blazers – Khyri Thomas (SG, Creighton)
Portland is in a weird place but Thomas would help them as currently constructed. He doesn't need the ball, will defend at a high level (with a 6'10 wingspan) and can make threes with efficiency. For a team that could use a third guard, that feels right.
25. Los Angeles Lakers (via Cleveland) – Donte DiVincenzo (SG, Villanova)
The Lakers may look to move this pick in a deal centered on salary considerations before free agency. If they actually make it, DiVincenzo would combine a potential "best player available" move with a weird need. Los Angeles does have Lonzo Ball and Josh Hart but DiVincenzo can play on and off the ball while providing shooting and a toughness level that would be alluring.


26. Philadelphia 76ers – Josh Okogie (SG, Georgia Tech)
The Sixers feel like a prime trade candidate, as they also have two additional picks in the late 30's. If they stay put, Okogie would fit the bill of what Brett Brown may be looking for as a talented two-way option with a 7'0 wingspan and the ability to make open shots. He doesn't need the ball and that is as appetizing as anything with the Sixers.
27. Boston Celtics – De'Anthony Melton (SG/PG, USC)
Melton rates much higher than this on my board but not everyone agrees. In Boston, he would provide a ready-made replacement for a player he has been compared to in Marcus Smart. The difference is Melton's jump shot might prove to be a neutral factor rather than a weakness. He almost certainly would be rated higher if not for a year-long suspension in conjunction with the FBI probe at USC and Melton is a Danny Ainge-type of prospect.
28. Golden State Warriors – Keita Bates-Diop (PF/SF, Ohio State)
Everyone seems to be projecting Golden State to take a wing and Bates-Diop fits the bill if the Warriors want an NBA-ready contributor. He's more of a 4/3 combo player than he is a pure a wing but Bates-Diop was great at Ohio State this season and has a lot of the traits that teams would want in the modern game. Is he a great athlete? No, but the Warriors could use another option in their small-ball schemes and it also might be a "best player available" choice.
29. Brooklyn Nets (via Toronto) – Aaron Holiday (PG/SG, UCLA)
The Nets don't have a shortage of point guards right now but Jeremy Lin and/or Spencer Dinwiddie could be on the way out in the near future. Holiday is a tremendous shooter that has on-ball creation ability and the length to defend at the NBA level. Brooklyn could go a number of directions here but a quality rotation player in the backcourt is one of them.
30. Atlanta Hawks (via Houston) – Mitchell Robinson (C, High School)
With two "safe" selections on the perimeter at No. 3 and No. 19, the Hawks can afford to take a massive swing on Robinson. He has lottery-level talent but, given the weird route he's taken to get here and questions about what he actually wants to be in the NBA, Robinson's downside is swift. Atlanta's culture, headlined by new head coach Lloyd Pierce, will be defense-first and they might be able to maximize Robinson into a dynamic rim-runner in time.