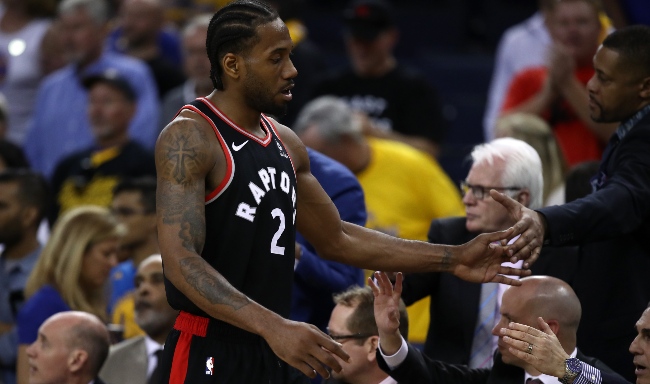 When the Knicks entered free agency they made it clear that their goal was to sign stars to play with them. Then two hours into free agency they reached the sobering realization that they were not a top destination and adjusted course by signing much smaller names like Bobby Portis and Reggie Bullock.
Part of the reason why the Knicks weren't getting any star names was by choice, at least as it's been reported, not just that players aren't huge fans of how the franchise has been run lately. Reports surfaced that part of why they didn't even try to get a meeting with Kevin Durant was that they had concerns about giving him a full max coming off of the Achilles injury.
Then, to be extra safe to not embarrass themselves any further, per Marc Berman of the New York Post, they reportedly pulled out of planned meetings with Kawhi Leonard. Which unfortunately for them completely and totally embarrassed them.
As it played out when Kevin Durant turned up his nose at the Knicks, the club realized any chance of nabbing Leonard without KD was a long shot.

According to a source, Leonard agreed to meet with the Knicks, but not until Wednesday after finishing with the Clippers and Lakers.

That plan was scratched by Knicks' brass over logistics.

The Knicks had spent almost all of their $70 million cap space in the first 20 hours of free agency, knowing if they waited until the Leonard meeting Wednesday, the players they did sign could be off the market. It was too big a risk, knowing they likely would finish fourth behind the Raptors, Lakers and Clippers.

This is just the latest disappointment to fans what has been seen as a pretty rough offseason on the part of the Knicks. They entered the summer with plans of attracting stars but whiffed on them so fast that the best they could do was go into recovery mode, kick the can down the line, and set up their cap room to be free two years from now (or next year, via team options) so they can do it all over again. The Knicks will continue chasing stars but it looks like they'll continue missing them, because until they prove they have a competent organizational structure, stars will keep having concerns.
In the grand scheme of Knicks like behavior, this really isn't all that bad. Knowing what you are and what you're capable of as a franchise allows you to make smarter decisions. The Knicks realizing they were unlikely to get Leonard so they instead chose to spend money elsewhere was honestly a smarter move on their part than putting everything into a signing that they never really had much chance of making — especially seeing how quickly the market has moved. This is more of an indictment of how futile their efforts were over the last season in creating double-max space, when it only took an hour or two to realize they had no chance at the top players.