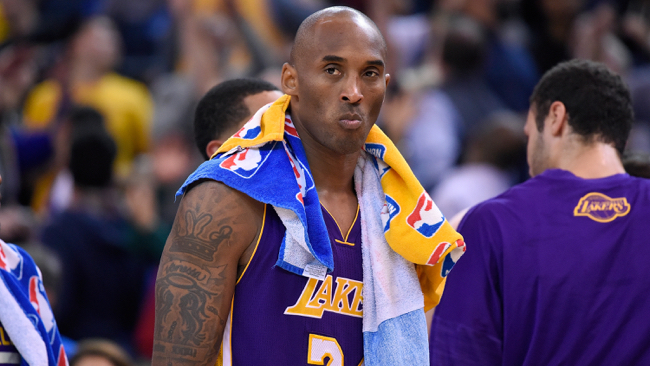 Give Kobe Bryant credit. Despite his Lakers sporting the worst record in the Western Conference, and with his impending retirement on the horizon, he still doesn't plan on taking his foot off of the gas. After the Lakers lost to Portland on Sunday night, Bryant reportedly ripped into his teammates, according to the Los Angeles Daily News. Bryant told the team he wasn't happy with the fact that some players were smiling after the loss, and after Byron Scott addressed the squad in the locker room, he reportedly spent about two minutes chastising his teammates.
Bryant, who posted 10 points on 5-of-9 shooting and five turnovers in 25 minutes through three quarters, became upset both with the Lakers (9-37) for losing their sixth consecutive game and for some on the team smiling after the loss, sources said. Bryant took particular aim at Lakers rookie point guard D'Angelo Russell and second-year forward Julius Randle and even called them out by name, sources said.
It was a rough game for the Lakers, as the team struggled to stop Portland from scoring, couldn't keep the Blazers off the glass, and committed 18 turnovers en route to a 121-103 loss. Bryant has always been one of the most fiery competitors in the league, so it's not a shock that seeing his younger teammates smile after the Lakers fell to 9-37 on the year rubbed him the wrong way.
According to Scott, Bryant saying something like this gets the point across in a way that he cannot.
"I think it helps because of the fact [Kobe] is who he is. At times, they'll get tired of hearing it from coaches all the time saying the same thing. When one of your peers says it, especially someone of that magnitude, you would hope those guys would listen. You would hope they listen to that and take it to heart."
The Lakers take the court again on Tuesday, when the team hosts Dallas. Should they lose, odds are you won't see anyone walking around with a smile on their face.
(via Los Angeles Daily News)