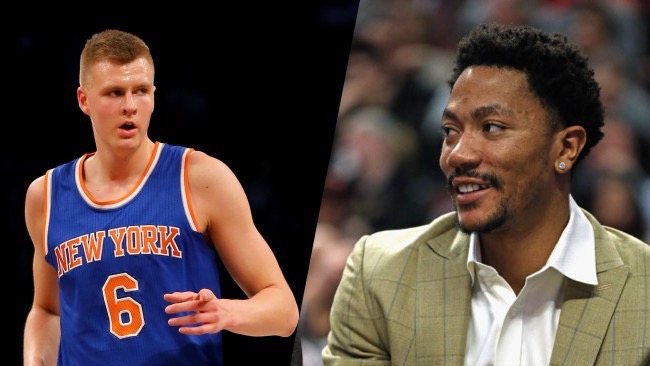 Can they do it? Can the New York Knicks reverse the trends that have worked so hard against them the past three years (really the last 40 years, but who's counting?) and return to the playoffs this season? Their "unicorn," Kristaps Porzingis, has hope. And to him, it all starts with brand new point guard Derrick Rose.
Porzingis hosted a basketball camp in Westchester Saturday, about a week or so out from when the Knicks will assemble and get their 2016-2017 season underway. In an interview with ESPN.com, he elaborated more on one of his new teammates, a former MVP who has a lot on his plate these days, particularly off the court.
"How explosive he is and everything, he's still got it. He's still Derrick Rose. And so it will be exciting to play with him. He draws so much attention when he's driving he's so dangerous that I'm going to be wide open and that's what I'm looking forward to. He's going to be creating for me and other teammates."
Porzingis also addressed Rose's comments from the summer in which the ex-Bulls star likened the Knicks to the same kind of "super team" being built by the Golden State Warriors. Rose clarified his remarks by saying that he simply feels that the Knicks have the talent to win 82 games, not that they actually will. Porzingis agrees.
"Not that we're going to win 82 games, zero (losses)," he said. "But every team that comes up, we're able to beat them because we have enough talent. I think that's what he meant and I like the confidence, I like that he believes that we're good enough. So it's just, now we've got to prove it. It's enough talking and we've got to go out on the court and prove that we're a good team."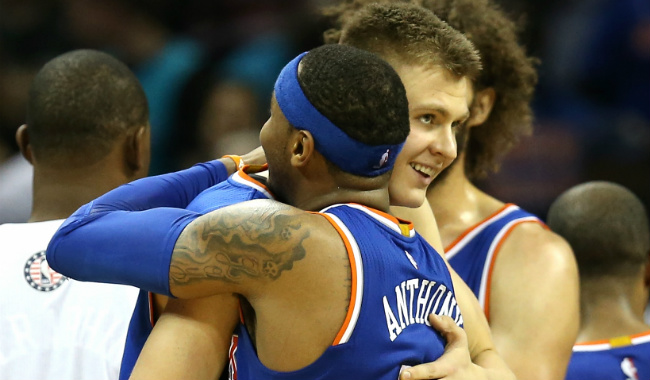 As to whether the addition of Rose will affect how much Porzingis has the ball, especially considering that there's a dude named Carmelo Anthony still on the roster, the second-year man asserted that he's comfortable with the way things are in the Knicks' hierarchy and that to him, all that matters is winning.
"That's secondary for me. If we can win games, it doesn't matter who is scoring. If we as a team can win [it doesn't] matter who is taking how many shots, at least for me. So if we all have that same mentality then we're going to be fine."
Spoken like a true NBA vet.
(via ESPN)