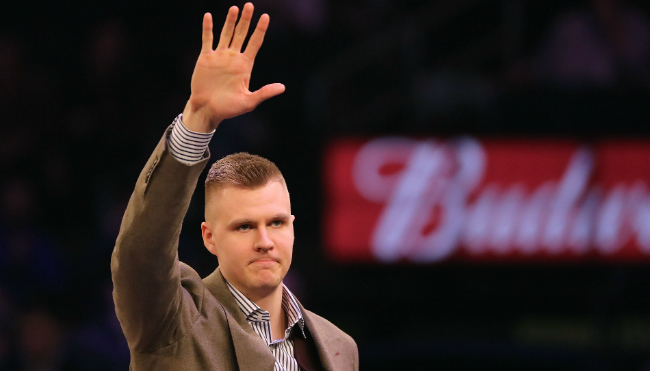 So much of the New York Knicks' 2018-19 season depends on the health of Kristaps Porzingis. If he's able to play following surgery on the torn ACL he suffered last season, perhaps the Knicks can push for their first playoff appearance since the 2012-13 campaign. If the team decides to take a more conservative approach and maybe even hold him out all season, well, then it's not hard to imagine David Fizdale's first year in New York featuring a whole bunch of losses.
Basketball fans did get an update on the Porzingis front on Wednesday night, when the Knicks and the Nets squared off in preseason action. New York came out on top, 107-102, and at one point, Porzingis revealed that he feels like he's getting close to where he needs to be.

"It's been seven and a half months out of the surgery, and I'm pretty close to already being back to normal, basically," Porzingis said. "It's just more working on strength of the leg and making sure it's as strong as the other one, if not stronger."
With how much influence the Knicks reportedly hope Porzingis can have on free agents next summer, having him sit out the entire season as he tries to recover might not be the best course of action. Porzingis is the Knicks' clear-cut best player, and based on what he had to say here, it would be something of a surprise if he doesn't play at all this year.