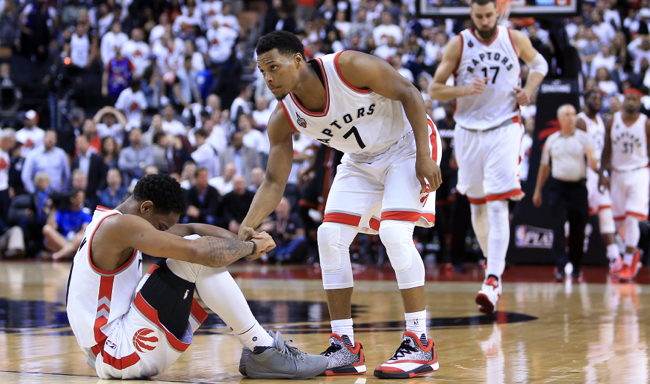 We have to speak up because Kyle Lowry won't. Or, maybe he can't — no excuses and all that macho malarkey. The Raptors point guard is currently shooting just 30.6 percent from the floor in the playoffs and has connected on only 8-of-50 attempts from three-point range. One of those eight triples came on Tuesday night's prayer from half-court, but that only delayed Toronto's Game 1 fate. Lowry's shooting has been so cockeyed this postseason, he was captured shooting on the Air Canada Centre court at 1 in the morning.
It's 1 a.m. and that's Kyle Lowry. #WeTheNorth pic.twitter.com/I2iT8TXtLV

— Toronto Raptors (@Raptors) May 4, 2016
Perhaps there's a bigger rationale for his struggles than simply believing the All-Star is wilting on the big stage.
Late in March, when Lowry had his elbow drained in a tough loss to the Thunder, he seemed to downplay the significance of the injury, saying that it's been an issue since Toronto's London game in January.
But, after stipulating, "I'm not going to make any excuses," he said. "It's definitely something I don't want to play with. I don't like playing with (it). But it is what it is. This time of year, you just play through it."
Playing through it is all well and good, but it's obviously affecting his play. The Inside the NBA crew is never a smart place to go for sagacious analysis — sorry, fellas, but Chuck's right. You ain't experts. It's entertainment more than anything, but Charles Barkley and Kenny Smith said in their post-game show that coach Dwane Casey should "use a short leash" with Lowry.
Putting aside the insulting dog metaphor, they're alluding to the insertion of backup guard, Cory Joseph, in Lowry's place. Joseph has been as blisteringly hot from the field as Lowry's been ice-cold: He's currently connecting on 58 percent of his field goal attempts in the playoffs, and he's 5-of-9 from beyond the arc. Obviously a lot of those points are being scored against the other team's backup, but it's a decision Lowry's abysmal play is forcing Casey to make.
No one wants to bench their All-Star and leader, but it's clear there's a confidence issue at play here and it's starting to affect his decisions on the court. That's always a bad sign.
"I passed up a lot of shots," Lowry told Bruce Arthur of The Toronto Star after Game 2. "I passed up a ton of shots. The poor shooting, I think that's what it did to me tonight."
When Lowry continued, it was clear he's at a loss, and he knows he's playing poorly at the absolute worst time, which just compounds that confidence problem:
"Playoffs, all eyes are on you. So it sucks that I'm playing this bad when all eyes are on me, because I know I'm way better than this. So I've got to pick this sh*t up."
We keep coming back to that elbow and all the work Lowry did over the summer to slim down some more to better prepare for a 2015-16 campaign that was going to end with — hopefully — a long playoff run. Now, with his Raptors finally out of the second round, Lowry can't find the twine.
"I haven't shot the ball well for a while now," Lowry said after Game 2, before uttering the type of opaque comment that always means a player's thinking too much instead of just playing.
"I have to find it and have fun. Be more aggressive, maybe be less aggressive, and just find a way to be myself."
For the sake of long-suffering Raptor's nation, we hope that's even possible with that elbow.
(Toronto Star; ESPN)