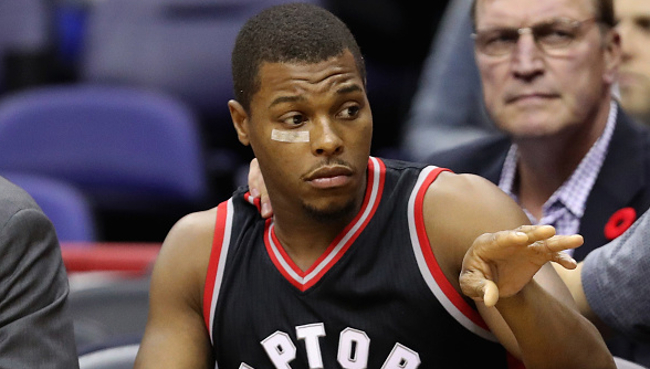 Kyle Lowry was a decent-to-pretty good point guard for the first six years of his NBA career. Then, in 2012, the former Grizzlies and Rockets guard joined the Toronto Raptors. After a solid first year north of the border, Lowry turned into one of the better point guards in the NBA, making the All-Star game three times and earning a spot on the third-team All-NBA squad in 2016.
But after five years with the Raptors, the 31-year-old Lowry seems to be ready to leave for greener pastures. Bruce Arthur of The Toronto Star reports that it's hard to imagine a scenario where Lowry returns to the team, as he reportedly doesn't want to return unless he's given a max contract.
Even if the organization did manage to make a deal for a big-time player, Kyle Lowry is a free agent, and multiple league sources say the all-star point guard has been grumbling about dissatisfaction with the Raptors for months. As of mid-May other teams were being told Lowry had "zero interest" in returning to Toronto, even if the Raptors offered a maximum five-year deal. Which since the club had no intention of offering a five-year deal probably made Lowry's declaration easier to make.

Arthur also broke down the potential destinations for Lowry and why it's hard to see the perceived leaders coming to fruition — Chris Paul could return to the Los Angeles Clippers, the San Antonio Spurs reportedly aren't especially interested in Lowry, and Philadelphia's decision to trade up for Markelle Fultz takes Lowry off the table. (For the record, Arthur reports that there was never anything significant to the Lowry-to-Philly rumblings.)
As for what Lowry thinks of this report, well, he's not exactly a fan.
Lowry is one of the hardest guys in the free agency market to project — he's great and one of the best point guards in the league, but he's also 31 and has a checkered injury history. The market for him may not be as robust as it is for other stars, but whatever team eventually gets the All-Star guard probably won't be disappointed.
(Via The Toronto Star)