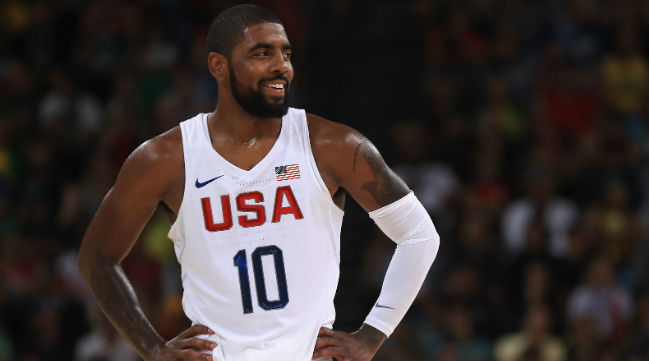 The early focus this NBA offseason is the list of teams trying to acquire Chicago's Jimmy Butler and Indiana's Paul George. While the Cleveland Cavaliers appear to be atop the list for Butler, some in Cleveland are quietly making plans for an exit in case things go south.
Hidden in an article by Joe Cowley of the Chicago Sun-Times about Jimmy Butler trade rumors is an interesting nugget about Kyrie Irving and his plans for the summer of 2018. The report says that Irving, who is close to Butler, is actually making his intentions known that he'd leave Cleveland if LeBron James opts out next summer.
The Sun-Times reported last week that Butler has been in the ear of free-agent point guard Kyle Lowry about coming to Chicago since the two played on Team USA last summer, and now there's a new name in the mix.

All-Star Kyrie Irving has been contacting some of his former Team USA teammates and letting them know that he might be willing to push for a trade, especially if he feels the Cavs' run could end quickly with James able to opt out after next season.

Through back channels, Chicago would be one of the places that Irving would be interested to play.
That news, of course, comes with a number of caveats. Kyrie is only making plans in case LeBron James were to leave Cleveland after next season. And Chicago isn't a landing spot for Irving if Butler is traded to another team. This is all just laying the groundwork for a move out of town if things truly go sour in Cleveland.
But it's not completely out of the question at this point. Cavaliers general manager David Griffin left the team mysteriously on Monday, and and LeBron subtweeted Cavs owner Dan Gilbert later that night, so things could be coming apart at the seams in a hurry there.