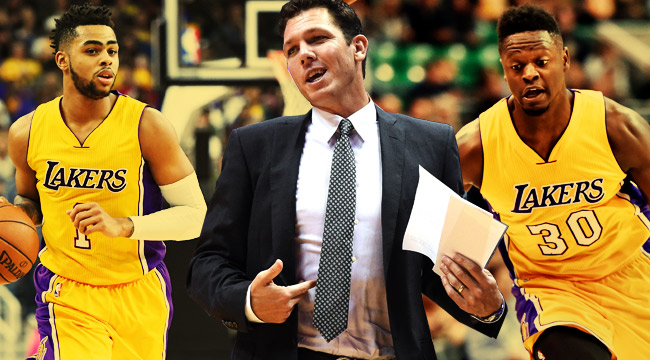 At 4-3, the Los Angeles Lakers have a winning record at the latest point in their season since 2013. That tells you a lot even in a small sample size: they've been very bad in recent years, they're showing improvement, and it's still really early. And yet, these Lakers are doing more than just enjoying the freedom of being out from under Kobe Bryant's shadow — they're playing good basketball way ahead of schedule.
One of the upshots of being bad for a longer stretch than any Lakers fan cares to remember is that they now have a bunch of lottery picks playing with and growing with each other — Julius Randle, D'Angelo Russell, and Brandon Ingram, to go along with late first-round pick Larry Nance, Jr. What's been surprising so far is how the most heralded of the young Lakers have arguably been the least impressive.
Ingram is just starting out in the league, and though head coach Luke Walton (we'll get back to him) has done a good job giving him consistent minutes, the young wing is still completely raw. He's got time, talent, and size on his side, but he's not the reason the Lakers have a winning record. D'Angelo Russell is playing with more freedom and confidence than he ever did under Byron Scott last year, but he's shooting a Emmanuel Mudiay-like 35 percent from the floor. As good a passer as he already is, that sort of inefficiency from the field, combined with a 4.9:3 assist-to-turnover ratio, means that unless he's an ace defender (he's not), he's not a winning player quite yet.
Jordan Clarkson is doing what he'll probably be doing in this league for the next decade, providing scoring in bursts off the bench while operating as a secondary ballhandler. He's got a lot of Jamal Crawford in his future, only without quite as killer a crossover It's Randle, the sixth pick in what was considered a subpar 2014 draft class (who missed his entire rookie year with a broken leg) who has been the revelation. He went for 20 points and 14 rebounds banging against Draymond Green in the Lakers' upset of the Golden State Warriors on Friday, and he is scoring and rebounding like a supercharged Zach Randolph.
Randle may be a bit undersized for a traditional power forward, but that's the way the league is going anyway. Regardless, his skill set — low post moves, offensive rebounding and range out to 18 feet — is exactly that of a classic forward. His backup, Nance, has complementary skills, with better above-the-rim athleticism for both pick-and-roll finishing and defense. He leads a second unit of Ingram, Lou Williams, Clarkson and Tarik Black that has been stout defensively, with better outside shooting than the starters. Most importantly, Nance has showed an ability to be a small-ball center when sharing the floor with Randle.
Randle's been a mild surprise, but it's Nick Young who's been the straight-up shocker. He's still an inefficient shooter who is prone to taking off-balance shots, but he's completely reinvented himself otherwise, flying all over the floor to fight for rebounds and loose balls, and making rotations on defense.
It's downright upsetting for some basketbloggers used to having Swaggy P as their whipping boy:

If you're looking for a common thread between Young's revival, the increased confidence of Randle, and the teamwork between all of them, there's one obvious answer: head coach Luke Walton. He presided over the Warriors' scorching start last year in place of the injured Steve Kerr, and his easygoing personality seems to fit the young Lakers personally.
Unlike Byron Scott, who tried to smash his youngsters into his narrow mode of basketball expression, Walton started by listening and learning, via the LA Times:
"I don't have expectations. I came into this job with an open mind. They've proven, they haven't shown me anything to say that they're immature other than the age of a lot of them. They've come to work every single day since we've been here, even before training camp. Their actions speak loud. They're grown men that are in this to get better and to be as good as they can."
There's a reason why fanbases agonize over which coaches they want their teams to hire, especially when their rosters are young — it's because if you find the right match, you can build a relationship that elevates the players beyond their abilities for years. It's wildly early to say if Walton is that coach, but there's far more evidence in his favor than against him.
The Lakers may have a winning record now, but if none of their starters can shoot better than 35 percent from long range and no one averages even five assists, they're not going anywhere this season. That being said, there's a reasonable chance that Ingram and Russell could experience some positive regression in their averages, but the ceiling on this season is still fairly low. And that's okay! No one expected the Lakers to contend right away, but they still seem well ahead of schedule thanks to a surprisingly balanced roster and an unsurprisingly brilliant coach.