The Lakers and Heat will face off on Friday in a Game 5 matchup that will determine whether the 2020 NBA Finals continue in Orlando, or if the Lakers will return to Los Angeles as champions.
Over the past three-plus months, players have dealt with the unique challenges of the NBA Bubble, as they have gone through a playoffs unlike any other. They have spent significant time away from loved ones, home arenas, and anything resembling their typical routine. On top of all of that, players have been vocal throughout their time in Orlando in speaking out about issues facing their communities, from police violence, to voter suppression, to the systemic inequality that has put Black Americans at an inherent, structural disadvantage. Their organizations have followed suit, with the Heat making a pledge to be more vocal and active in supporting the Black community and the fight for social justice, while the Lakers Foundation has expanded its efforts, particularly in the area of education and trying to bridge the digital divide in low-income communities in L.A.
There is little in the way of normalcy for the NBA — and, really, everyone — in 2020, but despite neither team being in Miami or Los Angeles during the Finals, both organizations made sure to continue the tradition of completing a Finals Legacy Project in their home communities during the series. It's an annual tradition, but one that is even more acutely important in 2020, given the toll the COVID-19 pandemic has taken on the disadvantaged. As such, both teams targeted significant areas of need in their cities for their Legacy Projects which continue their efforts to expand their community work prior to the Bubble beginning.
The Lakers partnered with Challengers Clubhouse at the Boys and Girls Club of Metro L.A. to create a new Makers Space STEM lab that will help bridge the digital divide. The lab, which will be finished after the Finals end, provides kids with equipment like dozens of Chromebooks and iPads, as well as a safe space to go to school, have proper resources and internet access, and receive assistance as they go through remote learning. As the Lakers Foundation's Kiesha Nix, who was joined by Robert Horry for the reveal of the plans for the new Makers Space prior to Game 2, told Dime, conversations with local organizations helped them realize the issue of children not having proper equipment, internet access, or a place to do remote learning in Los Angeles.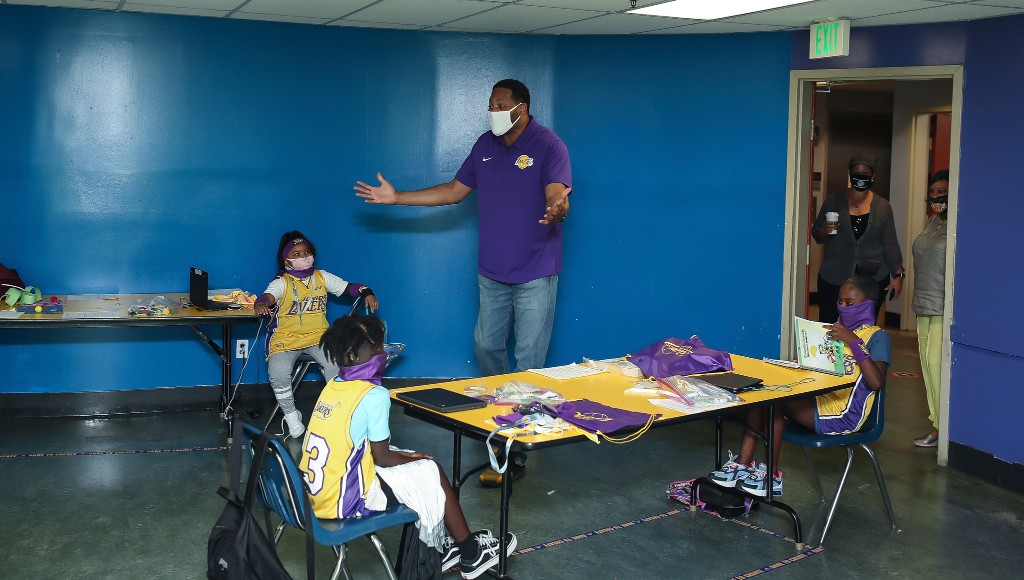 "Having a safe space for the kids – it's one thing giving kids a device, which we learned, and then having them having access to the wifi, so we learned that too, but a lot of the kids have parents who are first responders or their job entails them going into a location, so they need a place for the kids to go," Nix says. "So we were excited when the Boys and Girls Clubs we support, specifically Challengers, were able to open back up. That meant they had somewhere to take the kid, a safe space, socially distant, making sure they were adhering to appropriate protocols. So if the kids are there, we need to make sure they have all the resources there to be able to do their work and keep up with everyone. So this Makers Space is twofold. It definitely gives the technology needed, but it also gives a safe environment for the kids to come and have interaction with others, as long as it's socially distanced and safe."
The Heat worked with Feeding South Florida and the Florida Rights Restoration Coalition for their Legacy Project. Former Heat standout Glen Rice joined the organization for a drive-thru food drive on Monday at Gwen Cherry Park that provided 600 families in need with boxes with milk, water, protein, produce, non-perishable goods, hand sanitizer, and team gear. They also joined the league and State Farm in providing a $45,000 donation to the FRRC's Fines and Fees Program, which has also received support from LeBron's More Than A Vote campaign, to help pay fees to remove the final barrier from citizens who have served time for felonies and otherwise had their rights fully restored, but faced financial obligations to the state that prevent them from being able to register to vote.
As Heat CMO Michael McCullough told Dime, this was an extension of their Juneteenth pledge to involve themselves even more in the fight for racial equality and work with two organizations they've aligned themselves with for some time. The events of Monday in Florida, in which the voter registration site crashed on the last day for people in Florida to register (the deadline was later pushed to Tuesday at 7 p.m.) only further cemented the importance of working with an organization like the FRRC to fight voter suppression and help communities still reeling from the impacts of the pandemic, even as attention shifts elsewhere.
"The fact that we were doing what we're doing yesterday and that system crashed — and thankfully they extended the registration deadline to today at 7 — it just served to reiterate why we're doing what we're doing," McCullough said. "Again, computer systems crash all the time, I think we understand that, but the timing is very peculiar and it just is another reason why us partnering with the FRRC makes sense, because regardless of which way you lean, the fact that we have people who have served their debt to society who are reentering back into society have another hurdle placed in front of them to be fully functioning members of society, that is not their fault. So that's what the FRRC is trying to eradicate and we're really proud to be partnering with them.
"And Feeding South Florida, we've been partnering with them on a number of things, not only since the pandemic, but in years prior," McCullough continued. "All those cars that came through yesterday those folks were so appreciative of the help and support they were receiving, because the longer this pandemic goes on, people start to lose a little of their fervor to forgive and to remember there's a bunch of people who are still hurting. Now that things are slowly opening back up, there's a whole group of people who they're not opening back up for, or those jobs they had aren't there anymore. So the group at Feeding South Florida, the group at Health in the Hood that we partnered with, these people are doing great work and putting food on the table for families that don't have an option right now."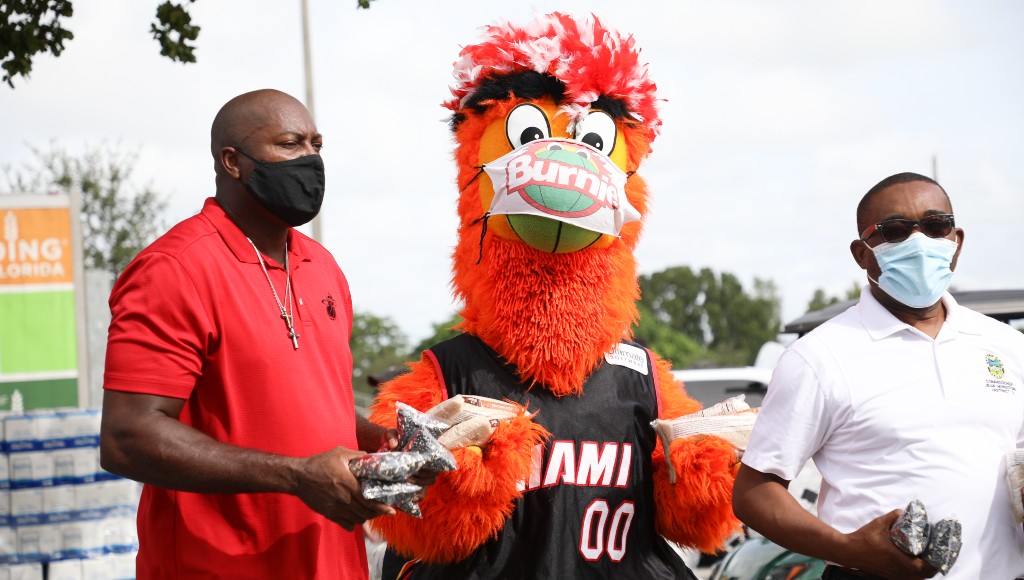 Along with those events, the teams invited members of each organization to be virtual fans for a game during the Finals, with kids from the Challengers Clubhouse attending Game 2 and members of the FRRC and Feeding South Florida attending Game 4, which only further brought them into the Finals experience.
"The kids at the club really feel like they were a part of the NBA Finals," Nix said. "Like, Zooming them into the game was awesome. Some of the Club members even tuned in super early because they didn't want to miss their opportunity."
The Heat and Lakers are two franchises that pride themselves on organizational culture, and that extends beyond the walls of their facilities. Both Nix and McCullough stressed the importance of uplifting their communities to both organizations, noting it's vital to help the people feel connected to the organization and to give back to the cities that support them so much.
"We have this organizational culture that everybody has come to recognize, but it's not just what happens on the court," McCullough said. "The way we look at it is, we have this incredible position of trust and respect that we've earned in this community and they've bestowed on us, but that also means we have an obligation and a responsibility to that community. Being in this position gives us the chance to do things that maybe other businesses in this town can't do or aren't expected to do. So when we see an opportunity like we saw yesterday with Feeding South Florida or the FRRC or to align with Black Girls Code, we see that and we're like, this is where we're supposed to be. It's what people expect of us, and we appreciate that. That's how we want to be. We look at ourselves as a community asset."
The NBA, its teams, and its players have been adamant about the need to keep focus on issues beyond the court throughout the Bubble, and even as the Finals reach its potential conclusion, the Heat and Lakers made sure to follow through on that promise with their Legacy Projects. It's an annual tradition in the NBA, and in 2020, even with teams away from those communities, those efforts are as important as ever.