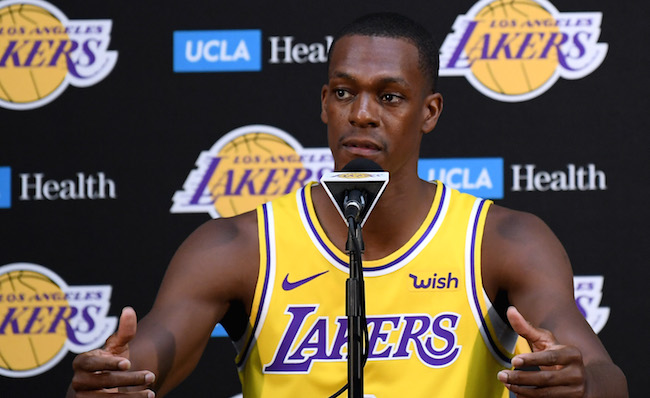 The Lakers have a new-look for the 2018-19 season, as LeBron James joins the squad along with his MUD squad of veteran misfits that also signed during free agency.
Lance Stephenson and Michael Beasley were signed to help out on the wing, while JaVale McGee was brought in to bolster their center position. However, aside from LeBron, the Rajon Rondo signing came as the biggest surprise — and with the biggest price tag — as the former Celtic legend and noted LeBron disliker joins forces with James and the Lakers.
From the moment he signed there was chatter about what his role would be in L.A., given that Lonzo Ball is one of the Lakers most prized young stars and started at point guard last year. From the jump, the message out of the Lakers building has been that it will be a competition for the starting point guard job, with both Rondo and Ball being able to earn that role. With Ball still not cleared for 5-on-5 action as camp gets set to begin, the decision for the beginning of the season has already been made.

Luke Walton told ESPN's Dave McMenamin that the plan as of Monday's media day was for Rondo to start while Ball works his way back from that summer surgery. What will be interesting to see is how the Lakers start the season, which may dictate when, if at all, Ball gets his starting job back from Rondo this year.
If L.A. comes out hot with Rondo starting and Ball leading the bench unit, it'd be hard for Walton to justify moving Rondo to the bench. That scenario does bring the inherent risk of Ball getting frustrated with his role — and almost assuredly leading to LaVar sounding off about it.
Winning solves a lot of things, so as long as things are going well for the Lakers, everyone can feel comfortable that them being in whatever role they find themselves in is for the benefit of the team. However, if things go poorly, tensions could arise and the worst fears about bringing this group of players together could be realized. The Lakers will be very interesting to watch this season, no matter the outcome of the games, and the Rondo-Ball competition will be at the top of the list of things to be on the lookout for.