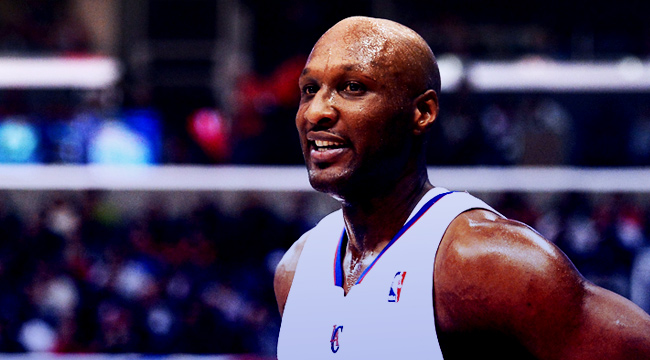 Lamar Odom should have a job right now, playing basketball in the NBA. It's mid-October, tip-off time for a league that usually starts at Halloween, the time of year where Rod Strickland used to get gigs, and the 37-year old Odom remains sensibly sidelined as training camps break. When he turns 38 in November, 41 months will have passed since Lamar Odom last played in the league it seemed he was born to live in.
Assuming that sort of dumb sh*t is where we made our first mistake, of course, but it is worth recognizing that Odom was always meant to dance at this space at an advanced age.
The man was throwing Fat Man passes in middle school, loping around the avenue in a 1990s set of New York that only seemed to provide prospects beset with progeria: Elton Brand, Metta World Peace, Brendan Haywood, Ernest Brown, Melvin Robinson. At 6-10 and with a resume that includes 253 three-pointers launched in 2000-01 alone, Lamar would have fit in perfectly in a modern-as-tomorrow NBA that asks its power forwards to provide complication and an outside touch in equal amounts.
Instead, LO will sit this one out. Whatever the link that sent you here, you've got a pretty good idea why. Odom detailed his struggles as an addict in an expert document available at the Players Tribune this summer, an aching and candid portrayal read without much blinking by those who have navigated similar bumps. The basketball reasons, as they damn well should be, were left out of the feature Odom penned.
Odom's first satisfying year as a pro – a dandy turn through the 2003-04 with an emerging Miami Heat squad – turned skittery in the summer when, according to his Players Tribune piece, he tried blow for the first time after a young lifetime previously spent sneering at the stuff. It doesn't matter if the hit took place before or after he was dealt from the Heat that same summer, the centerpiece in a 2004 deal that returned Shaquille O'Neal. It could have coated before or after Lamar turned from franchise cornerstone into trade asset in the face of a big doofus with a truck full of Super Soakers.


The trade put him back in Los Angeles, back as a Laker this time and a year after Clippers owner Donald Sterling literally signed off on the acknowledgment that Lamar Odom was not worth $67 million spread out over six seasons to play for his franchise.
The Lakers, a few months removed from a trip to the Finals, thought those terms suitable. Four more years and $33 million came in 2009, after Odom had won the first of his two titles in Los Angeles.
The next tilt came in 2011, when the Lakers made the man an asset again in a deal meant to pair Chris Paul and Kobe Bryant, the Lakers dumped LO on New Orleans and again in Dallas after a gobsmacked Lamar told the Lakers that this, as with all things moving forward, was most certainly not going to work out. Odom's descent was as slick and as sickening as Los Angeles – the city that traded him twice – can be.
The recognition of as much was immediate. Mark Cuban and Mavs coach Rick Carlisle, just two years removed from tolerating Tim Thomas in the same role, couldn't handle Odom as the team's outsized veteran of note before kindly asked Lamar to leave the defending champions' locker room during a playoff run. Odom, "want(ing) to get high all the time" per Players Tribune, played 82 games with Donald Sterling's Clippers in 2012-13 and, barring some blog posts we all wrote, that was it for him and the NBA.


Signs would indicate, however, that he's left us with quite a bit to consider.
Beyond the appropriate reaction to his Players Tribune feature, there was Woj's podcast with former Laker GM Mitch Kupchak – two basketball lifers aware of the obvious, still thoughtfully and deliberately discussing in basketball terms how (and not why) Lamar Odom handled the rescinded Chris Paul deal in different ways than Pau Gasol. Every time a blue link accompanies Lamar Odom's name, basketball fans will go right to the crush – it must be a drag to have your dream rejected in favor of a plane ticket to a town that used to boo you.
The rest of us have to remain aware that these trips don't have to spring from the obvious storylines, nobody has to get traded for Shaq, nobody has to become an unwilling Hornet, and that the guy a few seats down from the Sixth Man of the Year may also be similarly melting. If we all want to keep playing this game, we all have to be cool about things.
Odom was born when the 1970s had just weeks to live, but it's not perverse to expect his set of skills to translate to age 37 and 38 and into 2017-18. Somewhere, on the end of a contender's bench, he should be explaining away that 3-11 mark from the preseason. Gregg Popovich or Billy Donovan should be joking about his weight. We probably would have heard a bit about all the restaurants around here and how they close too early.


It's getting cold now, so you look to what warms. The leafy ones, still clinging:
Zach Randolph wasn't ever supposed to be relevant in this decade, not with the way he ended the last one, and he's still going to lead the Kings in second-quarter scoring as many times as he wants to this year. Using the same long arms that kept the overeager law and/or media at appropriate bay earlier this year.
Jamal Crawford tore his ACL around the same time of day your parents were watching something about Gary Condit. He survived Paul Shirley and Isiah Thomas, and when he retires every NBA team is going to wear a black armband.
There's Our Beloved Brother Pau, tripping the light fantastic as alternate aesthete and mercenary in the years since the NBA rang in that piece of sh*t lockout season with the Chris Paul boner.
Tony Allen made it out. And then back out again. He's still up.
Metta World Peace.
Be-no Ud-rih.
Boris Diaw.
Iso Joe.
Long arms, all.
Stay within reach, Lamar.
Kelly Dwyer can be followed at KDonhoops.