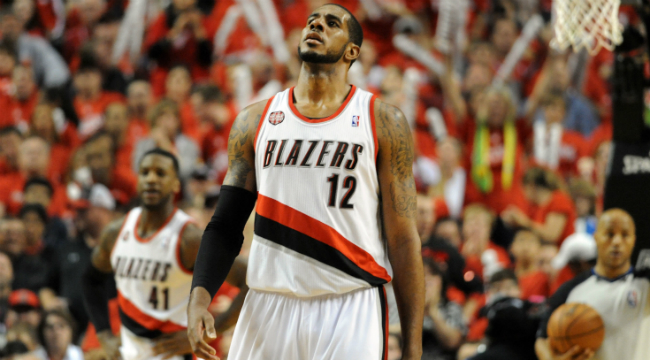 The Sacramento Kings may be the crazy, flaming heart of what is already shaping up to be a bananas offseason, but LaMarcus Aldridge's transition from a sure thing to return to the Portland Trail Blazers, to a fifty-fifty shot, to being all but out the door is looking more likely to be the first domino to fall in a cascade of franchise-changing maneuvers this summer.
The Columbian is reporting that Aldridge has told Blazers management that he won't be coming back. If that's true, then Aldridge will become possibly the best player to switch teams this offseason. Even before Aldridge gave any indication of leaving Portland, the San Antonio Spurs were rumored to be the favorites to sign him away. Of course, with a player of Aldridge's caliber on the block, anyone with the slimmest hope to get him will be in pursuit, and the Lakers are unsurprisingly near the top of the list of challengers to the Spurs for Aldridge.
The Blazers' recent trade of Nicolas Batum for Noah Vonleh and Gerald Henderson fits with this information about Aldridge. Vonleh didn't play much in his rookie year, but he was a top-10 pick in last year's draft, is clearly talented, and is a cheap fallback option if Portland can't land a big free agent to replace Aldridge. The rumors of Portland working with Philadelphia to trade away their first-round pick (No. 23 overall) simply add more ways for this to go.
There's still a chance, though it's shrinking by the second, that Aldridge re-signs with the Blazers and Portland reloads around him. But now it's looking likely he'll find a new home, which might set off a chain reaction of moves around the league. It's going to be a fun offseason.
(Via The Columbian)