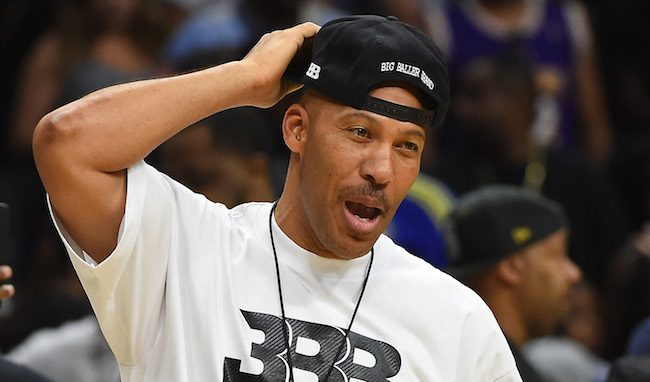 The Lakers improved to 2-2 on the season Wednesday night when they took down the Wizards in Los Angeles in a thrilling 102-99 overtime victory. For the young Lakers, it's a big win and gives them some confidence having beaten one of the East's best squad.
However, there was little attention paid to the overall matchup between the two teams and, instead, the focus was on the point guard matchup between John Wall and the rookie Lonzo Ball. This, of course, can be traced back to LaVar Ball, who told the Wizards they need to watch out because the Lakers aren't going to lose two games in a row.
Wall initially avoided engaging in a back and forth, but after his teammate Marcin Gortat claimed the All-Star was going to "torture" the young Ball on the court, Wall did tell reporters he would show Lonzo "no mercy." Wall finished the game with 19 points and nine assists, but struggled from the field, shooting 31 percent. Ball was even worse shooting, going 2-of-11 for six points, but he did tally 10 assists and eight rebounds.

Most importantly, Ball got the win and after the game his father took his victory lap and said "I don't just be talking just [to] be talking."
Everyone knew this was coming. LaVar never misses a chance to revel in being correct with one of his boisterous claims, but I will question the validity of him saying he doesn't talk just to talk. Now, there are times where he has something of substance to say, but I'd bet at least half the time my guy is talking just to talk because a camera or microphone is near by and he can't help himself.
In any case, for those hoping John Wall was going to shut up LaVar Ball, that clearly didn't happen and if anything the win over the Wizards only made him stronger.