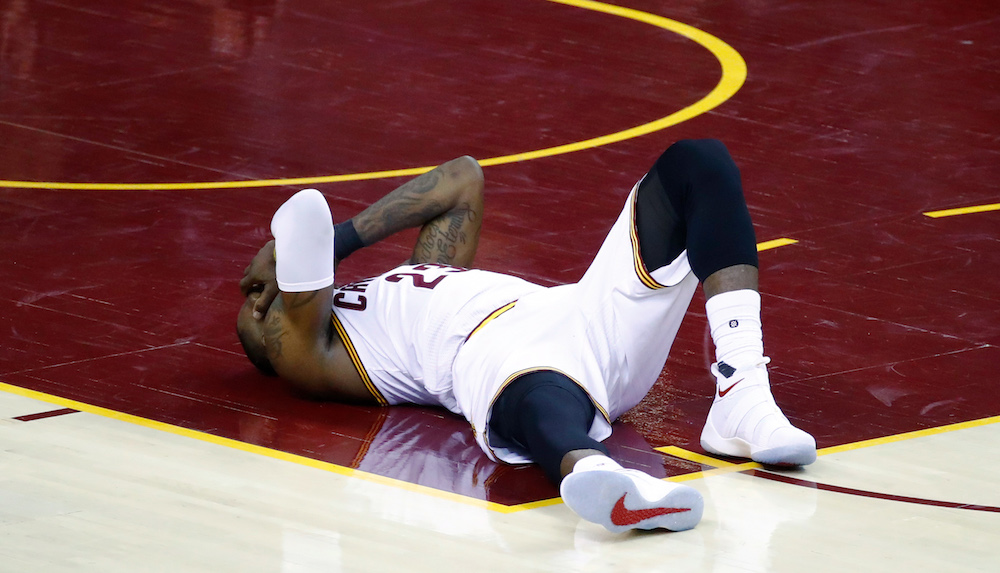 The Cavaliers will continue to play their preseason schedule without their superstar, as LeBron James is still dealing with soreness in his ankle that will keep him off of the floor. James suffered the ankle injury in practice back on September 28 and has been listed as day-to-day since.
James' history of having a freakishly clean bill of health meant most shrugged off a tweaked ankle as nothing much, but apparently it's still nagging him. James played in the Cavs' preseason game on Tuesday night, scoring 17 points, as he wanted to see how his ankle would react to playing a week before the regular season opener.
As we now know, it didn't handle it very well. James woke up with pretty significant soreness that forced him out of practice Wednesday and will cause the Cavs to hold him out of practice Thursday and Friday's preseason finale.

As Cavs coach Tyronn Lue told reporters, has him "pretty pissed off," per Cleveland.com's Joe Vardon.
"He was experiencing soreness so he won't practice tomorrow, he won't play on Friday, either," Lue said. "So, um, (LeBron is) pretty mad, pretty pissed off. But I mean, it is what it is."
Missing the preseason isn't much of a concern for James, but he will certainly want to be on the court for the opener. In a normal season, that might not be as crucial, as no one knows more than LeBron that the NBA season is about pacing yourself for the marathon rather than it being a sprint, but this year the opener is a huge game.
Cleveland's first game on opening night next Tuesday is against the Celtics, their chief rival in the East and, most importantly, the new employer of former Cavs point guard Kyrie Irving. Whether he'll admit it or not, James certainly wants to send a message to Irving and the Celtics that he's still the boss of the East, and he would have that chance opening night.

However, Lue says James' ankle has his status for the opener on Oct. 17 is in question, and said he's not sure if they should be more concerned than they are presently, according to Vardon.
As for James' availability against the Celtics next week, Lue said James "got treatment all day today, so I'm not sure if we should be concerned or not.

"But it's pretty sore today so we'll just see what happens."
Knowing what we do about LeBron, he's going to do everything in his power to be on the court against Boston, even if he's got to push through some ankle soreness or pain. If it's manageable, you'd expect to see him on the court next Tuesday. If he's not, then that would indicate that this ankle issue is more severe than originally thought.