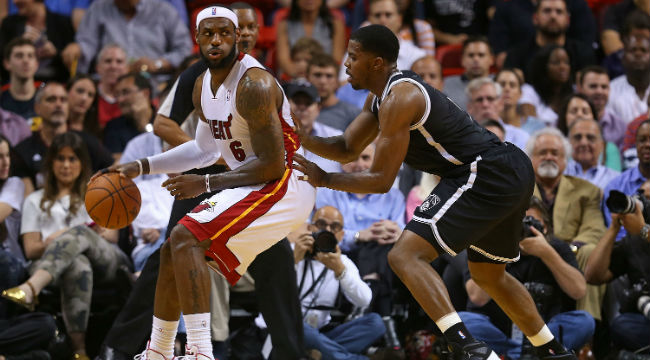 By now it's been established that LeBron James really wanted the Cleveland Cavaliers to sign Joe Johnson after the Brooklyn Nets waived the veteran guard/forward. James straight up told a local newspaper how badly he wanted Johnson to come to Cleveland and help the Cavs win a title before Johnson ended up signing with Miami.
Apparently, James was willing to do anything to get the seven-time All-Star on the Cavs. In fact, James was prepared to switch positions in order to free up a starting spot for Johnson. Via cleveland.com:
Sources with knowledge of James' intentions informed cleveland.com that the four-time MVP made it known to Cavaliers' management and Johnson that he would slide to power forward on a permanent basis to open up a starting spot for his former Olympic teammate.

"All I care about is winning. That's all that matters to me," James confirmed to cleveland.com. "A piece like Joe, you know what it does to your team and if he was concerned about playing time or concerned about starting, then I'll sacrifice. I'll sacrifice to get a guy like that to help us try to win a championship."
This does raise a few thoughts, most notably that Cleveland's starting frontcourt would have been interesting if this happened. Assuming Tyronn Lue would start Kyrie Irving and J.R. Smith next to Johnson and James, you would figure he would want a defensive-minded player like Tristan Thompson at center. However, there's the whole "Cleveland employs Kevin Love" thing that would be an issue. Would the team sacrifice defense and start Love, or would it send Love to the bench?
Then again, LeBron is the most position-less player in the NBA not named Draymond Green, so the Cavaliers conceivably could have slid Smith to the bench and gone Irving-Johnson-James-Love-Thompson. Sure, Johnson would have some trouble against quicker guards, but the Cavs could always have James defend those guys.
Maybe the Cavaliers could have figured out a way to make its starting lineup work with Johnson. At the very least, it would have been fun to watch as the team tried to make everyone happy.