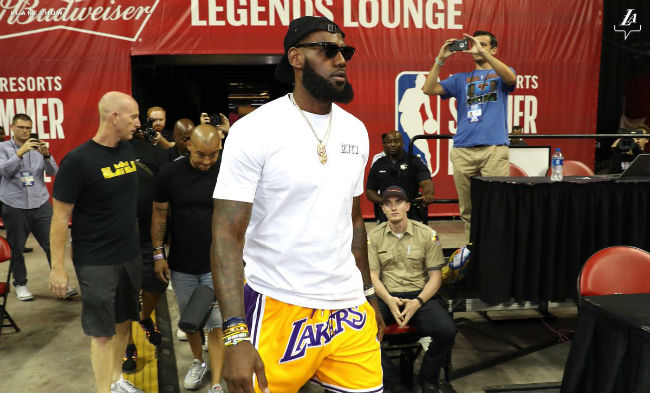 LeBron James has a significant challenge ahead with the Los Angeles Lakers and he relishes the opportunity for the test. The Lakers' roster isn't exactly the deepest in the league and is an interesting group of young talent and aging veterans with, well, unique backgrounds to say the least.
While much has been made of the Lakers' decision to acquire veterans on one-year contracts to keep the books clean at the expense of a potentially valuable year of his prime, James spoke, in and extensive interview with Rachel Nichols of ESPN, about just that.
Many have noted that it's strange that LeBron and the Lakers using his age 34 season on something of a rebuild. However, James doesn't allow the premise of this being the tail end of his prime to exist, telling Nichols that he isn't approaching the 2018-19 season as "one of the last years of his prime" at all — while also shooting down the idea of this simply being a rebuilding year.
"I don't even look at it like that," James said. "Because I don't feel like this is one of the last years of my prime. I think that's another statistic number, and I've always been a part of beating the odds in life. Being around my kids allow — it gives me even more and more time in my youth. I don't feel like this is even a rebuilding year for us. We have an opportunity to do something that a lot of people don't think we can do. And we love the notion of, "it's another rebuilding year and we don't have enough." So that will motivate the guys that we have anyway."

James is 33 years old and, by any "normal" standard of NBA aging, all signs would point to him slowing down (at least to some degree) in the very near future as he turns 34 in December. To that end, it seems curious, or even reckless, to simply roll the season over using low-upside veteran additions like Rajon Rondo, Lance Stephenson and Michael Beasley in an attempt to be competitive but also flexible for the future.
Still, the notion that James isn't even at the end of his prime yet would change the calculus, even if this is something he might say without fully believing it. By any measure, it is tough to see a world in which James and the Lakers seriously challenge for a place in the NBA Finals this season and that will place a ton of pressure on the 2019 offseason as a result. However, James isn't ready to even hint at the fact that a year of "his prime" would be out the window because of the team's overarching strategy because, well, he doesn't accept the premise.