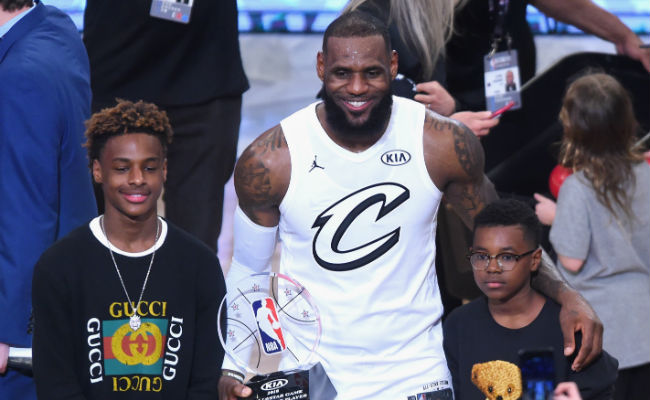 LeBron James isn't talking much about the immediate future, but he is letting himself dream a few more years down the road. James admitted that he'd love to play with his oldest son, LeBron James Jr. is following in his father's footsteps on the basketball court.
Some of Bronny's impressive highlights have popped up over the last few weeks, and the thought of the teenager making an NBA career of his own is certainly a possibility.
It's also something that's crossed LeBron's mind as well, as proven by a video where James said he'd love to play with his son in the NBA before he retires. James was asked his son's highlights and a potential future in the NBA by someone as he walked into an arena recently. An ESPN camera caught the conversation, which was posted online on Sunday.
James is asked if he thinks his son has a chance to play in the NBA with his father, and he gave a guarded but optimistic answer.
"He got a chance," James said. "If he stays right here right now, on this path. He's got a chance."
James Jr., who goes by Bronny and is just 13, has been on the college recruiting radar since he was in single digits. It certainly helps to get your name out there when your father is the best basketball player on the planet. But James isn't making any guarantees. He's talking to someone who is asking if he'd like to play with his son, and the answer is of course.
"Oh my god," James said. "If he has a chance and it seems like he can make it? Got to."
The logistics of this is, of course, far from clear. No one, perhaps not even James himself, knows where he's playing this fall, let alone in five or six years when James Jr. would be eligible to play in the NBA. But it's certainly a fun thing to think about, and for James would be a nice way to bow out of the league.
"And as soon as we do it? Boom," James said. "You got it from here."
It's strange to think of an NBA without LeBron James right now. Even in his 15th season, he's so ubiquitous in basketball that it's hard to imagine him ever not playing somewhere. But time moves on, fathers have sons, and we all grow older. It certainly is a fun goal for he and his son to work toward the next few years, though.