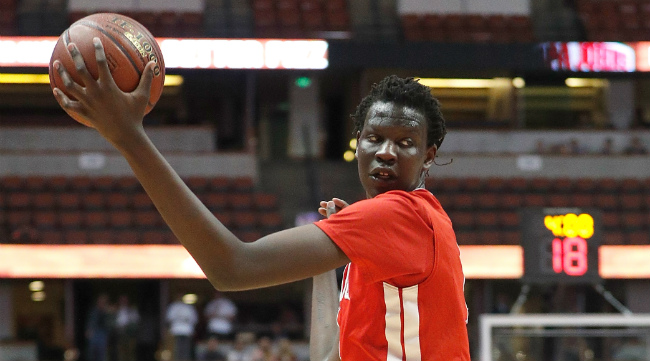 We're at the point in the college basketball calendar where tournaments are all the rage. "Preseason" events will match up some of the nation's premier teams from all across the country, giving us head-to-head matchups of future pros that fans normally won't get the chance to see unless teams meet up during the NCAA Tournament.
As it turns out, we're at that same point in the high school hoops calendar. Chicago will play host to the "Like Mike" Invitational on Saturday afternoon, and the event will highlight some of the best young hoops prospects from across the country.
At the center of things is the matchup between Findlay Prep and Morgan Park High School. Findlay, a traditional powerhouse from Nevada, boasts one of the top players in the class of 2018 in 7'1 center Bol Bol, who committed to Oregon earlier this week. Beyond Bol, Findlay's roster includes the duo of PF Reggie Chaney and SG Kyler Edwards, members of the class of 2018 who are committed to Arkansas and Texas Tech, respectively.

As for the Chicago-based Morgan Park High, they boast plenty of talent on their roster, too. The crowned jewel is 2018 four-star combo guard Ayo Dosunmu, who is staying at home to play for Illinois. He's joined in the backcourt by prized 2020 recruit Adam Miller, a point guard prospect who 247Sports ranks as the 14th-best player in his class.
The main event is going to be a heavyweight battle, one which matches the nation's top center against a dynamic 1-2 punch in Morgan Park High's backcourt. But the undercard is no joke, either, as teams from The Bronx, Chicago, and one of the Windy City's suburb will all face off.
First up, Monsignor Scanlan HS travels from New York to take on Hillcrest High School, based in Country Club Hills, Illinois. That'll be followed up by a meeting of a pair of Chi Town's powerhouse programs: Fenwick and defending Like Mike Invitational champs Whitney Young.

It's a game that features a ton of talent at guard. Whitney Young has a trio of three-star backcourt players in the class of 2018 who will play collegiately next year: SG Javon Freeman-Liberty, PG Xavier Castaneda, and CG Kezo Brown. Freeman-Liberty's heading to Valparaiso, Castaneda is committed to South Florida, and Brown is uncommitted but has drawn interest from Kansas and Nebraska, per 247Sports. As for Fenwick, its crown jewel is D.J. Steward, a 6'1 point guard and the nation's 18th-best prospect in the class of 2020.
Jordan Brand has put together an insane event in the Windy City. While all eyes will rightfully be on Bol and the rest of the main event, its undercard features a ton of talent in the form of a matchup between New York and Chicago in one game and a number of tremendous guards in the other. This should definitely be one to watch for anyone who wants to check out some members of the next generation of hoops superstars.