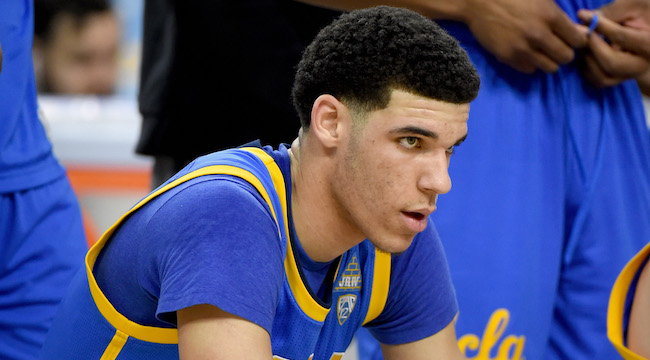 Lonzo Ball is in the discussion to be the No. 1 overall pick in the 2017 NBA Draft after a tremendous freshman season at UCLA. In fact, many seem to believe that it is a two-man race between Ball and Washington point guard Markelle Fultz for the top spot. With that in mind, Ball visited ESPN's SportsNation on Thursday and he was presented with a very interesting conundrum.
Ball, who was raised in Los Angeles before starring for the Bruins, was pointedly asked if he would rather be the No. 1 overall pick or be a member of the Lakers if he was forced to choose.
His answer was staggering enough that it forced co-hosts LZ Granderson and Marcellus Wiley to reevaluate the entire segment.
Rather quickly, Ball stated, "I'm going to go with Lakers," and he was met with shock. Granderson said, "You just threw this whole show off because we were not expecting that answer," while Wiley indicated that the show had "nothing prepared for that response."

When prompted for the reasoning behind his controversial stance, Ball said, "I'm a family dude. All my family is in L.A. so to be able to play in front of them, I think that would mean more to me."
They probably shouldn't have been as caught off guard, considering Ball's father said months ago that the Lakers were the only team Lonzo would play for. He clarified that statement by saying the Lakers were the team he wanted his son to go to, but it's clear that there is a very strong desire from the entire Ball family to see Lonzo in the purple and gold.
While Ball's explanation for wanting to stay by his family is admirable to be sure, it is definitely not the typical answer of an NBA Draft hopeful. Usually, a prospect of his caliber would simply be happy to land wherever and would almost certainly be more interested in grabbing the spotlight associated with the No. 1 overall pick. In fact, Ball has already publicly stated that he believes he is the best player in the class (ahead of Fultz) and he doubled down during this interview in saying that he thinks he "can lead a team better" and that Ball is "more of a true point guard" than his counterpart from the Pac-12.
There is nothing inherently wrong with Lonzo Ball wanting to stay close to home and there is no easier way to do that than to land with the Los Angeles Lakers at or near the top of the 2017 NBA Draft. This isn't the first out-of-the-box thing that a member of the Ball family has said but, in short, this comment is sure to make waves.