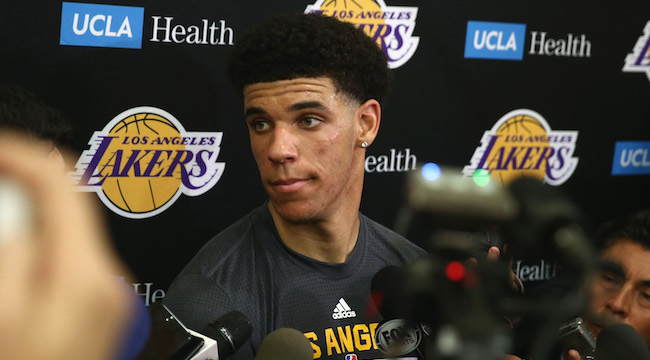 Lonzo Ball went through his first — and potentially only — pre-NBA Draft workout on Wednesday when he visited the Los Angeles Lakers practice facility to audition for the No. 2 overall pick. Ever since the Lakers landed the second pick in the draft back in May's lottery, everyone has penciled Ball into that slot, and after his Wednesday workout Ball seemed confident that it had gone well and he'd proven himself to the Lakers' staff on hand.
Ball and his father, LaVar, have been pushing for the Lakers to take the homegrown star from UCLA in the draft for months, and most mock drafts assume the Lakers will do as Lonzo and LaVar desire and select him to run point. There are some roster issues, namely the presence of 2015 No. 2 overall pick D'Angelo Russell, but most have brushed that issue aside as something the Lakers will figure out.
However, the presumed No. 2 pick isn't a stone cold lock for the Lakers just yet, according to ESPN's Chad Ford. Ford reported on Thursday that the Lakers are still considering two other options with the second pick, and that the new regime is not nearly as united about Ball being the pick as Mitch Kupchak's staff had been.

"I also think it reflects a genuine split within the organization about whom the best long-term candidate is. Ball was a clear favorite of the prior administration run by Mitch Kupchak and still has his fans within the organization. But the Lakers also took note on how [De'Aaron] Fox outplayed Ball in their head-to-head matchup in March. And [Josh] Jackson has always been another favorite in the organization."
That paragraph pumps the brakes on the notion that Ball to the Lakers is a sure thing, and it's interesting that he notes the Fox-Ball head-to-head game in the NCAA Tournament. Fox recently pointed to that game as something that raised his draft stock as he made a pitch to be the first point guard taken in the draft, ahead of Ball and presumed No. 1 overall pick Markelle Fultz. Jackson would fit the Lakers needs better than Ball, as an off-guard/wing, but with the second pick you want to take the best player available rather than reach for need if possible — now, they might just prefer Jackson, the player, over Ball.
With Markelle Fultz an apparent lock to the Celtics, most were assuming that the Sixers at No. 3 would bring the most intrigue to the NBA Draft and determine the order of the next few picks with their bevy of options on the table. However, if the Lakers go off script and take Fox or Jackson, draft night would get very spicy in a hurry — and I will need the Ball family reaction in GIF form immediately.
(h/t Bleacher Report)