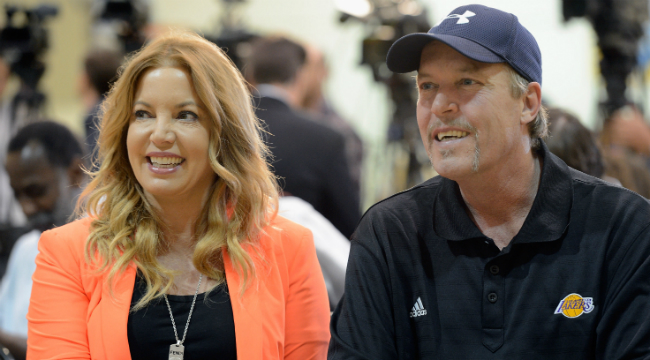 We've joked around a bit in this space about Los Angeles Lakers head coach Byron Scott being willfully ignorant about the modern NBA (as in, the "Three pointers are good" type of modern), but maybe it's time for an apology. The Lakers don't ignore analytics, they just have different, possibly better analytics that you don't know about because it's a secret! Or at least, that's what Lakers co-owner Jim Buss told the Los Angeles Times:
On Thursday, Lakers part-owner and executive vice president of basketball operations Jim Buss told The Times, "We've been using them for quite a long time. That's basically [on] what I make all my decisions, is my own analytics."

Buss said the team has relied on an analytics staff for "six [or] seven years, but before that we were breaking down shot charts, everything we could get our hands on."

To the notion the Lakers are behind the times, Buss simply disagrees.

"It's an unfair assessment," he said. "We don't announce what we do … if we are ahead of the game why would we tell people what we're doing, so that they can catch up?"
Buss goes on to break down in detail the decision-making process that goes into the Lakers' player acquisition, such as the trade for Roy Hibbert. There are portions in Buss' interview with Eric Pincus that play at being revealing, but the above quote is comically defensive.
Sure, just about every basketball team now has an analytics staff, and it's likely that every staff has proprietary methods or statistics that they use to distinguish their player evaluations and coaching strategies from other teams. But the Lakers haven't exactly shown themselves to be forward-thinking, ranking in the bottom five in attempted three-pointers last year and second-worst in Defensive Rating (and you better believe that there are closely-guarded analytics regarding defense all over the league).
Buss wouldn't lie about the existence of an entire department; if he says he has an analytics staff, he does. But 116 losses in two years isn't exactly evidence that the Lakers are "ahead of the game," nor does their choice of head coach (for whom, by the way, Buss gives a full vote of confidence). Byron Scott claims he'll use analytics more in the coming season, but as encouraging as that may be, it also belies how regressive his team has been recently. Methinks Jim Buss doth protest too much.
(Via Los Angeles Times)