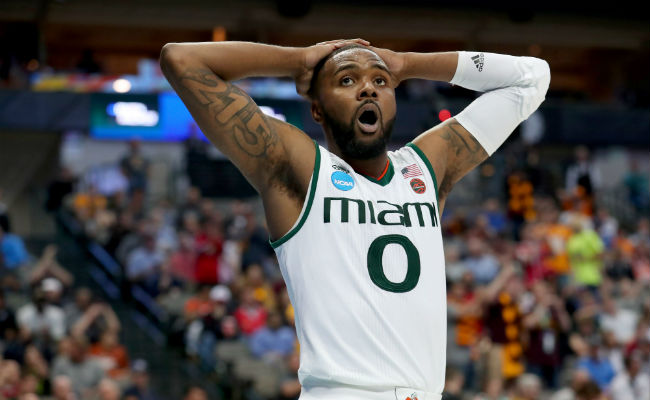 The Loyola-Chicago Ramblers will keep on dancing. The champions of the Missouri Valley Conference came into Thursday afternoon's game against the Miami Hurricanes as a slight underdog, but by the time the buzzer hit zero, the Ramblers kept on dancing thanks to a deep three as time expired by Donte Ingram. The bucket gave Loyola-Chicago a 64-62 victory.
Miami's Lonnie Walker missed the front end of a one-and-one that could have put the Hurricanes up by three. The Ramblers came back down the floor and Ingram hit the single biggest three of his life.

"Coach trusts all of us," Ingram said after the game. "I knew it was about three seconds left, so I knew if I got any kind of open space I was going to put it up. I have confidence in my shot and it went in."
The two teams were going at it all game, with the final few possessions being as tightly contested as you'll ever see. The Ramblers were down by three with fewer than 90 seconds left, but ran a picture-perfect play for Clayton Custer to tie things up at 60.
It was so good that even Draymond Green couldn't believe what had happened.
But Miami is a really good team, and put the ball in the hands of senior guard Ja'Quan Newton with the hopes that he could make a big play. Newton responded by giving the team a lead on a stepback jumper.

The Ramblers got fouled on the other end, Marques Townes made one of two free throws, and then all hell broke loose in what has easily been the best game of the 2018 NCAA Tournament so far.
It was expected to be a close game — Las Vegas had the Hurricanes favored by one point, and KenPom projected that this game would be decided by a one-point margin in favor of Miami — but the end could not have been any better. As a wise man once said, this is March.