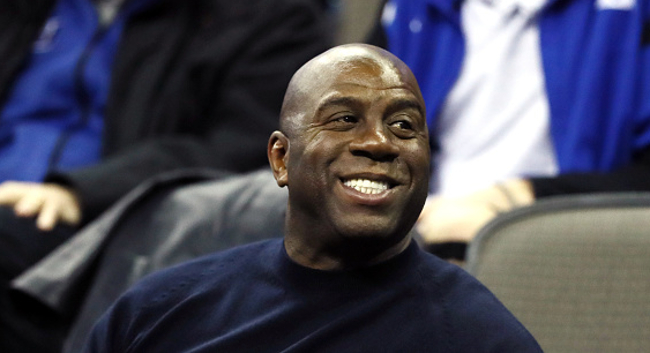 It's not a stretch to say that Magic Johnson's No. 1 goal this summer was getting LeBron James on the Los Angeles Lakers. If that is indeed the case, Johnson managed to check off that box early on in free agency, as James joined the team less than 48 hours into the start of the festivities this summer.
As it turns out, the deal between the two sides might have been made much sooner than that, as Johnson was at James' house right at the start of free agency to sell him on coming to the Lakers. While the Cleveland Cavaliers and the Philadelphia 76ers were in the hunt to acquire James' services, ultimately Los Angeles won out.
Since the signing, the Lakers have been active, but they've also been curiously quiet. It's an organization that is famous for being flashy, so the fact that Los Angeles hasn't responded to this hiring with a lot of glitz and glamor is a bit surprising.

That silence was broken on Tuesday, when Johnson and general manager Rob Pelinka spoke to Spectrum SportsNet about the signing. As we learned, the best player in the world was able to break down the Lakers' roster simply, with Pelinka calling him a "basketball savant."
Johnson revealed that, from the start of things, he was able to connect with James. He also let it be known that he got to the meeting super early, to the point that he just sat outside for a little.

A major question that has existed has been the team's roster construction, as Los Angeles decided to go in an opposite direction from what Cleveland decided to do with James. Instead of surrounding him with shooters, the Lakers signed noted non-shooters JaVale McGee, Rajon Rondo, and Lance Stephenson.
It had been believed that the Lakers were in touch with James about these moves, and as it turns out, that was the case. Johnson admitted that the reason the team went with these guys was because James was able to bring insight about what they are as players, even conceding that he know more about all of them than the Lakers do.

And to add a little bit of brevity to what was surely a stressful situation, Pelinka revealed how his iPhone made the news of James' signing made the whole thing a little more fun.
If that's as grand of a celebration as the Lakers have for James joining the team, well, at least it sounds like a very pleasant experience.