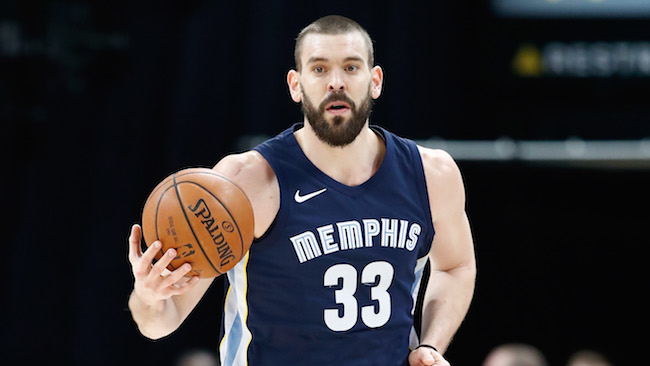 With under 24 hours until the NBA trade deadline, the Memphis Grizzlies are interesting to monitor. It seems clear that the franchise is ready to move on from their long-time core of Mike Conley and Marc Gasol but, because of the (very) large contracts involved with both players, trade discussions can be quite complicated.
As a result, both players continue to be employed by the Grizzlies but, with ongoing chatter about Gasol in particular, Memphis has reportedly chosen to keep their veteran big man home through the deadline.
Memphis was deep in talks with the Hornets, but those fell through last night. However, there's still some life to those talks and this seems to indicate, whether Charlotte or elsewhere, a deal is expected by 3 p.m. ET on Thursday.
The Grizzlies take on the Oklahoma City Thunder after Thursday's deadline but Gasol already sat out the team's last game against the Wolves on Tuesday and this would be the next step in a precautionary stance. If Memphis is actively engaged in trade talks with other teams, keeping Gasol out of harm's way from an injury perspective makes sense and, in short, the Grizzlies aren't exactly jockeying for playoff position at this juncture in the season.
If Gasol is dealt and this reporting is true, his last game in a Grizzlies uniform would have been in New York on Sunday and it seems wrong on some level that the home fans in Memphis wouldn't get a chance to send him off in proper fashion under that scenario. That would've been the reality whether or not Gasol traveled to OKC, though, and he'll seemingly be in Memphis while the team hits the road for a game that will be played without him, trade or not.