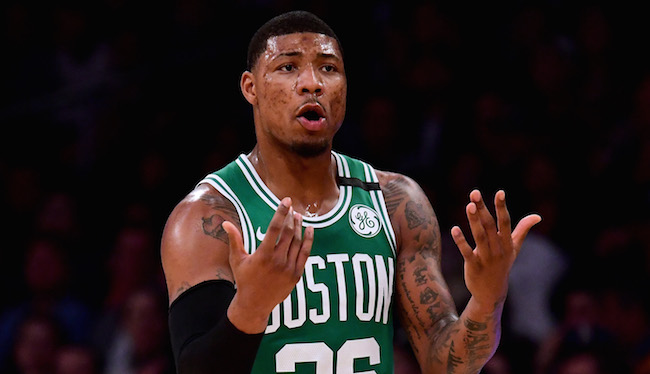 The Boston Celtics will be without two key players on Wednesday night in Los Angeles when they face the Clippers. Al Horford is out for precautionary reasons after being evaluated for a concussion, and while doctors decided he did not exhibit symptoms at the time, they will hold him out in case symptoms pop up later in the week, as they sometimes can.
The other absence is Marcus Smart, who suffered a mysterious hand injury at the team hotel prior to the game. Smart cut his hand on some glass and had to get stitches, and the team will know more later about his status moving forward.

Smart missing any kind of significant time would be a tough blow for the Celtics as he is so important to their defensive prowess, but right now everyone wants to know how the injury happened. That includes head coach Brad Stevens, who told reporters he's not clear on details right now as the team is still gathering information on what went down.
"Marcus Smart is also out," Stevens said. "He lacerated his hand on glass in the hotel. Got stitches. I don't know the full story. We're learning more about that. Mike Zarin and Brian Dolan were with him at the hospital two hours ago, got stitches. It doesn't sound like a long term injury, but we're doing more research on how it happened."
We know it was cut on glass, but there are several possibilities for how that happened. Was it a drinking glass that broke? Was it him hitting something glass and it shattering? We'll likely find out in the coming days what went down, but for now, Smart has some stitches in his hand and will miss at least a game. The good news is, as Stevens mentioned, it doesn't seem like it will keep Smart out long term, and hopefully he can heal up and be back on the floor soon.