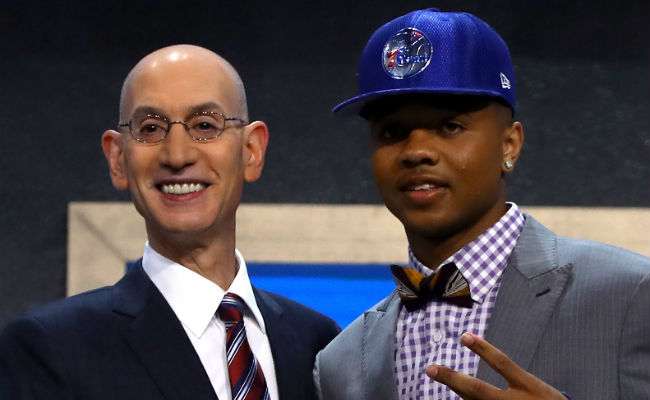 Markelle Fultz is ready to make his mark on the NBA with the Philadelphia 76ers, but he's going to need a sandwich or two first. The newest first overall pick in the NBA Draft is ready to shine with the Sixers this fall, and Fultz is already thinking about tasting victory in more ways than one in Philly.
But unlike most who think of cheesesteaks when they imagine staple Philadelphia foods, Fultz is gearing up for a more southern fast food staple: Chick-fil-A.
The Boston Globe did a strong feature on Fultz just days before the Celtics traded the first overall pick to the Sixers. In the piece, the author noted one of Fultz's main concerns about living in Boston is whether his favorite fast food places actually exist in the northern port city.
Fultz himself mentions this in an article in The Players' Tribune that was published on Friday, noting Philadelphia is a significantly better city to get his favorite kind of waffle fries.
A lot happened last week. It's crazy that it's only been seven days since I got invited to Philly. I found out last Friday morning. I woke up and thought I was going to Boston for another workout with the Celtics.

Then Keith hit me up and said, "New plan. Philly."

I was just waking up. So I was like, "O.K., cool. Do they have Chick-fil-A there?"
It might sound silly, but athletes are creatures of habit. And for Fultz, Chick-fil-A has a special role in his routine.
A crispy chicken sandwich for breakfast. It's kind of like my good luck charm. Keith never got back to me about that important question. So I found out for myself. I googled it immediately.

Philly does have Chick-fil-A. It has six, actually.

Seven if you count the one at the airport. Boston has zero Chick-fil-As, for what it's worth.

Sounds like everything fell into place for Fultz's stomach here. He seemed excited to go to Boston before the switch, but he's definitely leaning into his new fate.
Earlier in the piece Fultz included a funny bit about how excited Joel Embiid is about him joining the Sixers.
It's funny though — as excited as I am, Joel Embiid is 10 times more turnt right now. He's probably popping off on Twitter or IG as we speak.

Since I visited, I swear Joel's texted me 75 times since then. I'm not mad, I'm just concerned about his data plan.

Sorry, did I say Joel Embiid? I meant Mayor Embiid. Philly's No. 1 spokesperson. He would be a great mayor.
Fultz seems like a fun guy, and the piece is much more genuine than his Instagram snafu on draft night. It's clear the Sixers are ready to get started with Fultz, and he's truly excited to be in Philly.