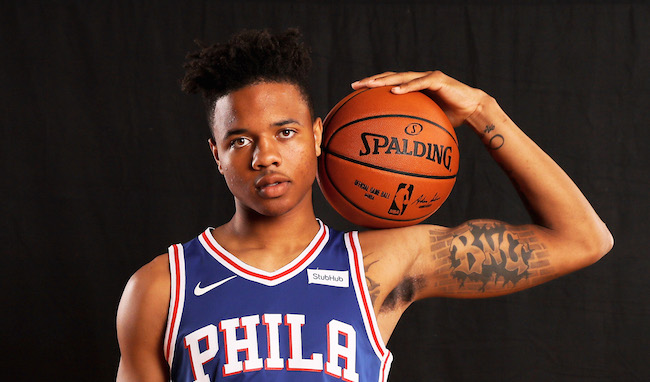 The strange saga of Markelle Fultz's injured shoulder took another twist on Tuesday afternoon, when his agent gave an interview about what Fultz is going through to Adrian Wojnarowski of ESPN. According to Raymond Brothers, Fultz cannot raise his arms to shoot a ball and needed to get fluids drained out of the back of his shoulder earlier this year.
But as it turns out, at least part of that isn't right. Brothers spoke to Wojnarowski again on Tuesday night and revealed that Fultz never actually got anything drained out of his shoulder.
Instead, Brothers meant to say that a cortisone shot was injected into the shoulder of the No. 1 overall pick in the 2017 NBA Draft.

"He had a cortisone shot on Oct. 5, which means fluid was put into his shoulder — not taken out," agent Raymond Brothers told ESPN on Tuesday night. "My intention earlier was to let people know that he's been experiencing discomfort. We will continue to work with (Sixers general manager) Bryan Colangelo and the medical staff."
Cortisone shots are given to athletes as a way to reduce pain, oftentimes when they want to play through an injury. According to Wojnarowski, the Sixers have gotten multiple opinions on the best way to treat Fultz's bum shoulder and decided that physiotherapy is the best approach.
Fultz has come off the bench in all four games the Sixers have played this year. He's averaging six points on 33.3 percent shooting this season and has not attempted a three, so while Brothers didn't get the whole "he got fluid drained" thing right, it isn't a stretch to believe him when he says that Fultz still has issues with his shoulder.