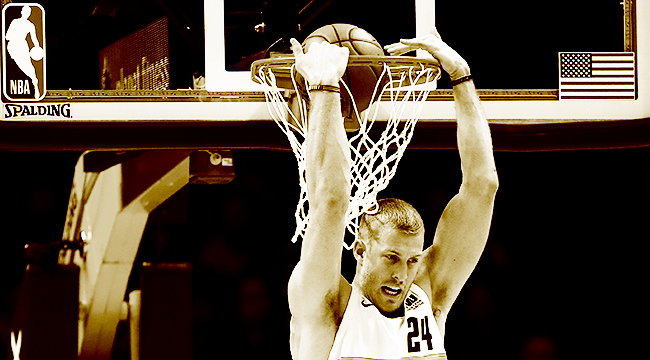 Mason Plumlee has a blog. The Denver Nuggets' big man uses it to post musing on whatever he's got going on, and during this past offseason, he took a moment to reflect on the disappointing end to the 2017-18 campaign, one which saw Denver's season end by losing a play-in game to the Minnesota Timberwolves.
"I've had a bit of time to process last season and the bottom line is there are no excuses," Plumlee wrote. "We should have made the playoffs and we need to get there this year."
Fast forward to last Tuesday night in Boston. The Nuggets picked up a hard-fought road win against Kyrie Irving and company, a 114-105 win in which an otherwise hostile crowd at TD Garden paid reverence to one of Plumlee's teammates, Isaiah Thomas. His return dominated the evening, to the point that it somewhat slid under the radar that Denver — one year removed from letting an appearance in the postseason slip away — became the second team in the Western Conference and fifth team in the league to secure a playoff berth.
Sitting next to Plumlee in the jubilant Denver locker room following the win, I asked about that quote off of his blog. In response, Plumlee made it clear that the Nuggets' priorities shifted over the course of the campaign.

"I think about midway through this [year], we realized that playoffs really isn't the goal," Plumlee said. "It's something that we have to accomplish in order to go where we want, but that's too easy, right? I shouldn't say too easy. It's not too easy, but we have the potential to accomplish so much more. So, I don't want to say too easy, but for us to get to the playoffs is not enough."
While it's not a surprise that the Nuggets would have loftier goals considering the year they've had, the fact that they're in a place where their expectations could be raised to this point is eyebrow-raising. Getting healthy was obviously huge — this was especially the case for Paul Millsap, who appeared in 38 games during the 2018-19 campaign — but there wasn't a huge free agent signing, and their first-round draft pick, Michael Porter Jr., has played in as many NBA games as I have.
Sometimes the right answer is the simplest one, and for Denver, the team's improvement stems from the fact that it has just found ways to get better. The biggest jump has been on defense, where the team went from one of the worst squads in the league to a solid, if unspectacular, bunch. The Nuggets were 24th in the league in adjusted defensive rating in 2017-18, but have jumped up to 10th in the NBA this year. The former saw an adjusted defensive rating of 111.50, the latter is an adjusted defensive rating of 109.91.
It also helps that opponents are not hitting shots against them — opposing teams hit 47.6 percent from the field and 37.8 percent from three last year, both the worst marks in the league. This year, Denver is 15th in defensive field goal percentage (45.7 percent) and third in opponent three-point percentage (34 percent). These numbers aren't gigantic improvements (although the one about opponents not hitting threes is pretty impressive), but for a squad with an offense as potent as the Nuggets, they're huge.
"I haven't been on a team that moves the ball like this one does, and this year we've added some defense to the mix," Plumlee said. "Some more consistent defense, so it's been a good run for us."

The aforementioned ball movement has been a hallmark of this Nuggets bunch, which play a delightfully egalitarian style of basketball. Denver is third in the league in assists per game, with seven players averaging at least 10 points per game and 10 players playing 20 minutes or more a night. Plumlee believes, generally, Denver's players possess "a good understanding of where to be places and when to be there."
The Nuggets are a team built around versatility. They find fun ways to do things a little bit differently, like when they invert the roles of their point guard and center on pick-and-rolls. This is where Plumlee fits in. He possesses one of the more malleable games in the NBA — you may recall from back in his days with the Portland Trail Blazers, getting a triple-double was viewed as more of a "when" instead of an "if" for Plumlee.
He's gotten close, but the pursuit of his first-career triple-double is still ongoing. Instead, Plumlee's versatility has manifested itself in other ways. Per basketball-reference, Plumlee is playing more power forward this year than he has at any other point in his career. That decision has paid off — lineups with him and Nikola Jokic (who Plumlee praised for being "a great player") on the floor together, according to Cleaning the Glass, are clobbering opponents by 9.2 points per 100 possessions. It also occasionally leads to fun moments like this.

Part of what makes Plumlee such an asset to Denver is his ability to fill in gaps based on what the team needs on a given night. He leads the team in block percentage, sits in second in rebounding percentage (behind reserve big Jarred Vanderbilt) and effective field goal percentage (behind other reserve big Thomas Welsh), and is seventh in assist percentage. Only Jokic, Paul Millsap, and Monte Morris are worth more win shares, Jokic and Millsap boast higher PERs, and only Jokic tops him in BPM and VORP.
His role changes on a given night; if the best ability is availability, the second might be versatility, which Plumlee possesses in droves. The big man prides himself on "making the right play at the right time," whether that means trying to score, crashing the glass, or using his ability as a passer.
"You just say, 'How can I affect the game? How can I help the team?'" Plumlee said. "Tonight it was passing it a little bit, but you're right. Every night is different, and I think that's the sign of a team with good players, because a lot of these guys are used to scoring. Guys find different ways to affect the game, whether it's a rebound, getting a loose ball, or whatever."
The good news for the Nuggets is they have a whole lot of good players. It's led to one of the more surprising stories in the NBA this season, and has led to their reserve big man having a good reason to revise his offseason expectations.