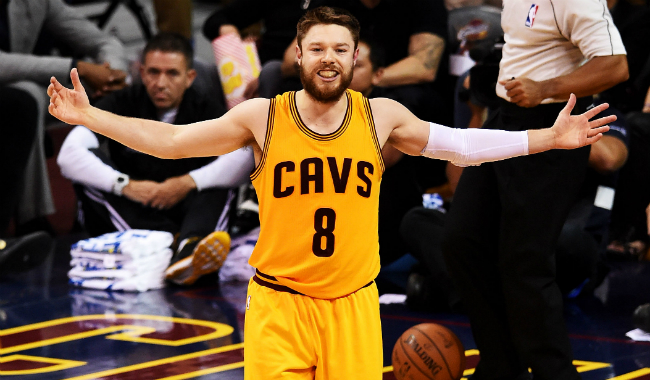 After three surprising games of the 2015 NBA Finals, we can officially crown our out-of-nowhere hero: It's Matthew Dellavedova, the Australian, basketball-playing Julian Edelman who's causing sportswriters everywhere to dangerously overuse words like "gritty," "heart" and "competitive." His stunning defense of Stephen Curry in the past two games and his even-more-stunning 20-point performance in Game 3 have endeared him to the world, and they've given a spirit animal to those pulling for the limping, underdog Cavaliers but uncomfortable with rooting for the team that has LeBron James. The man they call "Delly" has helped give Cleveland real hope for a championship and the internet a new Photoshop muse.
So, who is Matthew Dellavedova? Where did he come from, and how did he get here, playing the role of co-star in the NBA Finals? Here's a quick crash course on Delly:
His Hoops Journey Began In Australia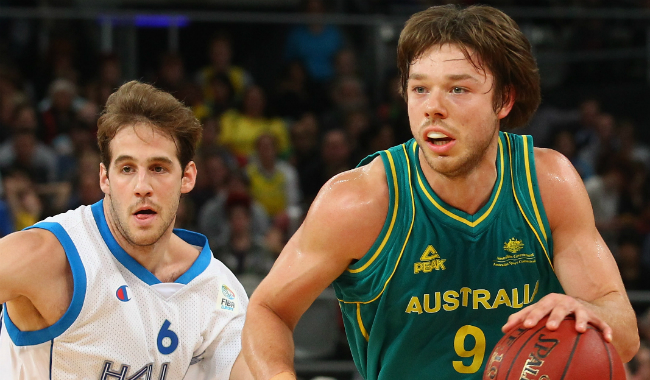 Chances are, you probably knew this already. It's a shame that he's already got his Delly nickname locked in, because the potential for "Mad Matt" tie-ins is enormous. It's at least good for a few Photoshops:
Delly played for Team Australia, or the Boomers (so much more fun if you say it in an Australian accent) in both the 2012 Olympics and the 2014 FIBA World Cup, so he's got the same sort of high-pressure experience that many international players credit when they step up in the NBA Playoffs. That Dellavedova was a junior in college for the Olympics says as much about Australia as it does about his talents, but he was a leader on those teams, as he had been at every level of his pre-LeBron career.
Before he went to college, Dellavedova attended the Australian Institute of Sport, which is almost like a high school (Australia's school system is very different from the U.S.') where the best young athletes from all around the country focus primarily on sports, with the goal of improving Australia's national teams. Other AIS alumni who've played in the NBA include former Chicago Bull Luc Longley and last year's sixth overall pick Dante Exum. Also, the institute's Wikipedia page has been recently edited to reflect Delly's newfound fame:
Thanks to Aron Baynes being able to hold down the 14th spot on the San Antonio Spurs' roster, Dellavedova would not be the first Australian to win an NBA title if Cleveland can complete the upset. Still, he would bring a hell of a lot more national pride to Australia than Baynes if the Cavs win, thanks to his vital contributions and competitive spirit and grit… I'm doing it now, too, aren't I? Let's just move on.
He Was A Star In College
It can be hard sometimes to distinguish one brief March Madness darling over another as time goes by, but Dellavedova was the star when St. Mary's briefly interrupted Gonzaga's dominance in the West Coast Conference in 2012, taking Conference Player of the Year honors (along with an honorable mention for AP All-American) as St. Mary's won the conference's regular season and the tournament after a crazy overtime thriller against Gonzaga:
He was also responsible for, as some at St. Mary's called it, the "Dellavedagger" — an insane buzzer-beater to beat BYU the following season:
Delly was the perfect college superstar: Clearly not possessing the physical gifts required to be a top NBA Draft pick, but skilled, motivated and confident enough to carry his team to previously unreachable heights. The relentlessness he's displayed in the NBA can be traced back at least as far as St. Mary's, where his team required 100 percent, balls-to-the-wall intensity to have any shot. So, he got used to delivering that.
He's Got Grit, Heart, Competitive Spirit
It might be cliché as hell, but Dellavedova is living the grit stereotype. The other side of the "college star" equation — the lack of physical gifts — was not lost on Delly, as he relentlessly studied the mental side — not just game theory, but internal motivation and sustained mental aggression — to such a degree that he became friends with his psychology professor.
By the way, that professor agrees with us in saying that the "dirty plays" that initially brought Dellavedova into the playoff spotlight were not simply dirty, but reflective of the constant state of aggression that Delly forces himself to play with to compensate for his lack of size, speed and strength. That's why he played hard enough in Game 3 to put himself in the hospital afterward.
The Cavaliers' previous regime of head coach Mike Brown and GM Chris Grant brought in Dellavedova as an undrafted free agent after the 2013 NBA Draft. Brown even called him a "non-athlete" and said he'd "bet half [his] salary" that he could dunk before Delly could — and Brown liked the guy!
The hard work in the absence of natural talent is alluring enough, but Dellavedova's personality is straight out of PFT Commenter's fantasies. Look at what he says in Cleveland.com's profile of the new Grit Lord:
"Australians like to treat everyone as equals – it's ingrained in our culture," he says. "It's more about being humble and deflecting attention and being part of this whole thing known as 'mateship.'"
This Yahoo piece on Delly is full of bits like that from the people he's impressed — "first to arrive, last to leave," "gives you everything he's got," "best competitor I've ever seen."
—
You've now met Matthew Dellavedova, the new King of Grit, and the real deal. Love or hate him, he has earned the respect of the NBA and the adoration of all those who worship at the altar of Grit.