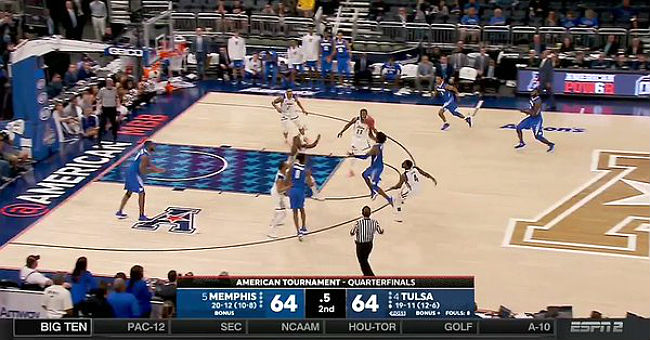 A buzzer-beating floater is high drama in college basketball, but Memphis' Kareem Brewton Jr. went the extra mile on Friday and delivered one of the most insane floaters you'll ever see, even managing to top the dramatics of Collin Sexton's heroics for Alabama on Thursday in the SEC Tournament.
Tied at 64 in the American semifinals with 3.5 seconds left, Tulsa did its best to keep the Tigers to the perimeter. Memphis had to go the length of the court and get a shot off or the two were headed to overtime. Brewton got the ball at the opposite 3-point line and sprinted down the court as the clock ticked down.
Running out of time, Brewton put up a runner well before the 3-point line, in traffic, with just a half second left on the clock. It's a crazy shot that's hard to execute in the best of circumstances, but he crushed it.
The shot got out of his hand in plenty of time, though it felt like it took an eternity to fall. It was so crazy, seeing a floater fall true from that distance, that the broadcast initially counted the basket as a two-pointer.
It's wasn't technically a do-or-die shot given that the two could have just gone to overtime, but it's a crushing blow to a Tulsa team that really couldn't have done much else on the play. It's a tough shot to get to fall, but Brewton made the crazy possible on Friday.