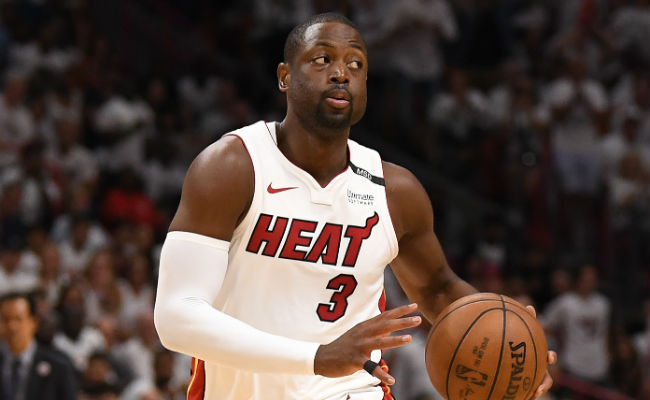 Dwyane Wade has a decision to make about his future, but the Miami Heat seem willing to wait for the future Hall-of-Famer to make that decision for himself.
Wade returned to the Heat in January as part of a deadline-day trade from the Cleveland Cavaliers, and he quickly got back to being the most popular player in franchise history while leading Miami back to the postseason. But at age 36 and the twilight of his career approaching, Wade has a decision to make. There's a lucrative offer on the table to play in China, but the team he's played for most of his career is certainly interested in having him back this fall.
Wade is one of the most popular players in Heat franchise history, but he also has significant global appeal. That's part of the problem for Wade, who already has ties to China and could make a lot more money there if he's willing to take the leap into international basketball.
There's no word whether Wade is leaning one way or another, but the Heat have made it clear it's up to him to decide. Team president Pat Riley told reporters on Friday that the team is willing to wait to fill out its roster until Wade decides what's next for his career.
"I think it's best that we give him some more time," Riley said on Friday according to ESPN. Waiting at this point in the offseason may seem like a risky move for the Heat, but Riley explained that the team wants to respect its veterans and what they mean to the franchise.
"I want him back as a player," Riley said. "I want him back as a competitor. I want him back as a guy who wants to have the greatest year he ever had as a player. I read more articles about `Dwyane being done, he's lost a step, he's not the same player, he might not have the same motivation.' But I still see a player who can contribute heavily if he really wants to."
Riley's comments, in a way, contrast with the Chinese offer. The Heat don't want Wade in a supporting role, and they're willing to give him a chance to play as much as he can for as long as he can keep up. That's a tempting offer in its own right, as Wade and his family have shown a fondness for Miami, and he's excellent when given the chance to play there. What Riley is saying is clear: this won't be a farewell tour for Wade if he signs in Miami. If that's enough to keep him stateside, he'll sign with the Heat eventually.