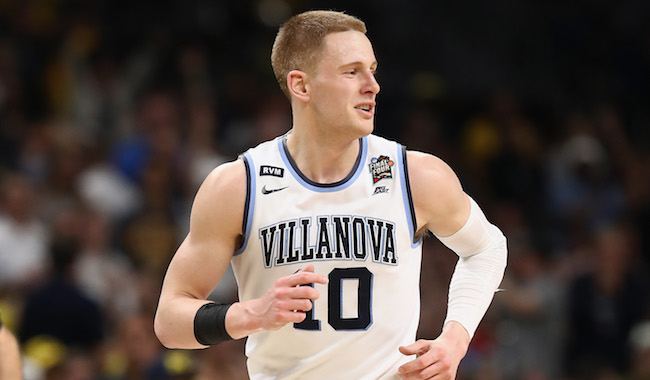 Donte DiVincenzo became a household name on Monday evening, with a breakout performance that helped to lift Villanova to incredible heights against Michigan in the national title game. In the midst of his explosion, the redshirt sophomore guard put together a barrage of threes and, during the onslaught, ESPN's Michael Wilbon hopped on Twitter and put forth a seemingly scalding hot take comparing DiVincenzo to Oklahoma's Trae Young.
For reference, Young is considered a likely lottery pick and, at one point, was a prohibitive favorite to take home National Player of the Year honors. By contrast, DiVincenzo acts as the sixth man for Villanova and, even when evaluating the best team in the land, it would be quite aggressive to characterize him as a top-flight NBA prospect.
Making things more interesting is the fact that Wilbon caught immense heat two years ago for a similar opinion, comparing North Carolina big man Brice Johnson to eventual No. 1 overall pick Ben Simmons.

Obviously, Simmons is a co-favorite for NBA Rookie of the Year, while Johnson is struggling to gain any sort of traction as a rotation player at the next level. Of course, it is a little bit unfair to pinpoint these two takes side-by-side but, given the history, it is also impossible to ignore the parallels in the moment.
DiVincenzo had the best game of his life on college basketball's biggest stage and, as a result, there will likely be a lot of spicy opinions on his future in the coming days. This one, though, will probably be one of the more aggressive and there is plenty to marinate on as a result.