We're a little more than halfway through the 2018-19 NBA season. It's been a doozy of a campaign, even if the consensus is that we're heading towards the conclusion that we've had in three of the last four seasons: The Golden State Warriors, standing on a podium, lifting the Larry O'Brien Trophy over their heads as NBA champions.
Still, this year has been filled with individual and team brilliance, making the NBA as can't-miss as ever on a nightly basis. To that end, we decided to honor the best of the best through this point in the campaign, handing out the individual awards that will get announced when the season wraps up. As always, it's important to remember that these are more of a reflection on where things stand right now, and that anything can change between now and the end of the season. (Note: Stats accurate through games on Jan. 24.)

Coach of the Year: Mike Budenholzer, Milwaukee Bucks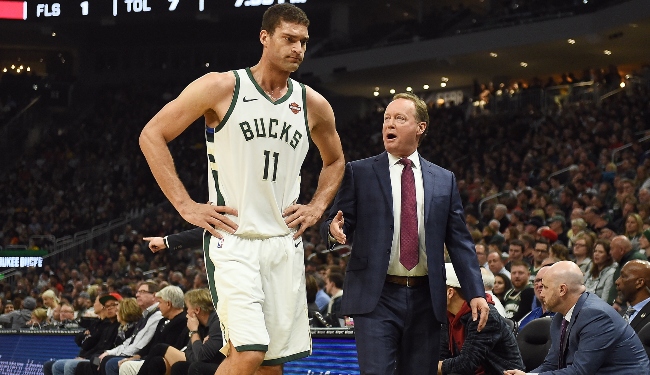 The Bucks have been a blast this year, Giannis Antetokounmpo has taken a step forward, and it's extremely possible Milwaukee ends the season with the best record in the NBA after looking like a perfectly fine but not particularly dangerous squad last year. So much deserved credit goes to Mike Budenholzer, who has turned the Bucks into arguably the team to beat in the Eastern Conference at this point in the 2018-19 campaign.
Under his tutelage, Milwaukee leads the NBA in adjusted net rating. The Bucks are second (behind only the Jazz) in adjusted defensive rating and sixth in adjusted offensive rating, making them the only team in the top-6 of both metrics. This comes on the heels of a season where Milwaukee was ninth in adjusted offensive rating, 20th in adjusted net rating, an 21st in adjusted defensive rating.
It also helps that Budenholzer is a smart dude who understands that two things — sharing the ball and shooting threes — are a pretty good way to win basketball games in 2019. Here's a fun chart! (League ranking in parentheses.)

So basically, the Bucks are shooting a whole lot more threes and are setting one another up better, and while that doesn't necessarily mean you're guaranteed to become a better basketball team, it's certainly worked for Milwaukee. If they keep this up, Budenholzer's transformation of a team that really needed a shot in the arm should lead to him getting Coach of the Year.

Most Improved Player: Pascal Siakam, Toronto Raptors
God, Pascal Siakam is so, so good. The Raptors have gone step-for-step with the Bucks this season — it's part of why Nick Nurse will battle Budenholzer for Coach of the Year honors — and while Kawhi Leonard rightly gets most of the attention for this, Siakam has been an absolute revelation and legitimate difference maker.
For a deeper dive into what makes Siakam so scary on both ends of the floor, click here. He's a monster on both ends of the floor, capable of checking whomever the Raptors need him to lock down — he leads the team in defensive box plus/minus among qualified players and is tied with Leonard for the lead in defensive win shares — and scoring at a rate that leads the team. Siakam isn't an especially great three-point shooter, but he's so good from inside the arc that he leads the Raptors in effective field goal percentage and is second only to injured big man Jonas Valanciunas in points per shot.
His biggest competition for this award, for my money, is Indiana Pacers big man Domantas Sabonis, who is legitimately outstanding. However, I am a coward, so instead, let me do this.

Sixth Man of the Year: Domantas Sabonis, Indiana Pacers
Sure! Self-deprecating jokes about cowardice aside, Sabonis just keeps getting better and better, establishing himself as one of the craftiest young big men in the NBA today. He's not his famous dad — no one, save for Nikola Jokic, is — but Sabonis has been a wrecking ball off the bench for Indiana.
One of my pet peeves about the 6MOY award is that it goes to someone who comes off the bench but is in the top-5 for his team in minutes per game. This is affectionately known as "The Jamal Crawford." The Pacers decidedly do not do this, as Sabonis is averaging 25 minutes per game, good for seventh on the team.
In that time, the 22-year-old big man goes out and throttles opponents, averaging 14.9 points and 9.5 rebounds per game. He's such a smart and skilled basketball player, an absolute terror around the rim whose craftiness makes up for the fact that he's not much of a shooter. Sabonis rarely fires away from behind the arc, and he's not taking a ton of mid-range jumpers, either. Instead, he puts forth low post clinics on a nightly basis.
Victor Oladipo was Indiana's best player prior to going down, yes, but by a number of metrics, it's actually been Sabonis leading the charge for the Pacers during the 2018-19 campaign. The former Gonzaga standout leads the team in PER, win shares, BPM, and VORP. He's doing all of this in limited minutes off the bench. If Sabonis doesn't end up winning Sixth Man of the Year, it will either be because he falls off in an absolutely breathtaking way (I will bet this does not happen), or because he's robbed.
Rookie of the Year: Luka Doncic, Dallas Mavericks
Deandre Ayton is outstanding. He's 13th in the league in double-doubles and he looks like a future superstar. He had the following stretch in December: an 18-12 game, a 21-13 game, a 23-18 game, a 26-17 game, and a 26-18 game. Still, Luka Doncic is winning Rookie of the Year. He was my preseason pick for the award and he's managed to exceed my extremely high expectations. Next.

Defensive Player of the Year: Paul George, Oklahoma City Thunder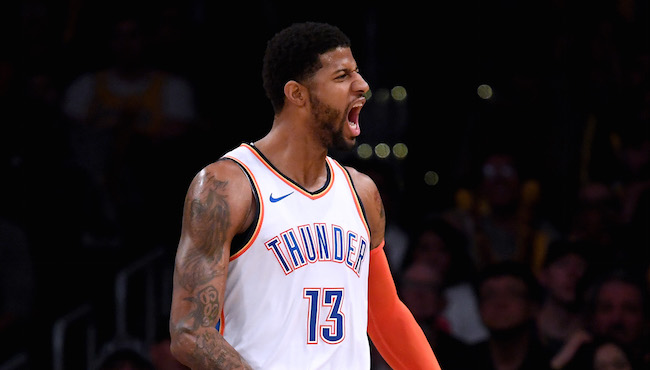 This is the award worth agonizing over this year. In one corner, you have Rudy Gobert, who has been as outstanding as usual for the Jazz. In the other, you have Paul George, someone who has always been capable of being an absolute pitbull on the perimeter but has taken things to another level during his second year in Oklahoma City.
It's so, so close, and over the course of the year, the race for this award could very well have dozens of twists and turns that ultimately determine a winner. How on earth can you? Utah has built its defense around having a player as dominant as Gobert at the middle of it all, while Oklahoma City gives George the task of opposing the other team's best guy on the perimeter every night, and every night, he responds to the challenge. The best path forward is, probably, for them to split the award. They're just that close.
Still, at the end of the day, we have to pick one. It's close enough for a coin flip, and man, Gobert absolutely deserves it — watch a Jazz game and watch how his eyes are always perpetually scanning the floor, trying to figure out exactly when an opponent is going to try and make the unwise decision to test him.
But in the end, George has transformed the Thunder defense, setting the tone for as stingy of a squad as the league has. He's an absolute menace, and right now, if you need to stop the other team from getting a bucket on the biggest possession of the game and you could have any player in the league to spearhead your defense, it's hard to argue that you'd pick anyone over George. This has been the best year of his career on both ends of the floor, but his defense has been extra special.

Most Valuable Player: James Harden, Houston Rockets
I know, this isn't sustainable. And I know, the following list of guys all deserve to have their names in the conversation to one extent or another: Giannis Antetokounmpo, LeBron James, Anthony Davis, Nikola Jokic, Kawhi Leonard, Steph Curry, Kevin Durant, Joel Embiid, Paul George, and a whole lot more. I know, and I get it, and I understand.
But oh my god, James Harden has been absolutely out of his mind ever since the Rockets basically needed him to turn into Superman due to a series of injuries. This very well might be the best stretch of individual scoring brilliance the sport has seen since Wilt Chamberlain, and he's kept them afloat in the cutthroat Western Conference playoff race despite guys like Chris Paul and Clint Capela being sidelined.
There are plenty of complaints about Harden's game, that it's unwatchable and he just gets fouled and he leans on this odd version of isolation-heavy basketball that lends itself to huge scoring numbers on a nightly basis. Still, he is on track to repeat as the league's Most Valuable Player. We'll see how his numbers are impacted by Paul and Capela coming back, and it's totally possible that someone else catches him during the second half of the season, but as I am typing this, the choice is Harden.