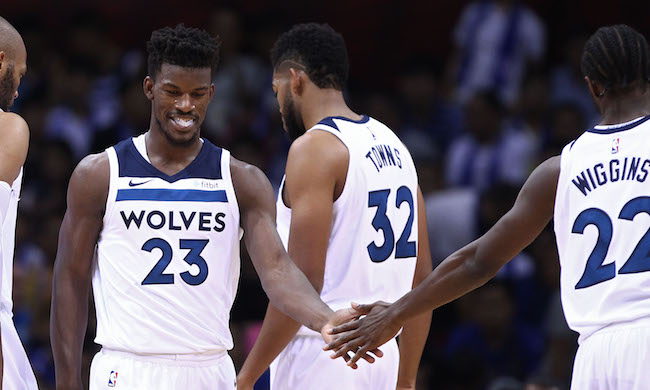 2017-18 Record: 47-35 (eighth in the Western Conference)
Players Added: Anthony Tolliver (free agency), Luol Deng (free agency), Josh Okogie (draft), James Nunnally (free agency), Keita Bates-Diop (draft)
Players Lost: Nemanja Bjelica (free agency), Cole Aldrich (free agency), Aaron Brooks (free agency), Marcus Georges-Hunt (free agency)
Projected Team MVP: Karl-Anthony Towns
Jimmy Butler said it in his interview with Rachel Nichols: Karl-Anthony Towns is the best player on the Timberwolves. The All-Star center has an incredible offensive skillset, with the ability to score efficiently inside and outside, where he's become an excellent three-point shooter. The question for Towns, and this Timberwolves team as a whole, is on the defensive end. That's the side of the ball that frustrated Butler the most, and Towns has shown the ability to be a force on that end of the floor — go look at January last year — but he's never put together a full season where he's consistently shown that effort. If he can, he'll unlock another level to his game and to the Timberwolves, allowing them to stay in the playoff race out West even once they deal Butler. If not, they'll be a maddening team again with a great offense that can't stop anyone on the other end.

X-Factor: Jimmy Butler
I mean, who else did you expect? Butler's going to play and based off what the latest reports say, he's going to play for awhile as the Wolves continue to play hardball in trade talks. The question is not just how long will Butler be with the team, but how long will he play nice with the rest of the guys before his frustration with the situation boils over. There's no doubt Minnesota's better with Butler, but that's assuming Butler is giving his full effort to a winning cause. I'm not saying he's going to coast, but it's possible he just goes out there to get buckets and do his thing, whether it's best for the team or not. There's so much that can happen with Butler on and off the court that the Wolves will be at the least fascinating to watch, even if not an especially great team.
Best Case Scenario: For the situation they're in, it's some contender getting desperate and being willing to part with a major trade package for Butler. It's hard to see it happening, but maybe someone finally is willing to give up a current borderline star, a young player, and draft assets, which seems to be what Minnesota is asking for right now, knowing no one will really do it. It's possible some team eventually just feels desperate enough that they have to shake things up that they're willing to give up a lot for Butler. The Wolves, in turn, are able to continue along and reach the playoffs, aided by the fire lit under Towns and Andrew Wiggins who unlock their full potential out of frustration from Butler's criticism and play great two-way ball en route to the 6-seed.
Worst Case Scenario: Boy, it feels like we're living it already. Butler snaps two weeks into the season and starts shooting it every time he touches the ball in a game, because the Wolves are asking for a first-rounder, the team's best player, and their best young player in negotiations. Towns continues to get punked by Butler in practices, shattering his confidence and the faith his teammates have in him as a leader, stunting his growth for the future in that role. Wiggins shoots the ball terribly and his contract looks like one of the worst in the league, and by the time the Wolves trade Butler in February, they're already an underachieving .500 team, don't get a great return on him after overplaying their hand, and eventually slide to the 12th spot in the West.