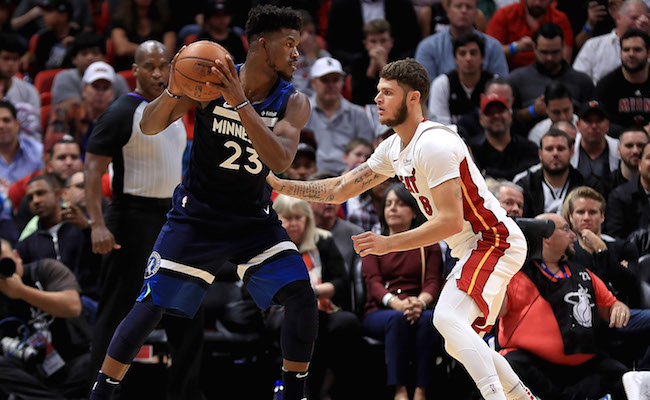 Jimmy Butler trade rumors are heating up, literally and figuratively, as the Miami Heat have become the frontrunners to land Butler from the Timberwolves.
On Wednesday, it was reported that "significant progress" had been made by the two teams in talks, but the counter offer from Minnesota had caused talks to breakdown. However, conversations continue and while the hope had been to make a deal happen by the end of the night, that no longer appears to be the case.
For the first time since Butler made his request, we do have an actual report on what the Timberwolves are asking for, beyond "a lot." Teams have been unable to get deep into discussions because of the Wolves' apparent demands being too high, and ESPN's Adrian Wojnarowski offered details on the package they're seeking in return for Butler from the Heat.
Minnesota's preferences in a Miami deal have included center Bam Adebayo, guard Josh Richardson and a protected 2019 first-round pick, league sources said. A trade could take on a larger construction to include more players, league sources said.

In any Butler deal, Minnesota has wanted to unload center Gorgui Dieng and the $48 million left on his contract.
That is a significant asking price for Butler, given his contract, but with Butler apparently moving Miami to the top spot on his wish list the Heat may not be doing this deal just for a one-year rental. Richardson has become a quality starting shooting guard and is on a very team-friendly deal, while Adebayo is a well regarded center prospect who took strides last year in Miami.
Obviously, there's more to be involved in the deal because of the money needed to make a deal work, particularly if Gorgui Dieng is to be included, and that could be the sticking point for Miami. In landing Butler, they'll have to be willing to commit max money to him next summer, and eating Dieng's massive contract going forward would make it nearly impossible for them to do much else with their cap space.
That part is dependent on what the Heat are able to give back, whether it's Hassan Whiteside (who is close friends with Karl-Anthony Towns) or Tyler Johnson in making the financials work. One would think Miami would push back on giving up that many assets and take on Dieng, so that seems like a logical sticking point in these discussions.
Still, this gives us a good idea of the haul Minnesota is expecting, which is apparently an established young player, a prospect, and a pick.