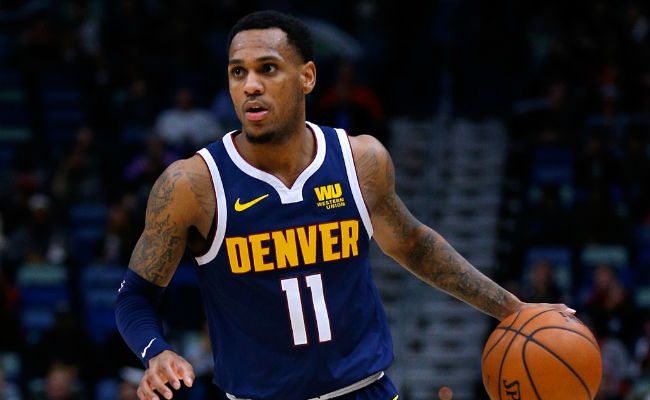 When NBA All-Star Weekend commences on Friday night in Charlotte, the MTN DEW ICE Rising Stars game will attract top billing, at least in the non-celebrity avenue of programming. In theory, the 20 best players in the rookie and sophomore classes will go head-to-head in a battle of youngsters with impressive trajectories.
For the most part, the selection process for that particular event doesn't draw a great deal of scrutiny. The 2019 edition will not feature Denver Nuggets point guard Monte Morris, however, and while that may not seem like a grave injustice, something went awry.
Morris has been a key cog for the thoroughly impressive Nuggets this season, appearing for more than 1,400 minutes as a rotation piece on a top-flight team. On Feb. 11, his head coach, Michael Malone, went to bat for him after a 17-point, 7-assist showing that helped Denver emerge victorious over the Miami Heat.

"I saw a guy who should be playing this weekend in Charlotte," Malone said, via Chris Dempsey of Nuggets.com. "He should playing in the Rising Stars game. You can't tell me there are that many players better than Morris."
Malone's comments largely came and went, in part because Morris isn't exactly a household name. And even Malone might not be one for some NBA fans. For those paying close attention, however, the former Iowa State standout is worthy of recognition for the way he has played and, quite honestly, his performance isn't stunning when looking back to his roots.
Morris inexplicably fell to the No. 51 overall pick in the 2017 NBA Draft, presumably because he was viewed as a relatively low-ceiling player after a long and fruitful college career. He arrived with a reputation as a player with an elite ability to avoid turnovers and it was backed up by statistics. Morris holds the NCAA record with a career assist-to-turnover ratio of 4.65-to-1 and, to put that in context, he has four of the top seven seasons in the history of college basketball in that particular metric.
That isn't everything at the NBA level, of course, but Morris is doing the same thing in Denver that he did in Ames. Though just in a supporting role right now, Morris ranks fourth in the NBA in turnover percentage (6.2) and, among players that occupy his position, he is (easily) the best in the league in avoiding giveaways. The 23-year-old has appeared in every game for the Nuggets, making five starts, and he has accumulated 223 assists against just 35 turnovers. That, in short, is staggering.
As a result of his careful aptitude and high-end efficiency, Morris ranks third — behind only Ben Simmons and Jarrett Allen — in win shares from players that qualify for Rising Stars consideration. The rest of the leaderboard in that statistic is littered with high-lottery picks like Deandre Ayton, Jayson Tatum and Luka Doncic, but there is Morris acting as the steady engine while playing on a team projected to finish the season with 54 victories.
Morris is averaging only 10.8 points and 3.9 assists per game this season. To put it bluntly, his lack of counting statistics (and the presence of the New York market in one particular case) is the reason he is not representing Denver in the Rising Stars Game and, by proxy, seeing his "brand" increase along with his colleagues from around the league. In the grand scheme, that "snub" doesn't mean all that much but Morris is excelling in a way that many forecasted for him, even as his bizarre draft-day slide occurred and a number of NBA teams passed on his services on more than occasion.
It is probably safe to project that Morris won't be an All-Star and he may never be a fully entrenched NBA starter. What he is, though, is one of the 20 best "freshmen" and "sophomores" in the NBA right now… even if a lot of people haven't noticed.