Hardcore hoop heads will know all of these players. Casual fans might only know a couple, if that, but all of them do important things for their team. Yes, some of these guys are going to make you scratch your head, but that's the point of underrated. They're slept on, whether because of geography, a player's private disposition, or a game that shines when the spotlight is pointed elsewhere. This list is by no means definitive, but features a smattering of players from all the tiers that make up a roster.
We've got some primary and secondary guys, some bench players, and some key cogs in the rotation who might not immediately pop out when you're discussing the best players in the Association. Here are the most underrated players in the NBA today from across all spectrums of player development.
JJ Redick
It's time to re-write the book on Redick yet again. Long considered one-dimensional in the truest sense of the term, the 34-year-old has quietly become an impactful player on both sides of the ball – and even that distinction doesn't do his influence justice.
No player in the league moves better without the ball than Redick, and calling him a spot-up marksman alone is outdated. He can drain jumpers from a standstill, off the dribble, and fading away or leaning forward. The Los Angeles Clippers guard has learned to take full advantage of the attention he draws from defenses by making plays with the dribble, and maybe most importantly, has used intelligence and conditioning to develop into a quality, if limited, defender.
Not even the most glorified three-point specialists can do what Redick does here.
Redick's game isn't sexy. He won't wow you with jukes and step-backs before splashing a triple or jump passing lanes and swipe a player's dribble for steals. But he's still an integral cog for the Clippers and a borderline All-Star performer. Playing in a different conference or for a less talented team, Redick would have a better chance of being recognized as such, too.
Paul Millsap
How can man who has been awarded three All-Star berths be underrated? That's the plight of Paul Millsap, a do-everything forward in a league filled to the brim with forward/wing types who count themselves among the best individual players in the NBA today. Yet Paul is so consistently above average on both sides of the ball, it's impossible he's been properly rated by fans at large. That's primarily an effect of where he first played — Utah, alongside a lumber Al Jefferson — and his low-key demeanor. In an age where role players can un-ironically talk about their brand, Millsap would probably ask "Brand of what?"
And while Millsap's on-off court numbers last year paint an unfair picture where the Hawks struggled defensively when he was on the court (they gave up nearly four points more per 100 possessions), he's got quick hands and feet and the high hedging system Mike Budenholzer employed to devastating effect last season — the Hawks ranked second in defensive rating — could have only been possible with Millsap and Al Horford as the two bigs rotating back and sticking their hands in passing lanes. Millsap was third, trailing only defensive studs Tim Duncan and Rudy Gobert, in defensive box plus-minus last season, per Basketball-Reference. Plus, he's outstanding at dropping back to help on the pick and roll before closing out to shooters without giving up too much space for a pump-fake drive that can have a whole team scrambling to recover.
http://i.giphy.com/8w5bkVnODUv3q.gif
And he's one of the last true low-post threats who demands a double team on the low block. Synergy ranked him in the 91st percentile ("excellent") on post-ups last season and of those with at least 150 post-up possessions, only the wily Boris Diaw converted them at a higher rate than Paul. He can shoot over smaller forwards and scoot past bigger guys with a dipsy-doo series of moves his former teammate in Utah, Jefferson, could appreciate.
Danilo Gallinari
It wasn't long ago that Gallinari was spearheading one of the league's most exciting offensive attacks. Three years and a full season spent on the sidelines later, he's better – and even more anonymous – than ever.
The league's single most overlooked individual attribute is Gallinari's penchant for drawing fouls. His .62 free-throw rate last season was comfortably higher than both James Harden's and DeMarcus Cousins', the players who led the NBA in made and attempted freebies, respectively. But the 27-year-old doesn't just mooch at the line; he's an accomplished pick-and-roll ball handler, a high-stepping force in transition, and frequently uses his size advantage to bully overmatched defenders on the block. The biggest thing holding Gallinari back offensively is the one on which he used to hang his hat: three-point shooting. But he's still an above-average threat from deep on a high number of attempts, defenses treat him like a marksman, and he frequently hunts triples in the open floor with success.
http://i.giphy.com/oEnIapkwXHThK.gif
The Nuggets are poised to establish themselves as one of the game's premier young teams in 2016-17 despite possessing slim chances of ending their playoff drought. Once Michael Malone's club does, though, Gallinari will get the name recognition he not only deserves, but was on track to earning before injuries briefly derailed his career.
Ed Davis
The Trail Blazers inked Davis to a three-year, $20 million deal in July, and that's a steal in this age of TV rights money despite his physical and athletic limitations. While not an elite jumper, Davis is an offensive rebounding machine who ranked in the top five for offensive rebounding percentage last year. The Warriors were powerless to stop him on the offensive glass at times in last year's second-round playoff series, and put-backs make up more than 50 percent of his offense last season, where he was ranked in the 94th percentile ("excellent"), via Synergy. That's so high primarily because of the ease with which he scores after gobbling up a caromed shot, but he can be your pick-and-pop partner in a pinch despite limited range.
It's on defense where Davis shines even brighter, even if the fact the Blazers gave up more than four points per 100 possessions with him on the bench is more an effect of his role on the second unit than any super defensive talent, but he is solid. As a big he can defend the pick and roll well in Terry Stotts' drop-down big scheme. Davis understands angles and how to leverage his length to disrupt passing lanes without giving up the dribble drive when the ball handler in the pick and roll turns the corner.
http://i.giphy.com/whmXViYFjfe0M.gif
He's solid on both sides of the ball, but because he's in the Pacific Northwest, comes off the bench, and does most of his best work away from the ball, most fans miss his value.
Derrick Favors
Gordon Hayward is his team's most likely All-Star this season, and Rudy Gobert is poised to receive league-wide attention for leading the Utah Jazz to a top-five defense. But neither player makes the type of two-way impact that Favors does.
In a world rife with positionless swingmen, the 6-foot-10 big man occupies a different space to similar effect: The ability to switch between power forward and center on both ends of the floor with little negative recourse. Favors is stout and long enough to defend the rim and bang with post scorers on the block, yet has the quickness and overall dexterity to chase rangy 4s and even contain ball handlers after switches. He uses those rare natural gifts to make hay on the other end as an explosive pick-and-roll dive man and burgeoning isolation scorer. Favors is among the most efficient scorers in basketball after rebounding a teammate's miss, too.
The most encouraging thing about the 25-year-old's game is that it still has room to grow. Favors only began flashing high-level ball skills on a consistent basis over the past two years. Just how good might he be if plays like these become commonplace going forward?
http://i.giphy.com/5ufETUFAlth2o.gif
http://i.giphy.com/DtgmhtudZhf0s.gif
Even if that proved the case, a perennial All-Star berth could still evade Favors. Utah plays too slow a pace for him to rack up big-time counting numbers, and the Western Conference is loaded with more established frontcourt stars. No matter, though. Whether he remains overlooked or otherwise, Favors is clearly a linchpin of the Jazz's bright present and even brighter future.
Khris Middleton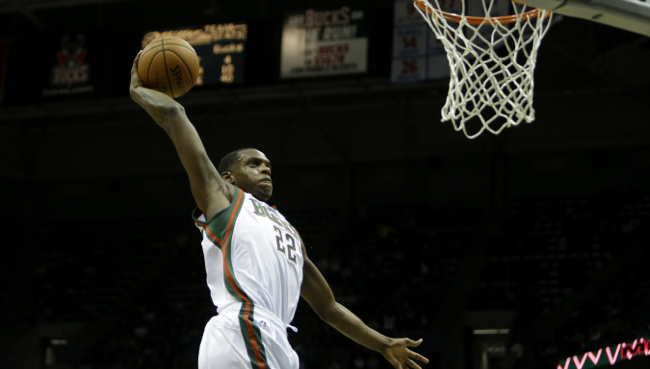 There's a reason John Hammond didn't need very long to turn down a proposed swap of Ricky Rubio and a first-round pick for long wing Khris Middleton. Milwaukee's best perimeter defender and most consistent three-point shooter has gotten some effusive praise from basketbloggers who nerd out on his length and smooth stroke. But he's in Milwaukee and save for a few Sportscenter moments, his value lays in his consistency and all the things he brings to the court without taking much off.
If you look at simple on/off numbers, Middleton's value isn't hard to miss. No player had a better net rating (offensive rating combined with defensive rating) on the Bucks last year. They scored almost 10 more points per 100 possessions with him on the court and gave up nearly four fewer.
His toughness and stamina are why Jason Kidd rode his workhorse to the sixth most minutes played last season.
Offensively, Middleton can run a pick and roll and spot up around the arc. He can flare off a screen and catch and shoot at a high percentage from beyond the arc. He's everything you'd want in a 3&D player for the contemporary NBA, but a lot of casual fans would probably guffaw at the idea of him as a reserve on the All-Star team. Except, that's how good he is; he's in that All-Star discussion. He can even break guys down in isolation because of his quickness and size. If they come up to close to take away his jumper, he can go by them:
http://i.giphy.com/APySxoLadH680.gif
If they put a smaller, quicker player on him, he can pull-up right over them, like a smaller version of Kevin Durant:
http://i.giphy.com/qcPoee6JpsEfK.gif
But he's also excellent at moving his feet for a player his size. He can ICE a pick-and-roll and he's still strong and long enough to get over the screen. There are few wing defenders as accomplished as he is physically and whenever Jason Kidd and John Hammond unload Greg Monroe on someone, that'll translate to the team's defensive identity which took a severe hit in 2015-16 after being No. 2 in the league the season before. Khris Middleton has the all-court skills of a star, but his team's location and his inconspicuous deportment probably mean he'll struggle to make All-Star teams and will stay on our underrated list unless he continues his trajectory.
Tristan Thompson
The box score will never accurately convey Thompson's sweeping impact on the Cleveland Cavaliers. Even those star-turning games in which he gobbles offensive rebounds and finishes multiple alley-oops don't tell the story of his worth to the defending champions. The Golden State Warriors definitely understand it, though, and it's high time the rest of the basketball world does, too.
Thompson is what he is offensively, a physical, long-armed moocher who's impossible to keep off the glass and runs the floor like a player much smaller. Any hope that the former top-five pick would become a viable threat with his back to the basket or from mid-range is long gone, but that's totally fine. His role for the Cavaliers is finite, and he blossomed into it last season after furthering his pick-and-roll rapport with LeBron James and emerging as a highly-effective screener across the floor.
Still, it's Thompson's work on the other end that makes him especially valuable in today's NBA. His performance against the Warriors in June was a master class in versatility. The 6-foot-10, 240-pounder received widespread plaudits for his prowess containing Steph Curry in ball-screen switches, but it was his ability seamlessly toggling all five defensive assignments that frustrated Golden State most.
There are more 7-foot types than ever who can play in space defensively. What separates Thompson from the vast majority of those guys is that he also possesses every other attribute befitting traditional big men. He's able to play big and small simultaneously, an exceedingly rare gift that makes Thompson almost as underrated as he is integral to the Cavaliers' success.
Rodney Hood
Our second Jazz player on this list after we gave real thought to giving the Jazz their own spot on this list as a team. Except, they've become the slept on team everyone is talking about heading into the 2016-17 season, so we're leery of overloading them with unrealistic expectations. They're such a sexy pick to sneak into the Western playoffs with a new point guard that we're tempted to go the other way. What we can agree on, though, is the importance of Rodney Hood for them in today's NBA.
The 6-foot-8 shooting guard is lefty gunslinger with nearly unlimited range and enough accuracy (nearly 36 percent on 5.7 attempts per game) that opponents have to be nearly inside his jersey to waylay a good look. But it's what Hood has learned to do when a defender is up in his grill that's setting him apart from his peers entering their third year. Look at his herky-jerky brilliance here when LaMarcus Aldridge — an underrated defender in his own right — gets caught on a switch in semi-transition.
LMA knows to keep close to Hood near the arc, but Rodney takes advantage of his quickness advantage despite how well Aldridge moves his feet. A pump-fake and pivot later and it's an easy two for the Jazz.
http://i.giphy.com/kN99jZxJvIAEg.gif
Yes, Hood — like all young players — needs to improve on his defense. Fortunately for him and the Jazz, he plays with Rudy Gobert and Derrick Favors behind him, and that security blanket negates the dribble drives he'll give up to quicker twos going against him. Plus, he's long enough to guard small forwards and hits that sweet spot now with guys like Middleton who used to be tweeners, but now act as hybrid wings who can do a little bit of everything. He can run the pick and roll, spot up around the arc, break a guy down in isolation, and act as a floor spacer in the corner.
Hood is in Utah and there are sexier players even on his own team, but he could very well be the difference between a near playoff spot in the West and contention for home court in the first round.
Clint Capela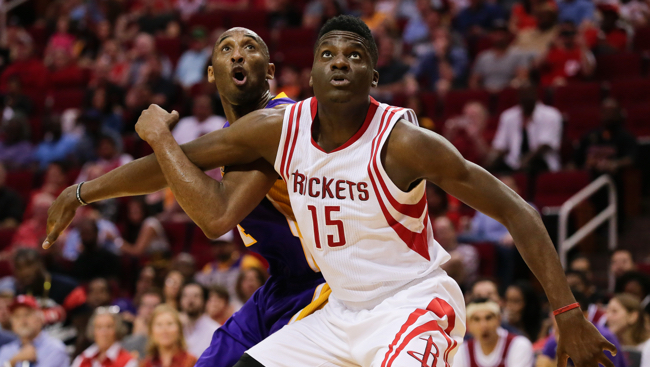 There wasn't a single reason why the Houston Rockets were so happy to let Dwight Howard walk in free agency this summer. While locker room chemistry, injuries, and on-court fit all weighed heavily into that decision, Capela's quietly strong sophomore season undoubtedly did, too.
The third-year center saw mostly D-League action as a rookie before flashing in limited playoff minutes against the Golden State Warriors. That unique blend of foot speed, explosiveness, and size on brief display against the eventual champions was evident on a game-by-game basis in 2015-16, when Capela started 35 games – for 29 of which he was alongside Howard at tipoff – and was the only player to rank among the league's top 15 in dunks who played less than 25 minutes a night.
Unfortunately, the biggest weakness afflicting Capela is the same one that does so many other livewire big men: free throw shooting. He shot a dismal 37.8 percent from the line last season. Still, those struggles don't come close to masking the two-way influence of a big man whose quick-twitch athleticism allows him to make plays like this look easy.
http://i.giphy.com/uXqF5iW5HgNG0.gif
Capela is already a near-elite rim runner in pick-and-roll play and transition, and fared extremely well for any center – let alone one so young – when tasked with showing on screens high up the floor or even switching onto a guard. The next steps in his development are becoming a semi-respectable foul shooter while learning the intricacies that will help him reach his sky-high ceiling on defense. That might take awhile. If it comes to pass, however, Capela will be something close to the protoype of a superstar role player at center.
Nikola Jokic
A big who can run, pass and shoot? Of course he's from overseas, but Nikola Jokic's superior skills talent are real — just ask NBA Twitter. This list was composed with the casual fan most in mind, so we had to include Denver's best kept secret outside of the NBA fan boys who lap up his otherworldly skills for a big man and those people residing in his native Serbia.
Jokic isn't a prima donna European player, either. He can board with the best of them, and his 21.5 PER last season was second among rookies, trailing only the ascendent Karl-Anthony Towns (22.5).
Here's something to ponder as well for all you Three Six Latvia fans:
Jokic can stroke a three, bamboozle an opposing big with a pocket pass to a cutting teammate, and spin past a horde in the paint for a deft mini hook.
http://i.giphy.com/xreCTX4mNCHba.gif
He's the future in Denver and the biggest reason Mike Malone's fellas appear on the upswing. Now we just need to see if he can do it playing more than 21 minutes a night.