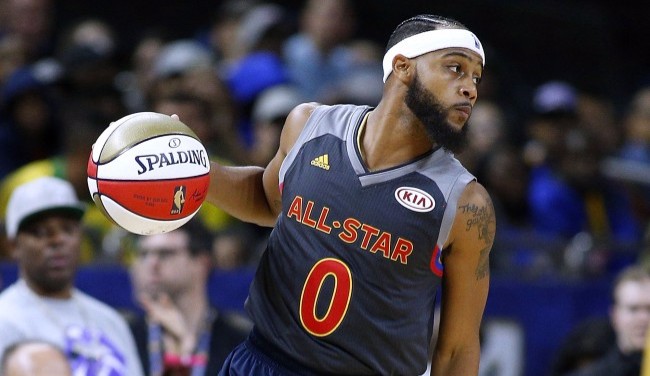 Some of the best players in FIBA might be heading to your major metroplex to shoot some hoops this summer. The NBA and Mountain Dew are running back their 3-on-3 basketball tournament in six major U.S. cities this summer as part of the DEW NBA 3X tournament.
Starting May 13 in Chicago, the tour features 3-on-3 tournaments in six different cities. Miami is next on June 3-4, with New York City on the docket June 24 and 25. A month later, the tournament visits Washington D.C. on July 22-23, with San Francisco (August 19-20) and Los Angeles (Sept. 30 to October 1) rounding out the 6-city tour.
The winning teams in the first five cities will travel to L.A. for the final stop of the tour, where they'll square off to determine an overall champion that will compete in the 2018 USA Basketball 3×3 National Tournament. Each winning team on the men's and women's side will win $20,000 and some other goodies.
Last year the tour also visited six cities, though new stops this year include New York, San Francisco, and Washington D.C. This time, the NBA partnered with USA basketball to round up teams of men and women ready to shoot their shot for a spot as DEW 3X National Champions. The organizers expect 24 mens and 8 women's teams to compete at each stop in the summer event.

The league expects local NBA stars to appear at the events along with Brandon Armstrong, famous for impersonating NBA stars. You might remember him as the winner of the most recent NBA Celebrity All-Star Game in New Orleans, where he robbed Jarrius Robertson (and maybe Arcade Fire's Winn Butler) of MVP honors. He's also been around these parts a time or two.
In any event, three-on-three hoops isn't all that uncommon at shorthanded pickup games in your neighborhood but the concept is gaining steam internationally. Next year 3-on-3 hoops gets an exploratory run as an Olympic sport, and USA basketball and the Association clearly hope to generate some buzz about the format.