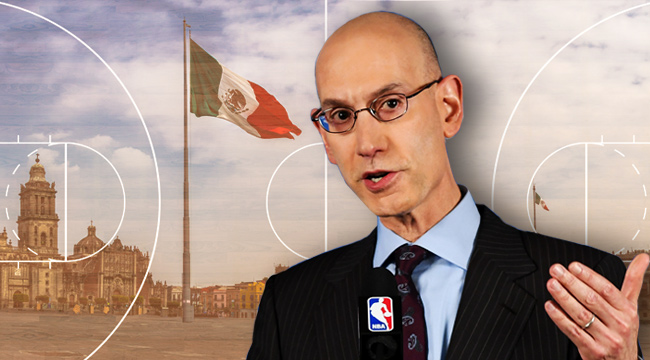 Could we see an NBA team in Mexico City? According to Adam Silver, the league could potentially do this one day. Silver laid this out during a press conference before the Suns and the Spurs faced off in the Mexican capital on Saturday, mentioning that the league could take the next step towards doing this sometime soon.
Here's what Silver had to say, via ESPN:
I think the next step before we start talking about a franchise in Mexico City is to bring more games here. Of course we've had these two regular-season games, and whether we bring additional regular-season games in the next season or do some sort of tournament where you bring over a group of teams and they all play each other in some format — that's something that we're looking at.
Silver mentioned this tournament during his press conference, suggesting that it would be a round-robin event in the middle of the NBA season.
Bringing a basketball team to Mexico seems like it would be difficult for Silver, especially when there are cities in the United States like Seattle and Las Vegas that would love to get a team. Of course, this wouldn't be as big of an issue if the league put new teams in one of those cities and Mexico City. If the NBA were to move one already established team to Mexico, that'd probably ruffle some feathers.

But this still sounds like something the league wouldn't do for several years if not decades. Silver explained that one thing the league wants to do before it were to make any kind of decisions would be to make sure it can get NBA-caliber talent coming out of Mexico.
One other factor is, in order to grow basketball in Mexico, we realize we need to ensure that NBA-caliber players are coming from this market. So just as we look at other markets throughout the world, we're going to look to open an academy here in Mexico because there's a lot of great basketball being played at a young level. You have some fantastic 12-, 13-, 14-, 15-year-olds. But what happens when the players get to be 15, 16 years old, unless they've played against other top players, unless they play top-notch competition, they never advance to NBA-caliber players. So we're looking at situations around the world and realize that in certain cases there's more that we the NBA can do by coming into markets like Mexico and helping to bring together the very best players, and having them play against each other and then maybe travel when they're not in school in the summers so they'll have the opportunity to play against other great players around the world.
The list of NBA players who were born in Mexico is rather short – the league's four Mexican-born players have been Eduardo Nájera, Gustavo Ayón, Jorge Gutiérrez, and Horacio Llamas. Of that group, only Nájera played in more than 140 career games. The country does not exactly have a rich basketball history, but Silver seems like he sees talent there and wants the league to try and cultivate it.

Should the league tap into and develop this talent, and should its games in Mexico City continue to be successful, it wouldn't be crazy to think we could see a team open south of the border somewhere down the line. If all this is able to work out, starting a franchise in Mexico City would probably be a fantastic idea, especially if it would lead to another city (say, Seattle) getting an NBA franchise.
This makes all the sense in the world considering how the league's working to become more and more global. Mexico City is one of the largest cities on the planet, and you'd imagine that Silver would love to put a successful franchise in the second-largest city in North America. This is something we can all revisit in a few years, but for now, it's a pipe dream that seems like it could someday become a reality.