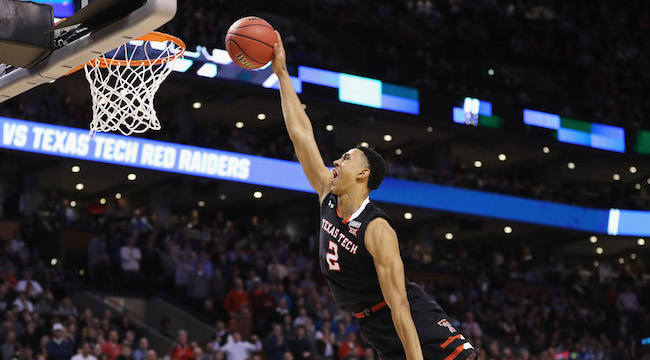 The NBA Draft's early entry deadline is now in the rearview mirror. While that doesn't mean that the field of draft-eligible players is completely finalized, there is more clarity surrounding the 2018 crop than ever before and full-fledged NBA Draft season is here.
Of course, the complete picture of the draft cannot take shape until the lottery on May 15 but, until then, time exists to catch up on who is in the draft (at least for now) and one highly intriguing prospect is Texas Tech swingman Zhaire Smith. From a casual observer's perspective, Smith's NBA Draft resume does not jump off the page, simply because he averaged only 11.3 points and 5.0 rebounds per game in a supporting role during his one year in Lubbock. Still, whispers are increasing that Smith could sneak into the lottery in late June and a deeper look backs up that notion as legitimate.
To put it plainly, Smith is an off-the-charts athlete. At 6'5 with a 6'10 wingspan, the freshman wing is more than capable of switching effectively on the defensive end and, at this moment, Smith is far more advanced as a defensive prospect than he is on the other end. His length and vertical athleticism play up in a big way whenever monitoring Smith on the defensive side of the ball and his motor was impressive during a relatively small sample at Texas Tech.
Of course, fans wouldn't be electrified by a player with that simple make-up and Smith does bring a ton of offensive potential to the table. He is underdeveloped as a creator right now, largely due to ball-handling issues, but Smith clearly plays with a high basketball IQ, operating effectively off the ball and placing himself in the best possible position.
His "make or break" tool will arrive with the jumper and that has to be said. Smith did make 45 percent of his threes at the college level but that percentage came in only 40 attempts and, well, no one believes that he is already "there" as a shooter. His shooting form is encouraging, though, and Smith's defensive and athletic tools provide a higher floor than many players with his relative offensive question marks.
It is exceedingly likely that the team drafting Zhaire Smith in the first round in June will not receive a complete and utter "star" on the offensive end of the floor. What that organization will land, however, is a tantalizing prospect with two-way potential at a position of great need at the NBA level and that combination appears to be resulting in a solid, mid-first round projection at this juncture.
Where does Smith land in this edition of our 2018 NBA mock draft? Let's explore.

1. Phoenix Suns – Deandre Ayton (C, Arizona)
Even with the worst record in the league, the Suns have only a 25 percent chance to snatch the No. 1 overall pick and, at this early juncture, that is important to note. With that said, Phoenix is in the driver's seat (to the extent it exists) in this space and that means a potentially flawless partnership with Ayton. Depending on who you talk to, Ayton is either a no-doubt No. 1 guy or simply a member of a tier at the top but, regardless, the Suns could use an impactful big and he has a profile worthy of this investment.
2. Memphis Grizzlies – Luka Doncic (PG/SG/SF, Slovenia)
There were whispers that Doncic wasn't a lock to enter the draft but, in the end, he's in the field and projects as a (very) likely top-three pick. Memphis could certainly monitor the progress of Duke big man Marvin Bagley III but Doncic is higher on my board and the Grizzlies also have a need on the wing that can't be ignored.
3. Dallas Mavericks – Marvin Bagley III (C/PF, Duke)
It is probably fair to say that I'm not quite as high on Bagley III as some but he's a consensus top-four pick for a reason. From a productivity standpoint, the freshman big man was tremendous at Duke and it is easy to be captivated by his burst on the offensive end. The big question is defense and what kind of complementary piece would be necessary to pair with him but Bagley III is more than a reasonable pick for Dallas.
4. Atlanta Hawks – Jaren Jackson Jr. (C, Michigan State)
Hawks fans may riot in the streets if they take Jackson Jr., simply because it may remind them too much of the team's previous cornerstones in Al Horford and Paul Millsap. Of course, there is nothing (I repeat, nothing) wrong with those two players but Atlanta's fan base seems to yearn for a flashier, more offensively explosive pick at the start of their rebuild. In Jackson Jr., though, the Hawks would add the best player available and a potentially captivating partner for John Collins in the frontcourt. Defense matters and Jackson Jr. is a terrifying prospect as a result.
5. Orlando Magic – Trae Young (PG, Oklahoma)
Texas big man Mo Bamba is higher on my board than Young but Orlando's frontcourt situation may scare them off that trail, especially when remembering Jonathan Isaac's considerable potential. Young is a controversial prospect at this stage but there is no question the Magic need an offensive creator and no team has less of a solid future at point guard than Orlando. There is real bust potential here but, if Young "hits" to his potential, the Magic look very smart.


6. Chicago Bulls – Mikal Bridges (SF, Villanova)
The jokes have been made with regard to Chicago taking veteran college players and Bridges fits that bill. However, the Villanova standout is actually worthy of this kind of investment, with a 3-and-D floor and upside beyond that. It is fair to say that a prospect like Mo Bamba might have more of a ceiling but the Bulls need wing help and Bridges is quite safe. This front office values that.
7. Sacramento Kings – Mo Bamba (C, Texas)
This pick likely wouldn't inspire Sacramento's fan base but Bamba is the best available player. Offensively, Bamba brings more skill and upside to the table than you might think and, with a 7'9 wingspan and freakish athleticism, Bamba's defensive ceiling is preposterous. The Kings could basically do anything outside of drafting a point guard here and, with that in mind, they just take the best player and get out of the way.
8. Cleveland Cavaliers (via Brooklyn) – Michael Porter Jr. (PF/SF, Missouri)
Cleveland's lack of offensive creation, outside of LeBron James, has been on full display in the playoffs and Porter Jr. would seemingly fit well. There is a school of thought that the Cavs "need" a point guard but, if James returns, that need dwindles and, at any rate, Cleveland should simply take the best available player. Questions about Porter Jr.'s health and motor are legitimate and they contribute to his fall out of the top five. Still, his offensive upside is real and, in a post-LeBron world, he also makes a ton of sense.
9. New York Knicks – Collin Sexton (PG, Alabama)
The Knicks could use free agency (or trade) to address the point guard position and, wildly, the Trey Burke renaissance could also play into the equation here. However, New York has seemingly decided that Frank Ntilikina isn't going to be a point guard in their system and Sexton is a tantalizing prospect. Candidly, I'm probably not as high on Sexton as some and the fit with Ntilkina is shaky unless one (or both) improve their jumper. Still, he is a top-10 talent and this would be also be a very Knicks selection.
10. Philadelphia 76ers (via LA Lakers) – Miles Bridges (PF/SF, Michigan State)
The Sixers should be praying that Mikal Bridges falls this far but, if he doesn't, the "other" Bridges would be a snug fit. Philly is in the rare position of a team picking in the top 10 without clear needs in terms of its high-end players and, in conjunction, Miles Bridges is best cast as a pure supporting player, where he can use his tools to profile as a do-everything piece that doesn't necessarily need the ball to be effective.

11. Charlotte Hornets – Wendell Carter Jr. (C, Duke)
Carter is the best player available at this stage and, if anything, this feels low for a player with an obscenely high floor as an NBA-ready big. Throw in the fact that Dwight Howard has only one year remaining on his contract and Carter also makes sense from a fit perspective. All things equal, Charlotte might prefer a prospect at a different position but the gap is significant between Carter and the rest of the available talent and he'd be a no-brainer here.
12. Los Angeles Clippers (via Detroit) – Shai Gilgeous-Alexander (PG/SG, Kentucky)
With back-to-back picks, the Clippers can afford to get weird but, in this case, they simply take the highest-ranked available on my board. Gilgeous-Alexander zoomed up draft boards (for good reason) during the second half of the season and we've seen what he can bring to the table down the stretch. There are questions about his ultimate upside as a primary offensive initiator but with great size and a nice skill base, his floor is higher than a lot of players in this range.
13. Los Angeles Clippers – Zhaire Smith (SF, Texas Tech)
As noted above, Smith has some growing to do on the offensive end but the pressure would be off (to some degree) in arriving alongside Gilgeous-Alexander. He has the ceiling of a two-way monster and that is fun to ponder.
14. Denver Nuggets – Kevin Knox (SF/PF, Kentucky)
Knox may be a bit of a tweener but the Nuggets could really use a player of his size and skill level for the future. The jury is out on what kind of role he'll need to play at the NBA level, but many mocks will project Knox to fly off the board prior to this and it is easy to see why with his well-rounded offensive skill set and prospect pedigree.
15. Washington Wizards – Robert Williams (C/PF, Texas A&M)
At only 6'9, some may assume Williams isn't big enough to play center in the NBA but that is far less of a concern given his athleticism and 7'4 wingspan. The better question is about his perimeter game, where he is fairly limited offensively and doesn't always fare well when exposed in space. It is entirely possible that Williams won't be a full-time starter on a good team but his burst provides a nice floor and he's a mid-first round pick as a result.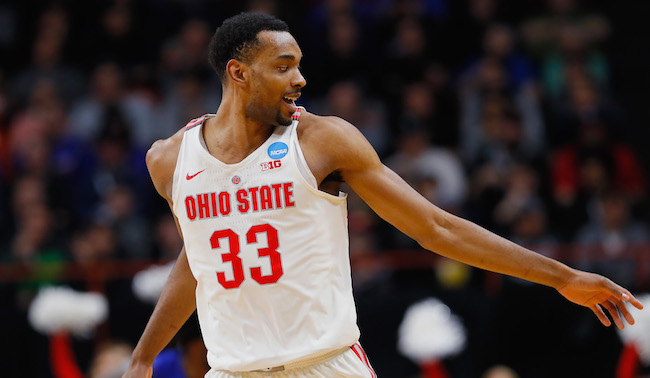 16. Phoenix Suns (via Miami) – Keita Bates-Diop (PF/SF, Ohio State)
Phoenix adds a potentially dominant center at the top of the draft in this scenario and that makes everything easier. Bates-Diop isn't likely to explode as a player but he does a lot of things well and doesn't take much off the table. Ideally, he could be more of a positionally versatile backup type but there is also a chances the Ohio State product could be a full-time small forward with size. That is an archetype that many teams need.
17. Milwaukee Bucks – Dzanan Musa (SF, Bosnia-Herzegovina)
If Jabari Parker returns to Milwaukee, this pick would make less sense, as there are real questions about Musa's defensive profile at the NBA level. Shooting comes at a premium at this point in the draft, though, and Musa can bring it with the ability to also create for himself if needed.
18. San Antonio Spurs – Lonnie Walker (SG, Miami)
This is a pure value pick for the Spurs. Walker is a lottery-worthy talent that probably won't fall this far and San Antonio could capitalize. It wasn't the most consistent season for the young guard but his offensive creation upside is real and the Spurs could certainly use an infusion on that end of the floor.
19. Atlanta Hawks (via Minnesota) – Troy Brown (SF/SG, Oregon)
The pairing of Brown and Jaren Jackson Jr. (at the top of the draft) probably wouldn't send fans scrambling to the ticket office but Atlanta's team would improve rapidly. Brown isn't an NBA-ready shooter but his basketball IQ would fit snugly in what the Hawks are looking to build and Atlanta's organizational reputation for developing three-point accuracy makes this work well.
20. Minnesota Timberwolves (via Oklahoma City) – Chandler Hutchison (SF, Boise State)
Hutchison is the rare college senior on a list like this but his position and impressive production come together to inspire a first round ranking. He is quite skilled and athletic, with 3-and-D potential and the ability to do more than that if given the opportunity. Teams may be scared off by his age (22 on draft night) and shooting uncertainty but Hutchison made enough shots over the past two years to assuage that doubt and the Wolves may actually like his NBA-ready profile.

21. Utah Jazz – De'Anthony Melton (SG/PG, USC)
If Donovan Mitchell transitions into a more full-time point guard role in the future, Utah will want to have another guard that can complement him beautifully. In theory, that could be Dante Exum but the Jazz will have a financial decision to make there (and with Ricky Rubio) and Melton provides a high-floor option as a backup. Because of the FBI investigation and a lengthy absence from the floor, he'll fly under the radar but Melton is a first round talent.
22. Chicago Bulls (via New Orleans) – Mitchell Robinson (C, High School)
The safety of Mikal Bridges in the lottery helps to open the door for a riskier proposition here. In my view, Robinson has the highest ceiling of any remaining player, as he is a tremendous athlete that profiles as a lob-catcher (and finisher) with the ability to act as a defensive force around the rim. The uncertainty can't be ignored as a result of his one-year basketball exodus but Robinson will land somewhere in the first round and Chicago wouldn't be the worst spot.
23. Indiana Pacers – Aaron Holiday (PG, UCLA)
The Pacers may not be outwardly looking for a pure point guard in the draft but they need more perimeter talent. Holiday was horrible in his final college game (leaving some people to forget about him entirely) but he was not-so-quietly awesome in operating at the center of everything for UCLA this season. He's a high-floor prospect and it would be a surprise if he didn't land as, at the very least, a steady backup.
24. Portland Trail Blazers – Jacob Evans (SG/SF, Cincinnati)
Quietly, Evans has emerged to the point when the consensus seems to have him in the first round. That makes a ton of sense with where the league is going, especially when considering that he has 3-and-D potential with playmaking capabilities. Let's just say the Blazers could use a wing with that skill set.
25. Los Angeles Lakers (via Cleveland) – Jontay Porter (C, Missouri)
Porter isn't a great athlete and that is the biggest question with his game. The Lakers could take solace in his extremely impressive skill level, though, and there is probably enough athleticism on that roster (even before free agency) to mask some of Porter's shortcomings. No one was talking about the younger Porter as a first round lock a few months ago but he feels like one now.


26. Philadelphia 76ers – Bruce Brown (SG/PG, Miami)
Brown inexplicably forgot how to shoot this season and that didn't help his stock. Admittedly, I am a charter member of the Bruce Brown fan club but one season of questionable shooting shouldn't be enough to take him out of the first round. He would make sense as something of a do-everything option in Philly and, defensively, there is little doubt about what he can do.
27. Boston Celtics – Khyri Thomas (SG, Creighton)
Boston has been tied, at least in mock draft circles, to a number of defensively capable guards and Thomas fits that mold. Presumably, the Celtics will be weighing a decision when it comes to Marcus Smart's free agency but, in Thomas, they would replace him with a terrifying defensive prospect (6'10 wingspan) that also has a bit of creation ability on the other end. He's a fun prospect that many casual fans wouldn't know much about at this early juncture.
28. Golden State Warriors – Melvin Frazier (SF, Tulane)
The Warriors, more so than any team in this range, could be looking for talent that is close to contributing at the game's highest level and Frazier might be able to do just that. He is a 3-and-D prospect in a pure sense, knocking down 39 percent of his threes as a junior, and Frazier's athleticism is encouraging as well.
29. Brooklyn Nets (via Toronto) – Anfernee Simons (SG, High School)
Simons isn't close to contributing at the NBA level but, for a team in Brooklyn's position, a big swing could be the right move. At the moment, backcourt depth isn't an inherent issue but, after a year in the G League (perhaps), Simons could be a scary prospect and the Nets could extract value.
30. Atlanta Hawks (via Houston) – Landry Shamet (PG/SG, Wichita State)
One could argue the Hawks need to swing for the fences a bit more in this spot but, with another pick coming at No. 33 overall, there is more safety in the guaranteed contract accompanying a first round selection. Shamet isn't going to blow anyone away but he profiles as an interesting and versatile backup guard that might fit well in what GM Travis Schlenk is trying to engineer.