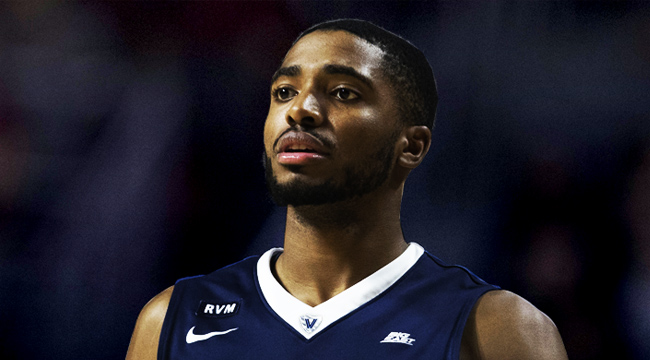 Saying that a player has a high floor and a low ceiling could be a bad thing. The implication is that, when you spend a draft pick on someone, you'd more or less be wasting your time trying to develop them as a player. They are they what they are, and they are who they will be over the course of their NBA career.
You can make a pretty strong case that this would be the case if an NBA team drafted Mikal Bridges, a 6'7 wing who has flown up draft boards over the course of the 2017-18 college basketball season. Bridges is a junior who stands 6'7 and boasts a nearly 7'1 wingspan. If you built a 3-and-D wing in a lab, they would, physically, look like Bridges.
But the thing that makes him so special is the fact that Bridges is an absolute killer if you give him an inch of space. He's connecting on 44.2 percent of his threes this year, and unlike other players who specialize in hitting shots from behind the arc, Bridges is really good at making the ball go through the basket from all over the court. Bridges connects on 59.1 percent of his twos and nearly 85 percent of his free throws.
Basically, Bridges is what every NBA team dreams of out of a potential wing. Bridges doesn't need the ball a ton, but when he is given the ball, he is going to make something happen — and seeing as how he's 114th nationally in turnover rate, it's probably going to be a thing that helps his squad. He may not be a superstar, but he's going to make whichever team drafts him a lot better.
Which team is going to draft him? Let's find out in our latest mock draft.

1. Phoenix Suns – Deandre Ayton (C, Arizona)
Don't take the Wildcats' loss in the first round of the NCAA Tournament as any kind of an indictment against Ayton. He's still a stud, and he's still going to be a top-2 draft pick. Seeing as how Phoenix could use a franchise center and how it has a pair of young wings in Devin Booker and Josh Jackson, taking Ayton is a no-brainer if he's still there.
2. Memphis Grizzlies – Luka Doncic (PG/SG/SF, Slovenia)
The Grizzlies have completely imploded and are in a fight for the No. 1 pick. Should that happen, there's a legitimate debate that would happen about how Ayton fits with Marc Gasol, but instead, they'll add Doncic to Gasol and Mike Conley to give the Grizzlies three fantastic passers in their starting lineup.
3. Atlanta Hawks – Jaren Jackson Jr. (C/PF, Michigan State)
The Hawks are in a position where they need to take the best player available. There are a bunch of players who are in that discussion now, but Jackson fills a huge need for Atlanta and has an astoundingly high ceiling. If he is able to build on his freshman campaign in East Lansing — one in which he showed the ability to drill threes, grab rebounds, and protect the rim — he'd be a wonderful compliment to John Collins.
4. Orlando Magic – Marvin Bagley III (C/PF, Duke)
Orlando just needs to stockpile talent, and at this point, there may not be a better talent on the board than Bagley. Throwing him next to Jonathan Isaac and, should he return to the team this offseason, Aaron Gordon would give Orlando a really fun frontcourt rotation. Plus Bagley is an outstanding offensive player and rebounder, two areas where the Magic need help. There is a comparison that can be made between Bagley and a young Chris Bosh.
5. Cleveland Cavaliers (via Brooklyn) – Michael Porter Jr. (PF/SF, Missouri)
Like Ayton, Porter is much better than his team's unceremonious NCAA Tournament loss would indicate. The ultra-skilled forward would be a great fit for any team that could use some offensive punch. In Cleveland, he'd be a tremendous addition, either as a running mate for LeBron James or as a young frontcourt piece to pair with Kevin Love and Larry Nance.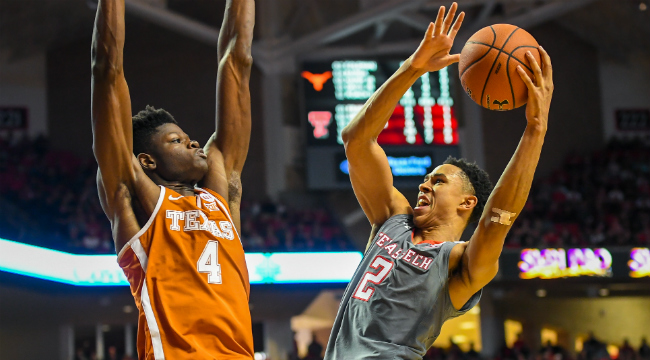 6. Dallas Mavericks – Mo Bamba (C, Texas)
Dallas' frontcourt needs a ton of help. At this juncture, the best thing that the team could do is select the best big man available. That would be Bamba, a potentially game-changing player on defense who can erase any mistake made by the other four players on the court. If his offensive game can come around, he's a superstar. If not, he's potentially the best defensive center in the NBA. Dennis Smith Jr. would love to throw him and his 7'9 wingspan lobs regardless.
7. Sacramento Kings – Mikal Bridges (SF, Villanova)
Last year, Sacramento took its point guard of the future in De'Aaron Fox. This year, the Kings get him the perfect compliment, someone who will satiate Vivek Ranadive's desire to get shooters on his roster while also filling a position of need.
8. Chicago Bulls – Miles Bridges (PF/SF, Michigan State)
The small ball lineups that Chicago could run with a frontcourt pairing of Lauri Markkanen and Miles Bridges would be a ton of fun. The positional fit with the current Spartan would be strange almost wherever, but Bridges is a great athlete and a skilled basketball player who can be especially dangerous if he can hit threes consistently at the next level.
9. New York Knicks – Trae Young (PG, Oklahoma)
It would be extremely Knicks for them to pick the guy who was the biggest star in the nation this year, regardless of how Young's Sooners fell off at the end of the season, no? With New York being interested in moving Frank Ntilikina off the ball, a point guard does make sense. Young would bring a scoring punch and make for one hell of a pick-and-roll combo with Kristaps Porzingis and Enes Kanter.
10. Charlotte Hornets – Kevin Knox (SF/PF, Kentucky)
Knox had something of a dud against Buffalo even if he didn't need to do much, but he's still a really skilled scorer with a fun perimeter game. He's a 6'9 dude capable of playing either spot on the wing whose ability to hit shots from downtown needs some work (34.1 percent on the year) but is hardly hopeless. Charlotte needs threes and fours who don't cost a ton of money. Knox would be just that.


11. Los Angeles Clippers (via Detroit) – Wendell Carter (C/PF, Duke)
The Clippers could be in for a strange draft, as the team could lose DeAndre Jordan in free agency this year and Tobias Harris the following year. Regardless, Los Angeles needs to bolster its frontcourt, and getting Carter — who does just about everything you want out of a big man well — at No. 11 would be a tremendous win for the team.
12. Philadelphia 76ers (via LA Lakers) – Collin Sexton (PG, Alabama)
Consider Sexton insurance in case Markelle Fultz's shooting woes continue into next season, as he would give Philadelphia a pure point guard whose dynamic game would fit well next to Joel Embiid and Ben Simmons even if his jumper is a work in progress. If Fultz is ok, Sexton could still be a good fit, as this would give Philly its backcourt pairing of the future.
13. Los Angeles Clippers – Daniel Gafford (PF/C, Arkansas)
If Carter is the big man that can step in and play right away, Gafford is a player that the Clippers can take some time to try and develop. Gafford is an insane athlete whose defensive potential is off the charts, even if his offensive game needs some work and he's still learning the game. Comparing him to DeAndre Jordan when he first came into the league isn't the best comparison, but the similarities are there.
14. Denver Nuggets – Chandler Hutchison (SG/SF, Boise State)
The Nuggets have been a team that is built around skilled and creative basketball players. Hutchinson, who stands 6'7 and averaged 20 points and 7.7 rebounds a game for the Broncos, fits that description. He's likely not going to be a star, but he could certainly settle into a consistent role on the wing in Denver.
15. Phoenix Suns (via Miami) – Shai Gilgeous-Alexander (PG/SG, Kentucky)
No one on Kentucky has seen their stock skyrocket as much over the last month as Gilgeous-Alexander, a 6'6 combo guard with a seven-foot wingspan. If he can lead the Wildcats to the Final Four — which based on how their region looks like now should be rather manageable — look for Gilgeous-Alexander's stock to continue to rise.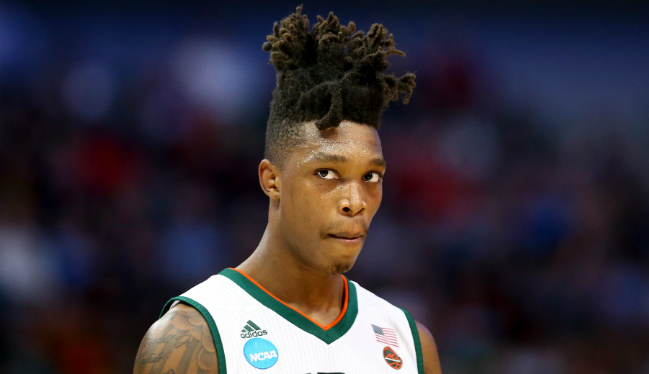 16. Phoenix Suns (via Milwaukee) – Robert Williams (C/PF, Texas A&M)
When it comes to raw talent, Williams is as good of a big man in this draft not named "Deandre" or "Marvin." He is a big ball of clay right now and wasn't as dominant as most would have liked during his sophomore campaign, but when he's good, he's really good. Phoenix already has a pair of frontcourt projects in Dragan Bender and Marquese Chriss, why not add a third?
17. Philadelphia 76ers – Lonnie Walker (SG, Miami)
Walker seems like he's destined to join the Sixers. A 3-and-D prospect from Reading, Pa., Walker would give Philadelphia a young shooting guard to potentially replace J.J. Redick, who can leave in free agency this summer. He's a good player whose shooting has some room to grow and is a good enough athlete with long arms who can be a pest on the defensive end.
18. Chicago Bulls (via New Orleans) – Aaron Holiday (PG, UCLA)
Chicago already has one Holiday brother, why not add a second? Aaron Holiday has been a tremendous basketball player for the UCLA Bruins over the course of his career, and this season has been no different — Holiday, a shifty point guard, has averaged 20.3 points and 5.8 dimes a game. He'd be an immediate contributor wherever he goes.
19. San Antonio Spurs – Troy Brown (SF/SG, Oregon)
The Spurs are historically known for using the draft to get older dudes who can step in and play right away, but here, they look to get younger. Brown — a 6'7 combo guard with a 6'11 wingspan — is a talented one-and-done whose production and athleticism aren't elite, but he's still a really smart and well-rounded basketball player. If his jumper develops, and it absolutely could, look out.
20. Indiana Pacers – Kieta Bates-Diop (SF/PF, Ohio State)
You'd be hard-pressed to find a more safe player outside of the lottery than Bates-Diop. Ohio State wildly outperformed expectations because of the redshirt junior forward, whose well-rounded offensive game and rebounding would fit in well in Indiana.


21. Washington Wizards – Mitchell Robinson (C, High School)
Few teams in the draft's final 10ish picks need anything as much as Washington needs to get younger at center. Robinson is like many young big men in that he needs some work offensively so that his game is beyond "catch a lob and dunk it," but he's still a great athlete who eats up rebounders. This would be a great spot for him because he can learn from Marcin Gortat for a year, which could be vital seeing as how he didn't play college ball this season.
22. Utah Jazz – Zhaire Smith (SG, Texas Tech)
If you would like to see the Jazz possess an insanely fun backcourt, put Donovan Mitchell and Smith together and watch all the dunks that happen. Smith is an explosive athlete who isn't quite NBA ready offensively, but still oozes potential. At the very least, he's going to turn into a pesky defender who does stuff like this.
23. Atlanta Hawks (via Minnesota Timberwolves) – De'Anthony Melton (PG/SG, USC)
Melton is a strange case, as he did not take the floor this year and could conceivably see his stock rise once draft season rolls around. Until then, he's a combo-guard who projects as a plus defender at the next level. Seeing as how he plays a position on the basketball court, Atlanta could use him.
24. Los Angeles Lakers (via Cleveland Cavaliers) – Dzanan Musa (SF, Bosnia-Herzegovina)
Musa is 18, so he might be best as a draft-and-stash who comes over in a few years and impresses with his hoops IQ and offensive ability. Seeing as how the Lakers look like they might be active in free agency this summer, doing this with Musa isn't the worst idea in the world.
25. Minnesota Timberwolves (via Oklahoma City Thunder) – Bruce Brown (SG, Miami)
Tom Thibodeau would love Brown, a 3-and-D prospect who mixed NBA-level athleticism with a 6'9 wingspan in a 6'5 frame. He has to become a better shooter, but his stroke is hardly broken.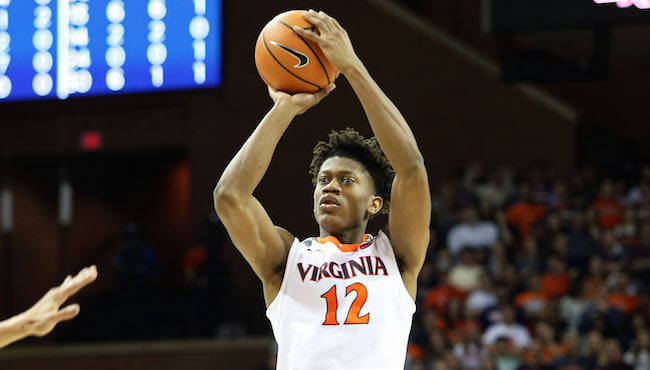 26. Portland Trail Blazers – Khyri Thomas (SG, Creighton)
The Blazers have as good of an offensive backcourt as you'll find in the NBA, so bringing Thomas and his 6'10 wingspan in a 6'3 frame would be a welcomed addition. He projects as an impactful defensive guard at the next level, which Portland could use.
27. Boston Celtics – De'Andre Hunter (PG/SG, Virginia)
It's unfortunate that Hunter missed the NCAA Tournament due to an injury, but if he declares, he'd become a really unique prospect. He handles the bar for the Cavaliers, but at 6'7, is more of a wing in the NBA. He is a crafty offensive player and a tough defender. Boston would love him.
28. Brooklyn Nets (via Toronto) – Shake Milton (SG/PG, SMU)
You know how some guys are just good at basketball? Milton fits that description. He'll hit threes, play defense, and fill in gaps in a backcourt as they pop up. He's a good addition for any team, especially a Nets squad that needs help and
29. Golden State Warriors – Killian Tillie (PF/C, Gonzaga)
Tillie is a tall and talented big man who can step out and hit threes. He's the exact kind of frontcourt prospect who would thrive in Golden State.
30. Atlanta Hawks (via Houston) – Anfernee Simons (SG, High School)
With their third pick in the first round, the Hawks can afford to swing for the fences a bit and take a chance on the biggest question mark in the draft. Simons is really talented, but needs to bulk up and add some polish to his game. The good news is Atlanta will take the time develop him, which could pay off for both sides.