The 2019 NBA Draft is rapidly approaching and sourced information is flying around. For the most part, everyone agrees on who the top two picks will be, and a growing consensus has emerged that Duke's R.J. Barrett will be the No. 3 overall selection. Beyond that, a wild trade between the Hawks and Nets already made an impact on the board, with all kinds of buzz about lottery teams and who they might target when June 20 arrives.
In this space, however, we'll throw out the typical mock draft formula of attempting to recreate the actual order of what will transpire, instead leaning toward the choices that should be made. Of course, it is worth noting that the picks below will be the work (and opinion) of exactly one individual, but the objective is to illustrate how all 30 picks should be used, taking team need and especially a personal big board into account.
Let's roll through the picks, keeping in mind that the reality of how specific teams view this class is not especially reflected.

1. New Orleans Pelicans – Zion Williamson (F, Duke)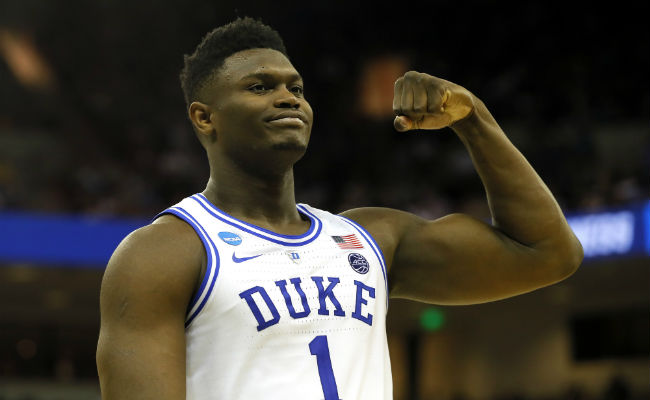 This probably isn't worth discussing. That's how big the gap is between Williamson and the rest of the class. It isn't a coincidence that the discussion surrounding the Pelicans immediately included Williamson, not just in theory, from the moment the franchise won the lottery.
2. Memphis Grizzlies – Ja Morant (G, Murray State)
For me, this isn't quite the no-brainer that Williamson is at No. 1, but Morant is a comfortable No. 2 pick. Memphis does have the Mike Conley conundrum to deal with but that should sort itself out. As long as that happens, Morant should be the choice at No. 2 as a point guard with big-time passing vision and intriguing upside.
3. New York Knicks – Jarrett Culver (G/F, Texas Tech)
We have our first divergence from conventional wisdom! Culver probably isn't going to be the No. 3 pick and, in truth, it is very close between Culver and Barrett. With that said, we're taking a stand on the Texas Tech standout as a potential two-way force that would fit virtually anywhere in the NBA, including any trade scenario that the Knicks might choose to execute.
4. Los Angeles Lakers – R.J. Barrett (G/F, Duke)
The only reason this doesn't project a trade for the Lakers is because that opens pandora's box. Let me be clear: the Lakers should trade this pick. We'll slot in Barrett as the best player available but, well, he isn't a great fit with the current roster in L.A. and it's time to use this pick as a trade asset.
5. Cleveland Cavaliers – De'Andre Hunter (F, Virginia)
Hunter isn't sexy. In fact, much of his appeal comes from the fact that he's a boring but good player. For Cleveland, though, he's the best available option and Hunter projects as a highly intriguing two-way forward for the future. Star power would be better, admittedly, but there is power in the high floor that the former Virginia standout brings.

6. Phoenix Suns – Darius Garland (G, Vanderbilt)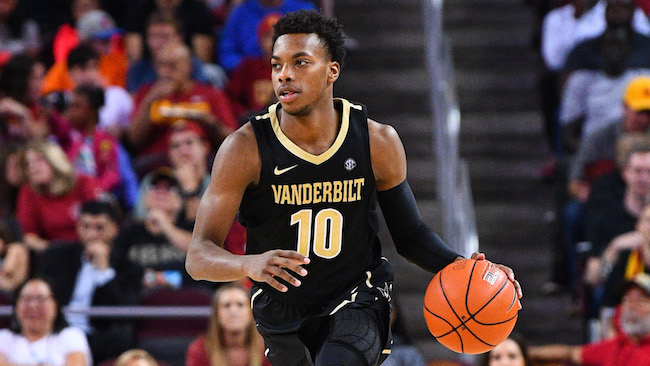 The Suns have a need at point guard and, to make things easier, Garland is easily the highest-rated player remaining on my board. The defensive fit between Garland and Devin Booker certainly isn't perfect, but it's not bad enough for Phoenix to skip over his impressive level of talent with the way this draft falls.
7. Chicago Bulls – Coby White (G, North Carolina)
For me, this is a slight reach. White is a lottery pick in a vacuum, but the nature of Chicago's current roster makes a point guard upgrade more urgent. That acts as a tiebreaker between White and some of the other options, and the Bulls simply need to do better at the point of attack.
8. Atlanta Hawks – Cameron Reddish (F, Duke)
With Taurean Prince in Brooklyn, the Hawks are left without a single player with legitimate small forward size on the roster. Reddish struggled mightily in college and this might not go well, but the Hawks have the free-flowing offense that could complement his skills, and there is still a lot of talent on display for the one-and-done prospect.
9. Washington Wizards – Nassir Little (F, North Carolina)
The hate has gone too far on Little. If anything, he was better than Reddish at the college level and, even without the easily translatable three-point shot, there is reason to believe in his package of talent. Candidly, Little is pushed up the board by the league-wide need for two-way forwards, but he isn't any less talented than the other players in this tier. For Washington, it's simply a "best player available" pick and one that makes even more sense in a post-Otto Porter world.
10. Atlanta Hawks (via Dallas) – Goga Bitadze (C, Georgia)
This isn't an easy decision for Atlanta and, for the record, the Hawks are expected to explore every possible avenue in trade. We won't flat-out project a deal here, though, and that means Bitadze joining John Collins in Atlanta's frontcourt. He was wildly productive at a high level in Europe and projects to be an exceptionally skilled offensive player. Throw in quality rim protection and improving defensive awareness in space and you have the makings of an intriguing addition for the Hawks.

11. Minnesota Timberwolves – Brandon Clarke (F/C, Gonzaga)
If Brandon Clarke is on the board for Minnesota, this should be an easy decision. Clarke's lack of size and resulting fit issues make him tough to project but, with the Wolves, he would be playing the 4 alongside a floor-spacing 5 in Karl-Anthony Towns. That is the perfect fit for all parties involved and, with that in mind, it's great value for Minnesota's new braintrust.
12. Charlotte Hornets – Sekou Doumbouya (F, France)
The Hornets should be rebuilding. I don't know that they will rebuild with Kemba Walker facing a big-time payday but, regardless, Charlotte could use some upside and Doumbouya brings it. He's quite young and won't contribute right away, but the future at the forward spots would be fun with Doumbouya and Miles Bridges.
13. Miami Heat – Grant Williams (F, Tennessee)
This is probably the first shocker, as I am higher on Williams than the league appears to be. It should be noted that this isn't a slam dunk selection and, in truth, there are players higher on board, specifically Jaxson Hayes. However, Miami already has Bam Adebayo at the center spot and Williams brings a combination of high basketball IQ and real skill. The question is his jumper but, if it goes in, this is good value, regardless of what league-wide intel may say.
14. Boston Celtics (via Sacramento) – Jaxson Hayes (C, Texas)
Boston can't expect to get Hayes here in real life and the Celtics did invest in Robert Williams last year. The value is too good to ignore, though, and Hayes would be a fantastic developmental prospect under Brad Stevens.
15. Detroit Pistons – Romeo Langford (G/F, Indiana)
The fit with Langford in Detroit isn't perfect, specifically because his jump shot hasn't proven to be anything resembling trustworthy. With that caveat out of the way, the Pistons could use some play-making and offense on the wing, with Langford in the position to provide it. If NBA scouts could trust his three-point shooting, Langford would be a lottery pick.

16. Orlando Magic – Kevin Porter (G, USC)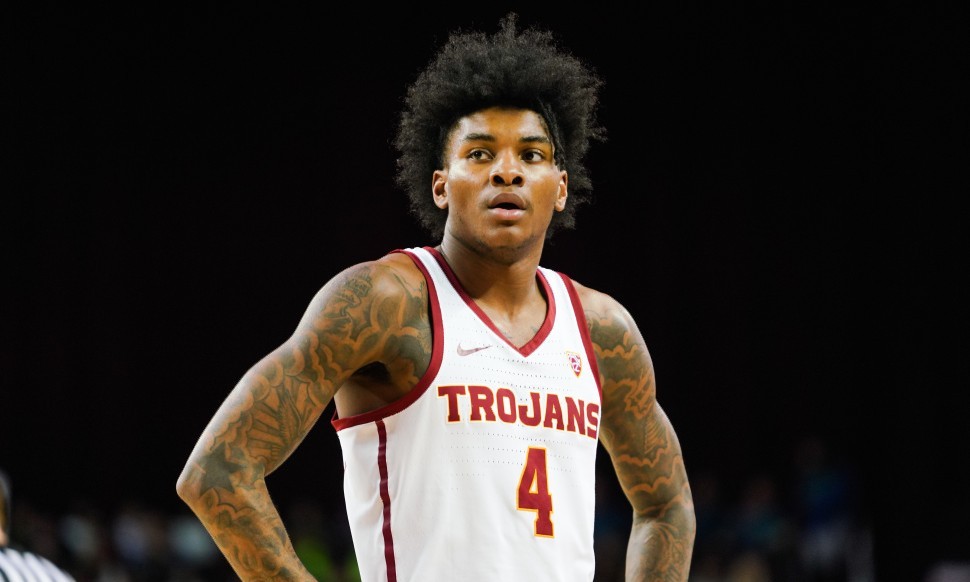 Porter is a polarizing prospect, with some choosing to see the positives of his offensive upside and others focusing on the potential "bust" nature of his profile after a weird college career. Orlando can afford to take the risk with an eye toward shot creation, though, and the Magic get a quality talent here.
17. Atlanta Hawks (via Brooklyn) – Keldon Johnson (G/F, Kentucky)
There isn't much to excite anyone about Johnson and that seems to be why he is falling in a lot of mock draft environments. However, the former Kentucky standout is good at almost everything and, if you can project as a wing with legitimate size and acumen, there is immense value around the league. Atlanta is banking on a bit of Reddish's untapped upside in the top 10 but Johnson combines "best player available" with more safety in the mid-first round.
18. Indiana Pacers – Nickeil Alexander-Walker (G, Virginia Tech)
Indiana is in a weird spot in that a lot of their draft approach will be dictated by free agent or even trade decisions that we just don't know about yet. Alexander-Walker splits the gap a bit with his combination of size and skill in the backcourt, forming a potentially interesting pairing with Victor Oladipo. He isn't a pure point guard, and Indiana still has Aaron Holiday, but Alexander-Walker does a lot of things well and would fit nicely.
19. San Antonio Spurs – Rui Hachimura (F, Gonzaga)
More than anything, I'd like to see Hachimura in San Antonio and that kind of dictates this pick. Candidly, I have Hachimura even lower than this on a theoretical big board but the Spurs might be able to unlock some of the potential, particularly in the area of basketball feel and awareness, for a player that does have intriguing physical traits. He's 6'8 with a 7'2 wingspan and displays real athleticism. Maybe the Spurs can harness it.
20. Boston Celtics (via LA Clippers) – PJ Washington (F, Kentucky)
This is another scenario that I don't see happening, which is the case for both of Boston's top-20 picks. Washington is likely to be off the board by now but, if he wasn't, the Celtics would almost certainly pounce on a player with length, toughness and a legitimate two-way projection at the power forward spot.

21. Oklahoma City Thunder – Tyler Herro (G, Kentucky)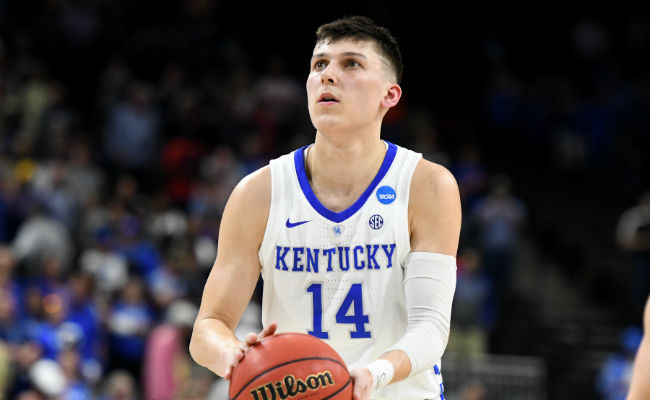 This is as simple: Oklahoma City desperately needs more shooting. Herro is one of the best shooters in the draft, particularly off movement, and some of his size concerns might be mitigated playing between Paul George and Russell Westbrook. The Thunder just have to be able to space the floor.
22. Boston Celtics – Carsen Edwards (G, Purdue)
Boston went big with their first two choices, so let's get weird with a backcourt investment. Edwards would be a non-starter for the Celtics, at least in my view, if Kyrie Irving and Terry Rozier were both projected to return, but that scenario doesn't seem overly likely. At the very least, he would provide a microwave scoring/shooting element off the bench and, in the 20's, that would be just fine.
23. Utah Jazz – Cameron Johnson (F, North Carolina)
While there are teams that need shooting more than Utah, it is definitely something that the Jazz should be looking to add during the summer. Johnson is perhaps the best shooter in the entire draft and, while he doesn't bring too much else to the table other than positional size, his potential weaknesses would be masked well alongside Utah's core. It is a joy to watch him shoot the basketball.
24. Philadelphia 76ers – Ty Jerome (G, Virginia)
Jerome is an awesome shooter that can help as a secondary ball-handler, pass at a high level, and fill in a lot of gaps. He isn't terribly sexy but, for a team with Ben Simmons and Jimmy Butler as its primary initiators, he'd be a quality investment in the mid-20's. That is doubly true if J.J. Redick sneaks away in free agency but, even if Redick returns, sign me up for Jerome in Philly.
25. Portland Trail Blazers – Eric Paschall (F, Villanova)
In a more realistic world (i.e. one in which I'm not making all of the picks), this might be an awesome spot for Grant Williams. He's long gone here, though, and Paschall also fills a real need in Portland. He projects as a high-level role player with the ability to function well and defend multiple positions. There is very little upside with Paschall but Portland could use a player with his combination of traits.

26. Cleveland Cavaliers (via Houston) – Nic Claxton (C, Georgia)
The Cavs need help almost everywhere and they take the top remaining player on my board. Claxton might take a while to develop but, on the high side, his defensive tools and ability with the ball in his hands could be tantalizing. He's a player that is easy to fall in love with in the modern NBA.
27. Brooklyn Nets (via Denver) – Chuma Okeke (F, Auburn)
Okeke's torn ACL, suffered in March, may cause some to hold off on selecting him. But to me, he's a first-rounder in this class. He plays the game with terrific basketball IQ and projects as an intriguing defensive player. Throw in the fact that Brooklyn has a strong reputation for player development and injury management and the marriage between player and team looks like a good one.
28. Golden State Warriors – Matisse Thybulle (G/F, Washington)
If you're looking for a reason to avoid Thybulle, it comes with his jumper. If that works at all, this pairing of team and player would be devastating. Thybulle's defensive play-making is well-documented and, in Golden State, he'd be allowed to utilize it in a way that wouldn't be duplicated elsewhere. It would be a lot of fun.
29. San Antonio Spurs (via Toronto) – Luka Samanic (F/C, Croatia)
The Spurs have enjoyed success with international prospects and Samanic's skill level and basketball IQ would be enticing there. I'm not as high on the 6'10 big man as some others, but he's a first-round talent and this is a soft landing spot for his skill set.
30. Milwaukee Bucks – Dylan Windler (F, Belmont)
The Bucks could take a bigger swing for upside but, in truth, Windler would be awesome in Milwaukee. His shooting range fits what the Bucks want to do and, for good measure, he is also functional as an off-dribble player with the potential to hold up decently on the other end. Mike Budenholzer isn't the personnel decision-maker but Windler is his kind of prospect.