The 2017-2018 NBA season is nearly here and most of the focus is on the action set to take place on the floor. That, of course, makes sense given that most fan bases are eternally optimistic but there are a few organizations that are more focused on June 2018 than they are on October 2017.
The league has tried its best (or at least close to it) to legislate against tanking but there are certainly a few squads that are "rebuilding" in 2017-2018 if not flat-out tanking. With that in mind, the 2018 NBA Draft will be a central topic of conversation throughout the campaign and, at least at the outset, the Chicago Bulls appear to be in pole position to claim the top spot. It has to be noted that, even before the tanking legislation goes into action, the worst team in the league is still more likely to pick outside of the top spot than in it but the Bulls are the league's worst team on paper.
Would it be a shock if Chicago finished ahead of another team? Well, no, but we are poised to glance ahead in this space and they are currently carrying the torch. Throughout the campaign, we will look at what the 2018 first round might look like and, in the inaugural edition, it is the Bulls sitting on top. Let's roll through the list to wet your appetite for both the collegiate and professional seasons.

1. Chicago Bulls – Marvin Bagley III (PF/C, Duke)
Bagley was a late addition to this class after reclassifying but, for me, he became the top prospect immediately. The 6'11 big man is an off-the-charts athlete with size to be a modern center in the NBA. It is worth noting that Bagley III isn't a flawless prospect in that there are some motor and perimeter shooting concerns but his upside is obscene and he'll be given every opportunity to shine at Duke.
2. Phoenix Suns – Luka Doncic (SG, Slovenia)
Doncic was tremendous at EuroBasket and that broadened his appeal to a wider audience. At the age of 18, Doncic brings everything you would want in an offensive wing, with high-end passing vision, scoring ability and shooting range. Is he going to stay at or near the top of the draft by June? We'll see, but Doncic is the real deal.
3. Cleveland Cavaliers (via Brooklyn) – Michael Porter Jr. (PF/SF, Missouri)

The Cavs are going to have a lofty pick and that is a weird thing to reconcile while LeBron James is still on the team. If Cleveland lands in this spot, though, Michael Porter Jr. becomes a no-brainer selection. Many pundits have Porter Jr. as the top player in the class based on his offensive skill and size at 6'10 and it is easy to see why. Defensively, there are real concerns and he'll need to add strength and toughness but Porter Jr. is a stud.
4. New York Knicks – Miles Bridges (PF, Michigan State)
Bridges is the top non-freshman in this class by a wide margin and he would have been a lottery choice in 2017. The big question is what position he'll play but, in a league where that matters less and less, the 6'8 combo forward brings a ton of value to the table with burst, an improving jumper and a motor that doesn't quit.
5. Atlanta Hawks – DeAndre Ayton (C, Arizona)

Ayton might have the highest ceiling in this class, simply based on his size. He's a true center at 7'0 with a wingspan approaching 7'6 but Ayton is a freak athlete that utterly dominates when he wants to. His consistency and motor are the big questions and we'll see how he looks at Arizona. If everything clicks, though, this is too low.

6. Sacramento Kings – Mo Bamba (C, Texas)
If you like dominant defensive prospects at center, Bamba is your guy. He has a reported 7'9 (!!!) wingspan and the Rudy Gobert comparisons are unavoidable in terms of impact around the rim. He isn't quite as fluid as Gobert is at the moment but, well, neither was the Utah Jazz big man when he entered the draft. It'll be a big year to see Bamba against better competition but he's a weird and tremendous prospect.
7. Orlando Magic – Trevon Duval (PG, Duke)
If Duval could shoot, he'd be a no-doubt selection in the top five. Even without a consistent jumper, he's the best point guard prospect in this class and his size (6'3 with a 6'8 wingspan) allows Duval to defend at a high level with tremendous competitiveness. He'll be overshadowed by Bagley III at Duke but keep an eye on him, especially with some NBA squads needing point guards of the future at or near the top of the draft.
8. Philadelphia 76ers (via Los Angeles Lakers) – Bruce Brown (SG, Miami)

I'm higher on Bruce Brown than just about anyone and, in truth, this is probably a reach. However, it is hard not to be drawn to his competitiveness and two-way upside, as Brown really gets into the competition on defense using his quality size (6'5) and strength. It would take an uptick offensively to justify this projection but that doesn't seem far-fetched.
9. Indiana Pacers – Collin Sexton (PG, Alabama)
Sexton is a better offensive prospect than his counterpart in Duval and many people believe he'll be the first point guard selected. Make no mistake, that wouldn't necessarily be the wrong choice, as he can really score at the point of attack with real size (6'2 with a 6'7 wingspan) and vision.
10. Dallas Mavericks – Robert Williams (C/PF, Texas A&M)
This feels very low for Williams who, like Bridges, would have been a lottery prospect in 2017 had he chosen to leave College Station. He is a more traditional pick-and-roll big man with tools and athleticism but I can really see a scenario in which Williams pops as a sophomore and skyrockets. He's that talented.

11. Philadelphia 76ers – Justin Jackson (SF, Maryland)
I'm a sucker for quality defenders, especially at the forward spots, and Jackson profiles as just that. He has a 7'3 wingspan with the ability to guard down to the 3 if necessary and Jackson paired that with 44 percent three-point shooting last season at Maryland. He'll never be a star but there are only so many players that project to be able to contribute on both ends at the position and he is one of them.
12. New Orleans Pelicans – Wendell Carter (C/PF, Duke)

This might end up being too high on Carter for one specific reason. He is a very safe prospect in that polish and skill have taken him a long way around the rim but Carter is absolutely a pure center at the NBA level given his bulk (listed at 6'10, 257 pounds) and that is a tough sell for some. Throw in the fact that he'll be playing a lot with Bagley III and it could be tricky this season. I still really enjoy his game, though.
13. Portland Trail Blazers – Hamidou Diallo (SG, Kentucky)
Diallo was a first-round prospect for about five minutes last year before deciding he'll actually play college basketball. Right now, this projection is almost entirely based on his athleticism, where Diallo is insanely explosive at 6'5 with a wingspan nearing 7'0. The jumper is the big question and, depending on how that progresses this season, this projection might look silly in either direction.
14. Los Angeles Clippers – Mikal Bridges (SF, Villanova)

Like Justin Jackson above, Bridges isn't going to be a star but three-and-D players on the wing are insanely valuable. He was a 39 percent three-point shooter last season that has a 7'1 wingspan and Bridges doesn't need the ball to succeed. He'll need to add bulk to hold up against the most physically gifted players (i.e. LeBron) at the 3 but he's a future stud as a role player.
15. Charlotte Hornets – Jaren Jackson (PF/C, Michigan State)
Stop me if you've heard this before but Jackson is a talented big man with big-time athleticism and size in this class. In short, those guys are everywhere in 2018 and Jackson just happens to have more question marks. It also may not do him any favors in terms of reputation to be playing alongside a better player in Bridges.
16. Detroit Pistons – Kevin Knox (SF, Kentucky)
Can Knox shoot at a high level? If he can, this slot makes a ton of sense and might even be too low. If not, he's probably "just" an NBA role player that can use size (6'9 with a 7'0 wingspan) and a big-time motor to get his work done. That's not a bad setup for a soon-to-be freshman.
17. Phoenix Suns (via Miami) – Mitchell Robinson (C, High School)

I have no earthly idea what to do with Mitchell Robinson. As a reminder, he enrolled at Western Kentucky before leaving (twice) and will spend this season simply training for the NBA Draft while not playing competitively. On the high side, he's a tremendous athlete that was a five-star prospect as a center for a reason. On the downside, we won't know much more about him in eight months than we do now and that is never easy for scouts.
18. Memphis Grizzlies – Troy Brown (SG/SF, Oregon)

Brown is a tough evaluation in that I'm not sure he does anything exceedingly well. What he does bring, though, is the ability to do several things (including defense) at a reasonably high level and he is a fit in the position-less NBA. I wish he was two inches taller but it will work for him if the jump shot comes along in the future.
19. Utah Jazz – Lonnie Walker (SG, Miami)
Miami already has Bruce Brown but Lonnie Walker may have more upside and he's much younger. He can already shoot and defend. The question is just what else he can bring and, from a college standpoint, it will be fun to see what that team looks like this season.
20. Denver Nuggets – Rodions Kurucs (SF/PF, Latvia)

Remember him? Kurucs was a projected first-round pick in 2017 before leaving the draft and he's back for another run. A lot can change when it comes to European prospects that aren't playing much with their pro teams overseas but the tools are certainly there for him.

21. Milwaukee Bucks – Allonzo Trier (SG, Arizona)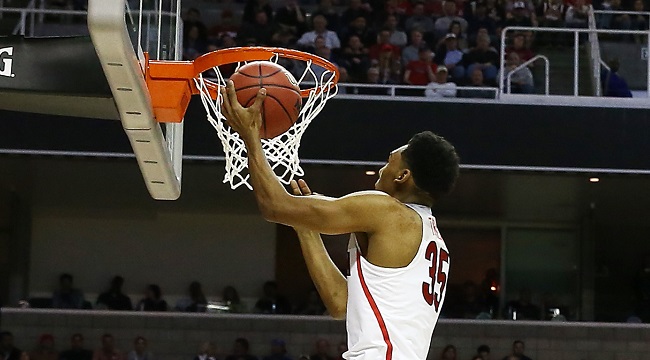 I'm calling my shot on Trier as a player that is overlooked based on a lack of measurables but ends up overproducing his draft slot. Frankly, he probably won't be drafted this high but that doesn't mean he shouldn't be. Some guys can just play. He's one of them.
22. Atlanta Hawks (via Minnesota) – De'Anthony Melton (PG/SG, USC)
I'm here for 6'4 guards that really defend and bring high-end passing to the table. Melton isn't going to burst onto the scene unless his jumper (and overall scoring ability) improves but he projects as an excellent role player in the NBA already and is just 19 years old. There's a lot to work with there.
23. Brooklyn Nets (via Toronto) – Nick Richards (C, Kentucky)
Richards may not pop but there's a reason he projects to be a factor at Kentucky. He's a 7-footer with tools to be an impact defender and, usually, at least one of those guys hits in Lexington on an annual basis.
24. Washington Wizards – Devonte' Graham (PG, Kansas)

Like Trier before him, Graham is a prime target to fall too far in the draft. He'll be 23 years old when the draft occurs in June and that will scare teams off but Graham's defense, shooting ability, and overall temperament make him a perfect backup point guard for the future. That isn't sexy but, at the end of the first round, landing a rotation player is a great outcome.
25. Boston Celtics – Grayson Allen (SG, Duke)
I still believe in Grayson Allen. He won't be an NBA standout but he will absolutely get buckets at the next level if given the opportunity, even if that just means a role as a third guard with a scoring focus. Two years ago, Allen would have been a lottery pick and, while age (and temperament) matters, the skills and athleticism are still there to justify it.

26. Cleveland Cavaliers – Chimezie Metu (C, USC)

In another draft, a 6'11 center with his tools and age might be a lottery pick. Metu is being lost in the group of top-tier prospects at the center spot but USC is going to be tremendous this season and that should help him to garner some additional attention.
27. Minnesota Timberwolves (via Oklahoma City) – Dzanan Musa (SF, Bosnia & Herzegovina)

Musa will become an internet favorite in the coming months, if only because he plays with incredible confidence. I'm not 100 percent sure it translates to the NBA game but he's going to get buckets and have fun doing it. There's a place for that.
28. San Antonio Spurs – Mo Wagner (C, Michigan)
Wagner probably made the right choice in returning to Michigan because he would be one of the worst defenders in the NBA right now. Still, there is a market for 6'11 players with immense skills offensively and Wagner is already a plus-plus passer and shooter at the position. Another year with John Beilein should help but Wagner still likely projects as a bench player due to defensive issues.
29. Atlanta Hawks (via Houston) – Shake Milton (PG/SG, SMU)
Milton is a legitimate point guard prospect at 6'5 and he shot 40 percent from three in back-to-back seasons. That is a real thing. He's going to have to defend at a high level for it to come together but, with Semi Ojeleye and Sterling Brown gone, SMU will rely heavily on him and we'll see if he sinks or swims in the new role.
30. Golden State Warriors – Brian Bowen (SF, Louisville)

Bowen is in a very weird spot. Most of the buzz around Louisville is that he'll likely be unable to play college basketball this season after the scandal that took down Rick Pitino emerged. Bowen is rumored to be at the center of that but he could still find his way to the end of the first round based on tools if he chooses to pursue that avenue.