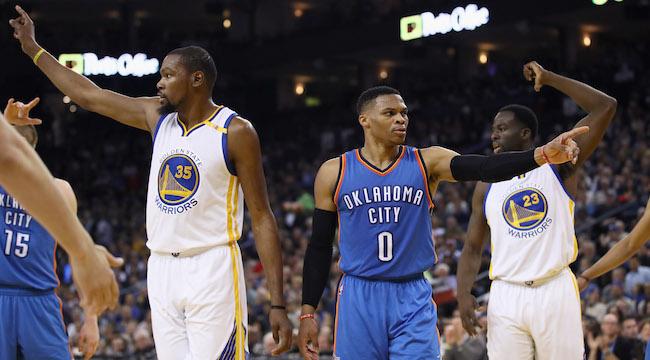 The bulk of the NBA offseason has come and gone. Training camp will be here before you know it, and Bovada has released opening odds for the 2017-18 NBA MVP race. Outside of a shocking-but-not-shocking Kyrie Irving trade, or a catastrophic injury to one of the NBA's biggest stars, the NBA MVP odds Bovada released today should hold true as we head towards the start NBA regular season.
The NBA is riding an MVP race hot streak. It's going to be hard to top last years incredible season-long dual between Russell Westbrook and James Harden, but with the amount of NBA player movement that took place this summer, in the wise words of Kevin Garnett, anything is possible.
It should come as a shock to no one that Russell Westbrook leads the pack again this season, although he's going to have a tough time matching last seasons statistical benchmarks now that Paul George is joining him in Oklahoma City. Stats matter big time, but winning counts too for many voters, which must be accounted for when looking at a potential future bet.
The question you must ask is: Who is going to post the most impressive numbers on a competing playoff team? Russell Westbrook? James Harden? LeBron James?… Jeff Teague? No, really, Jeff Teague has MVP odds, if you're feeling freaky.
Before we get to my thoughts, here is the full list of 2017-18 NBA MVP Odds, courtesy of Bovada:

Russell Westbrook (OKC) 7/2
Kevin Durant (GS) 9/2
Kawhi Leonard (SAN) 13/2
LeBron James (CLE) 15/2
James Harden (HOU) 8/1
Giannis Antetokounmpo (MIL) 17/2
Steph Curry (GS) 11/1
Anthony Davis (NOP) 16/1
Paul George (OKC) 25/1
Chris Paul (HOU) 25/1
Isaiah Thomas (BOS) 25/1
DeMarcus Cousins (NOP) 33/1
Karl-Anthony Towns (MIN) 33/1
John Wall (WAS) 33/1
Blake Griffin (LAC) 40/1
Nikola Jokic (DEN) 40/1
DeMar Derozan (TOR) 50/1
Joel Embiid (PHI) 50/1
Kyrie Irving (CLE) 50/1
Damian Lillard (POR) 50/1
Draymond Green (GS) 60/1
Ben Simmons (PHI) 66/1
Gordon Hayward (BOS) 70/1
Carmelo Anthony (NYK) 75/1
Jimmy Butler (MIN) 75/1
Andrew Wiggins (MIN) 75/1
Kevin Love (CLE) 100/1
Kyle Lowry (TOR) 100/1
Kristaps Porzingis (NYK) 100/1
Marc Gasol (MEM) 150/1
Paul Millsap (DEN) 150/1
Kemba Walker (CHA) 150/1
Bradley Beal (WAS) 200/1
Mike Conley (MEM) 200/1
Dirk Nowitzki (DAL) 250/1
Andre Drummond (DET) 250/1
Dwight Howard (CHA) 250/1
Jeff Teague (MIN) 250/1
Hassan Whiteside (MIA) 250/1
Harden sliding to 8/1 after being neck-and-neck with Westbrook most of last year is an interesting reaction to Chris Paul's addition. Paul will certainly take ball-handling minutes from Harden, but he figures to get more good spot-up 3-point looks this season and still should be the Rockets' primary scorer.
If you believe in the NBA rumor mill, taking LeBron James at 15/2 while Kyrie Irving is still a Cleveland Cavalier sure looks enticing. Despite how good Irving is, it's not inconceivable that LeBron James could carry the Cavaliers sans-Kyrie to another top seed in the Eastern Conference if a Kyrie Irving trade goes down, and the "look what LeBron James did without Kyrie!" narrative is begging to exist.

If you're looking for an MVP candidate in the mold of what Russell Westbrook did last season; a mega-talent that put up amazing numbers on a team without other outstanding offensive options, Giannis Antetokounmpo could do exactly that on the Milwaukee Bucks this season. Giannis took a gigantic statistical leap in 2016-17, and he already has his eyes set on the 2017-18 MVP, as well as the another Most Improved Player win, if that's even possible.
And we'd be foolish not to mention Joel Embiid's 50/1 odds that he is most certainly not happy about, in the most Joel Embiid-way possible, of course. We're talking about a guy who thought it was 'bull crap' that his NBA 2K18 rating was anything less than a 95, which would put him in the conversation with the top-5 or so players in the entire NBA. Bovada has him 18th here, so if they want to escape Joel Embiid's wrath, I highly recommend they throw a Shirley Temple or two in his direction.
Last and most certainly least, look at that crop of players with 250/1 odds! Dirk Nowitzki, Andre Drummond, Dwight Howard, Jeff Teague, and Hassan Whiteside?! I can appreciate giving Dirk some veteran love by even including him on this list, but Jeff Teague? Dwight Howard? Shout out to Bovada for the laugh.